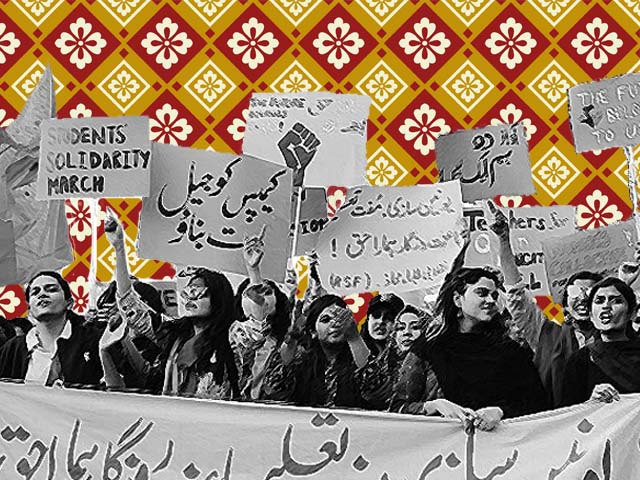 ---
The ban on political activities in UoB underscores the importance of the Students Solidarity March
We must realise that the tide is now shifting and such bans will no longer be silently digested by students
---
On November 26th, a notification issued by the governor's secretariat in Balochistan called for a plenary ban on all political activities and gatherings inside the University of Balochistan (UoB) campus in order to ensure a "conducive environment" for teaching. Such a demand is ludicrous and is a blatant attempt to try and negate the work being done by students who are trying to raise a voice against the injustices they have to encounter and flies in the face of the growing demand to hold educational institutions accountable for their actions. What makes this statement even harder to digest is the fact that UoB has been at the centre of a harassment scandal for more than a month now. In October it was reported that students at the university were being filmed without their knowledge via hidden CCTV cameras and that this footage was later used to blackmail them. As a result, students across the country raised their voice in solidarity with their fellow students, and it was expected that those involved would be reprimanded and, in light of this, the the concerns of the students would be heard. Instead, it appears that the opposite has happened. 

Furthermore, the fact that this letter was issued on the heels of the upcoming Student Solidarity March comes across as nothing more than a brazen attempt to muffle the voices of students and gag their ability to express their discontent. Banning political activities on a university campus is emblematic of a wider desire on part of those who hold important offices to curb dissent and prevent individuals from trying to bring attention to the years of neglect which has taken root in Pakistan's institutions.




Paradoxically, the notification calls for "all security formations/personnel" to take note of this development but fails to call attention to the fact that it was under the guise of 'security and surveillance' that students had fallen prey to being filmed on their campus via CCTV cameras. This insistence to constantly monitor and observe the activities of students is precisely what has resulted in a pervasive sense of suffocation and dread across university campuses in the country, especially for women. This is why it is imperative that the ban on student unions across Pakistan is lifted so that students are provided with a space where they can bring to the fore issues which are of importance to them.

The desire to keep the ban on student unions intact and the constant attempt to keep university campuses a 'politics free-zone' will only serve to disenfranchise students, muzzling their ability to effectively engage with the political and social questions of their time. Undoubtedly, students must be given a formal way of voicing their grievances and influencing policy decisions. Instead of trying to fight this desire for change, perhaps Pakistan's educational institutions should accept this emerging reality and help facilitate the demands of the students instead of trying to attack them by acting as an opposing force. A rigidity on their part will only fuel further grievances. A university is supposed to provide its students with a platform where they can wrestle with the complex ideologies which are shaping the nation. A failure to allow students to wrestle with these questions without any shackles will only serve to damage the future of the nation.

A ban on such gatherings denies students the fundamental opportunity to become politically aware citizens. Such a ban is ultimately rooted in the belief that political gatherings on campus can somehow lead to violence between two ideologically opposed political groups on a university campus. However, it is erroneous to misconstrue political activities on campuses and the return of student unions as somehow being the result of a infiltration of Pakistan's political parties onto university campuses. It is important to understand this distinction.

We must realise that the tide is now shifting and such bans will no longer be silently digested by students. The notifications issued by the governor's secretariat in Balochistan only lends further credence to the demands of the Students Solidarity March, which is scheduled to take place on November 29th. Educational institutions have to come to terms with the fact that they will now be held accountable for their actions, and it is a fear of such a reprisal which has prompted these reactionary measures. Hence, if anyone was uncertain as to why the Students Solidarity March is so desperately needed, the ban on political activities in UoB serves as an important justification for the march.
Facebook Conversations
COMMENTS
Comments are moderated and generally will be posted if they are on-topic and not abusive.
For more information, please see our Comments FAQ