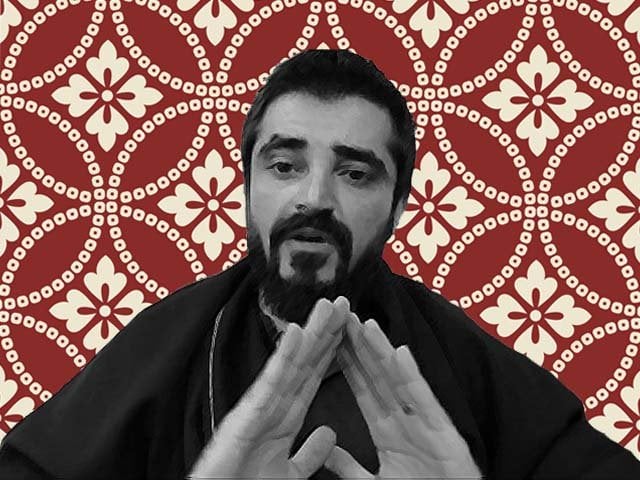 ---
Hamza Ali Abbasi: The born again Muslim
The first impression I had after hearing Abbasi's statements was that they reeked of self-righteousness and...
---
A few days ago, actor Hamza Ali Abbasi shared a video on social media to announce his decision to quit show-business and pursue a form of Islamic activism instead. In the viral video, Abbasi narrated his personal journey stating that he went form being an atheist to a devout Muslim. Adopting a 'philosophical' tone, he spoke about his early youth and quest for understanding the "existential" questions which occupied his mind. He discussed how he had initially become an atheist because he had been unable to find satisfying answers to those questions at the time, but, later on, an engagement with science led him to rediscover God. This "discovery" facilitated his return to Islam after an "unbiased" examination of various faiths and his realisation that death is the ultimate reality. According to Abbasi, the fact that death is inevitable led to a reassessment of his present life, as well as becoming the basis for his decision to leave the profession with which he has been associated for 10 years. He tried to make it clear that he did not consider show-business to be haram (forbidden), however, he felt that continuing a career in that field could interfere with his ultimate objective of spreading Islam. He also went on to say that this did not necessarily mean a complete severance of ties from the film and television world since he would still like to use the medium to spread the message of Islam.

The first impression I had after watching the video was that Abbasi's statements reeked of self-righteousness and pomposity – but then again, this is the way he usually behaves on social media. I still remember his tirade against MQM workers in which he accused them of being mental slaves of their party, and his insensitive post at the time of Kulsoom Nawaz's illness also seemed to be in poor taste. More recently, while announcing his marriage to Naimal Khawar Khan, he gave a characteristically contradictory and self-righteous sermon. Thus, this latest video is by no means any different from his earlier posts and underlines his confusions, self-righteousness and, more importantly, continued desire to remain the centre of public attention.

Naturally, it goes without saying that his decision to leave the film and television industry (albeit a partial departure given he still wants to make 'Islamic projects') is and should always be an individual choice. No one has the right to 'stop' Abbasi from taking this decision and nor is anyone trying to. However, since Abbasi, decided to make a public video in which he himself discusses this topic openly, and given that his celebrity status means that he has an impact on many impressionable followers, I think it is acceptable to openly debate this matter.

After his video was aired, I have seen countless reactions of teary eyed fans who have been praising him for this step. This in my opinion is problematic since it makes it apparent that clearly his confusions and self-contradictions are not confined to him alone but are reflective of a societal dilemma. Like many in the country, Abbasi likes to wear his religion on his sleeve, which can be problematic.

Let's deconstruct his message. He is in essence saying that he feels it is wrong for him to be in show-business unless and until it is for the service of Islam. Yes, he has categorically said that he does not consider the profession to be forbidden in Islam, but the very fact that he is leaving the industry himself conveys a very different message. If he really believed that show-business is not haram (as he claimed in his video), then there was no need to leave it. It seems to imply that working in the film and television industry while also remaining a devout Muslim cannot go hand in hand, as if they are somehow incompatible.


Thread - Is working showbiz and being pious polar opposites? I respect every individual's decision regarding their personal life as long it doesn't harm anyone else. But it's highly inappropriate to defame showbiz making it look like a dark pit from which only Allah can save you

— M. Jibran Nasir 🇵🇸 (@MJibranNasir) November 15, 2019


Abbasi could have just quietly left the industry, or perhaps refrained from giving such lengthy justifications. The message he is giving seems to come off as sounding like in order to be a 'pious' and 'true' Muslim, you must adopt a more conservative outlook. The concept of a born-again Muslim is by no means a new notion (with Junaid Jamshed probably being the most obvious example), yet such individuals always feel pressured to show how much they have changed and seem to believe that the only way they can demonstrate their transformation is by adopting a more orthodox lifestyle. The desire to publicly disseminate the message of the transformation thus appears to be a desire to gain some sort of public religious acceptance.

Moreover, this decision, and the manner in which it was announced, while projecting Abbasi's 'piousness,' also undermines the public impression many have of Abbasi's former show-business colleagues and results in a demarcation, an 'us versus them' mentality. A conservative society like ours will undoubtedly contrast them with him, thus perhaps creating undue pressure on the former since such steps can often have a cascading and bandwagon effect. Ultimately, I truly do wish Abbasi the best of luck for his future endeavours, but I also hope that he tones down his self-righteous and overtly religious rhetoric. As a celebrity, he has to understand that he has a social responsibility and that his words have real world consequences.