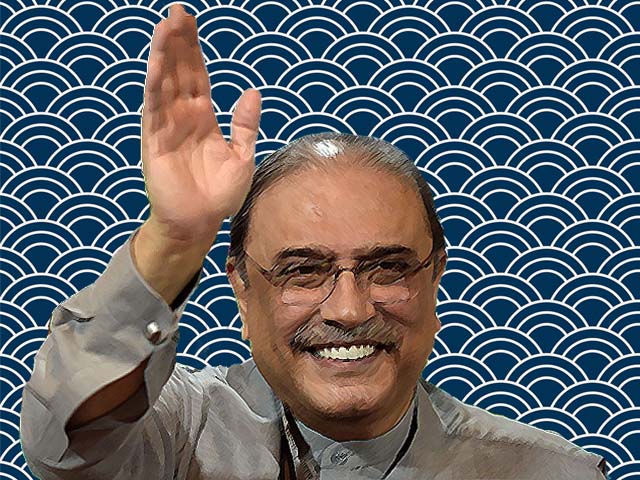 ---
As we bid farewell to Nawaz, what fate awaits Zardari?
It would be strange for the courts to offer Nawaz bail on medical grounds but not extend the same facility to Zardari
---
As expected, Nawaz Sharif finally flew abroad today on his own conditions after getting permission from the Lahore High Court (LHC). His illness, as mentioned in my previous piece, led to a reworking of the nation's political chessboard. Not only did it bring the issue of political victimisation at the hands of the incumbent government into the limelight but it also forced Pakistan's powerful quarters to tell the Pakistan Tehreek-e-Insaf (PTI) government that enough with the accountability narrative, get to work on fixing the economy and other governance issues. Furthermore, the change in the tone of the PTI allies, both Pakistan Muslim League-Quaid (PML-Q) and the Muttahida Qaumi Movement (MQM), was not a coincidence, nor could they have spoken in favour of letting Nawaz go abroad for his treatment unless they had received the signal from the powers that be. In any case, now that the Nawaz fiasco has temporarily subsided, the question arises: what will the fate of Asif Ali Zardari be? Zardari has remained in custody since June 10th of this year despite the fact that not a single charge levied against him in the fake account and Park Lane cases has been proven.

Why he is still behind bars and has not been given the right to receive medical treatment from doctors of his choosing is a separate discussion. But for now, Zardari continues to keep his cards close to his chest. He is not filing a bail application nor is he interested in seeking out any NRO. Zardari, being a shrewd political player, perhaps knows that merely the sloganeering of accountability will no longer suffice since Imran and his government are battling against political and economic turmoil on a daily basis. Since the PTI government has instead focused its energies on putting opposition leaders behind bars and lashing out against all forms of dissent, Zardari knows that the public narrative is already starting to turn against the ruling party. Hence, Zardari need not besmirch PTI, they themselves are already doing that for him.

Given that Nawaz was allowed to travel abroad by the LHC while the appeals against his convictions have been pending for months in the Islamabad High Court (IHC), it is evident that the establishment now realises that given the government's shaky performance thus far, the nation cannot afford anymore political instability. Hence, it is likely that sooner or later Zardari too will receive some relief from the courts. It seems that he will first be sent to Sindh under custody, will get the medical treatment of his choice, and will eventually receive bail as well – after all, it would be strange on part of the courts to offer Nawaz bail on medical grounds but not extend the same facility to Zardari.

Contrary to Imran's statements that he will not give an NRO to his opponents, and the speculation by Sheikh Rasheed that Zardari is seeking a plea bargain, it is increasingly likely that Zardari will get bail on health grounds. Only a man without any political wisdom can seek an NRO from a government that itself is hanging on with a very thin majority and whose own allies are now voicing their dissent. Zardari knows that sooner or later, in an attempt to restore the political equilibrium, he too will be released due to his health concerns. However, the Pakistan Peoples Party (PPP) is currently lacking the spin wizards needed to bolster their party narrative on mainstream media, unlike the PML-N and PTI.

Nonetheless, despite the challenges, Zardari and the PPP have successfully thwarted the onslaught against their government in Sindh. At one time it looked like the PPP provincial government could be in trouble, but Zardari smartly propped up Bilawal Bhutto Zardari as a vocal critic of PTI. Furthermore, sending Bilawal to interior Sindh to mobilise the party vote bank ensured that attempts to uproot the PPP from Sindh bore no fruit, while Zardari's time behind bars has undoubtedly helped fuel the sympathies of his vote bank. Perhaps unlike Nawaz, it seems that Zardari will be able to play an active role in Pakistani politics in the near future, despite his illness. The fact remains that Imran's accountability narrative has been dying a slow death for a while now.

Therefore, PTI's eagerness to put members of the opposition behind bars has only resulted in the likes of Zardari and Nawaz gaining political capital. Zardari has clearly read the writing on the wall and, given the increasing rumors in the power corridors about a possible in-house change in next few months to restore political and economic stability, it seems that he may well end up having the last laugh.

[poll id="798"]
Facebook Conversations
COMMENTS
Comments are moderated and generally will be posted if they are on-topic and not abusive.
For more information, please see our Comments FAQ