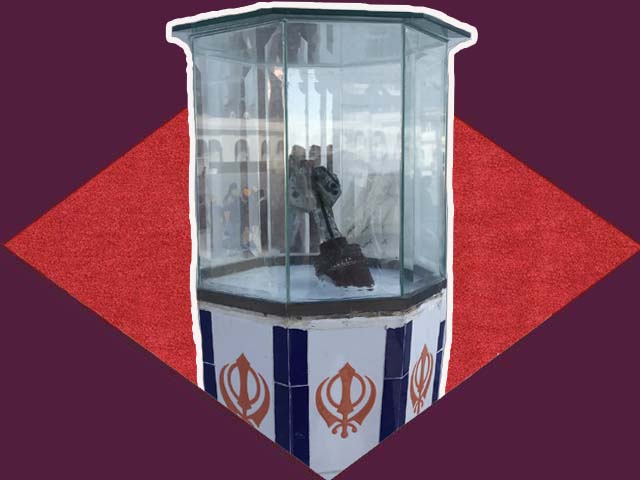 ---
Why is a bomb on display at the Gurdwara Darbar Sahib?
It is imperative that we try to ensure that at least sites which hold great religious significance remain apolitical.
---
The opening of the Kartarpur corridor represented a truly unique moment for a region which has suffered great tragedies and unbridled hostilities at the hands of national and religious prejudices. The manner in which the opening ceremony was conducted and the warmth with which Sikh pilgrims from across the border were welcomed into Pakistan represented the very ideals we as a nation should aspire towards – religious, ethnic and international inclusivity. It is therefore unfortunate that this site of tremendous religious significance is being used to tout a message which simply does not belong there and sticks out like a sore thumb amidst the placid white exterior near the entrance to the shrine. Encased in a glass box which stands atop a column is the shell of a bomb which, according to the signpost right next to it, was dropped here by the Indian Air Force during the 1971 war but failed to explode. As the signboard states,
"Indian Air Force dropped this Bomb during 1971 at Gurdwara Darbar Sahib Sri Kartarpur Sahib with the aim to destroy it. However, this evil design could not be materialised due to blessing of Waheguru Ji (Almighty Allah). The said bomb landed into Sri Khoo Sahib (Sacred Well) and this Darbar Sahib remained unheart (sic). It is pertinent to mention that this is the same sacred well from where Sri Guru Nanak Dev Ji used to get water to irrigate his fields."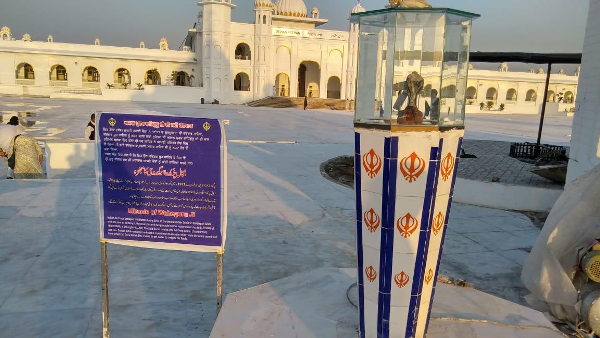 Such a display should be a cause for concern. The Karatarpur corridor and the Gurdwara Darbar Sahib present an opportunity to rise above petty politics and jingoistic chest-thumping. In a region rife with political tensions and religious hostility, it is imperative that we try to ensure that at least sites which hold great religious significance remain apolitical. Or is that too much to ask? It is unclear exactly who decided it would be a good idea to display this bomb here, but it is by no means a new addition to the premises and appears to have been a fixture at this location for a few years at least. Some have stated that the bomb was discovered during the time of Ziaul Haq and has been on display at the location since then, however, the veracity of these claims is yet to be determined.

Regardless, if the placement of this remnant of the 1971 war is a state endorsed initiative then it is imperative that the government realises that a religious site should not house war 'memorabilia,' especially since we have plenty of other museums in the country which serve as places for us to repeatedly flex our military muscle, as was made evident recently by the Pakistan Air Force Museum in Karachi. To use a religious site for such purposes is to tarnish the very ethos such places embody. How would Muslims in Pakistan react if a defunct bomb which fell near one of Islam's most revered holy sites was put on display nearby in an attempt at some rather unwarranted political point scoring?

Not only is it uncalled for, it is disrespectful to welcome visitors to the Gurdwara Nankana Sahib with a such a sight. To use a well which holds religious significance for Sikhs as a tool through which a needless political jab can be thrown ultimately serves no purpose. If the intention is to use the failure of the bomb to detonate in order to demonstrate how sacred the site is, one doubts that a place like the Gurdwara Nankana Sahib needs a helping hand in order to prove this.

Some have even gone so far as to say that such a display represents Pakistan's desire to fuel the Khalistan movement through the Karatarpur corridor. While such claims are grounded in no concrete evidence, it is a pity to see a site which can serve as a bridge between two nations become mired in a web of political mudslinging. Such verbal cross-firing defeats the lofty purpose which the Gurdwara Nankana Sahib can serve, not just as a sight of religious significance, but also as a place which could promote harmony and brotherhood between India and Pakistan – even if it is only momentarily.