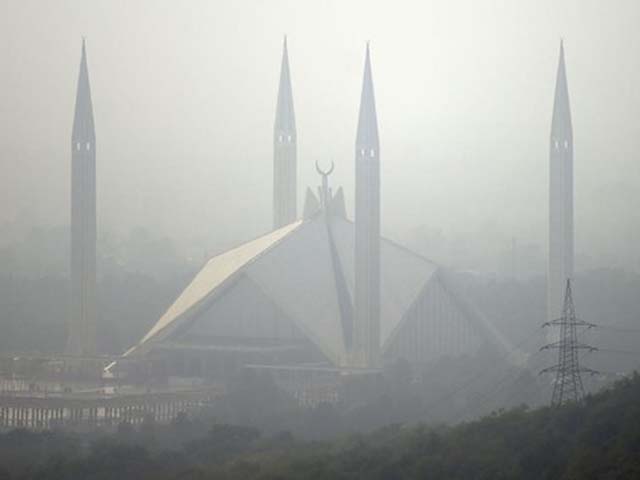 ---
Is Pakistan's smog epidemic about to get worse?
From its northern mountains all the way down to Karachi, clearly smog is a serious issue for Pakistan.
---
Environmentalists in Islamabad were aghast this week when precious old trees in the capital were cut in order to make a bridge to connect sector G-7 to G-8 over the Express Highway, a signal free corridor. Despite their pleas that an alternative loop existed nearby which could be used, the Capital Development Authority went ahead to facilitate traffic flows. Islamabad's activists are ringing alarm bells because this is exactly what happened in Lahore, with all its fancy signal free corridors, over passes and under passes which steadily ate away the old trees and green belts of the city. The Advisor to the Prime Minister on Climate Change, Malik Amin Aslam, says 70% of Lahore's green cover has been shaved off in the past decade.

Once known as the 'City of Gardens,' Lahore's tree cover went down to make room for new roads and vehicles owned by a rapidly growing population. It has resulted in Lahore becoming horribly polluted in the winter months when, due to temperature inversion, a layer of cooler air is prevented from rising by the warmer air above it and it traps all the pollutants below it. The problem has worsened each year and Lahore's 'smog' season is now awaited with dread. A thick haze descends on Punjab's capital from October to early January, causing headaches, sore throats and red eyes.

According to former Environment Protection Agency-Pakistan head, Asif Shuja Khan, "In the last 15 years, Punjab's vehicles have increased by 268% (motorcycles by 439% and private vehicles by 327%). And we have not even catered to what effect the China Pakistan Economic Corridor will have once trade starts." He would like the Pakistan Clean Air Programme (from 2005) to be revived. Before the 18th Amendment to the Constitution was introduced, this programme succeeded in removing lead in gasoline and brought Pakistan's vehicles to Euro II standards of petrol quality (India is now on Euro IV). Khan stated, "After devolution no one took responsibility for this programme. We didn't move up from Euro II and we couldn't even stop 2 stroke vehicles (polluting rickshaws)."

Concentrations of particulate matter (PM) in Pakistan's urban areas are now much higher than those experienced in other regional countries such as Bhutan and Sri Lanka. PM 2.5 readings from the air monitors refers to particulate matter that have a diametre of less than 2.5 micrometres, which is 30 times smaller than a human hair and they settle deep into the lungs and causes many diseases. Those who can afford it have now installed air purifiers in their homes in Lahore and wear tight fitting N95 masks when venturing outside.

It has become so bad that I avoid visiting the city in the winter months. Not that Islamabad, where I reside, is all that clear – or Karachi, which is only saved by its sea breeze that usually takes the pollutants out to sea. In Islamabad, which has about as many clean air days as Karachi, we can't even stop garbage burning – the Capital Development Authority's (CDA) garbage collectors persist in burning garbage in every sector to get rid of it. Air pollution is in fact a year round problem in this region. In the summers, the air pollution ends up dispersing and during the monsoon season it is washed away by the rains.

The first Hindu Kush Himalaya (HKH) Assessment Report released by the International Centre for Integrated Mountain Development (ICIMOD) notes that "thick aerosol haze covers the heavily populated Indo-Gangetic Plains during the dry season, reducing visibility and obscuring sunlight. The haze often penetrates deep into Himalayan valleys, reaching the high mountains."

From its northern mountains all the way down to Karachi, clearly smog is a serious issue for Pakistan. Lahore is the worst off, everyone agrees, with smog increasing in intensity and frequency. Right now in November the United States Air Quality Index readings (shown by privately owned air monitors in Lahore) are typically over AQI 200, which means it is "very unhealthy" according to their classification. But according to the classification used by the Punjab government this means it's "moderately polluted."

Imran Khalid of the Sustainable Development Policy Institute says the Pakistani classification is much more lenient than the American one and it's like saying "we know that anything above 98.6F is a fever when taking a person's temperature, but since you are from a developing country it's okay! But who are we fooling, this index must be adjusted." Amin Aslam, on the other hand, says this classification (similar to the one used in India) was devised by the Smog Commission formed under the Lahore High Court in 2017, so it is a legally approved one and it is up to the court to change it.




Last week, three teenagers filed a suit with the Lahore High Court asking for the classification of the Air Quality Index used by Punjab's Environment Protection Agency to be reviewed. It's their argument that the classification under-reports the severity of the air pollution. They want to challenge the Smog Policy approved in October 2017 as it sets these classifications.

Right now accurate data is also a problem in Lahore as the Punjab government only has three high quality air monitoring devices functioning in Lahore. Aslam has stated that under World Bank funding, 30 more monitoring stations will be set up in Punjab, with 10 in Lahore in the next six months. He says that the World Bank's Punjab Green Development Programme will enhance EPA's capacity and introduce vehicle inspection systems in Punjab. This will be sourced out to the private sector. The programme will also provide funds to shift away from polluting technologies used in steel furnaces and brick kilns and provide subsidies to farmers to move away from crop burning. Aslam is also planning to plant urban forests in Lahore from February next year and wants to set "clear timelines/targets" to tackle the smog.

We also need a country-wide source apportionment study to identify the pollutants across Pakistan. Right now the only credible report we have is the United Nation's Food and Agriculture Organisation's study on the underlying causes of smog in Punjab, which used GIS techniques. It notes that the major portion of total air pollutant emissions are indeed coming from the transport sector; a 43% share. The industrial sector is responsible for 25% of the total air pollutant emissions, while agriculture (rice residue burning) accounts for 20%. Aslam agrees, pointing out that the cabinet has agreed to an ambitious electric vehicle policy, which envisions the manufacturing of e-vehicles in Pakistan with China's collaboration, "Two wheelers and three wheelers can now shift to e-vehicles and investors are excited."

However, Aslam believes we cannot discount trans-boundary pollution coming from India from massive crop stubble burning in their Punjab, "On November 6th for example, the easterly wind changed direction and suddenly the air pollution from across the border came into Lahore and the air quality index went sky high. Yes, we have our own issues but add on the cross border issue and you make it much worse. We hope to take it up at the right forums when they become available." After all smog is not just a Lahore issue; satellite images show that it stretches from here to the Bay of Bengal, which is why it imperative that the entire region takes immediate action.