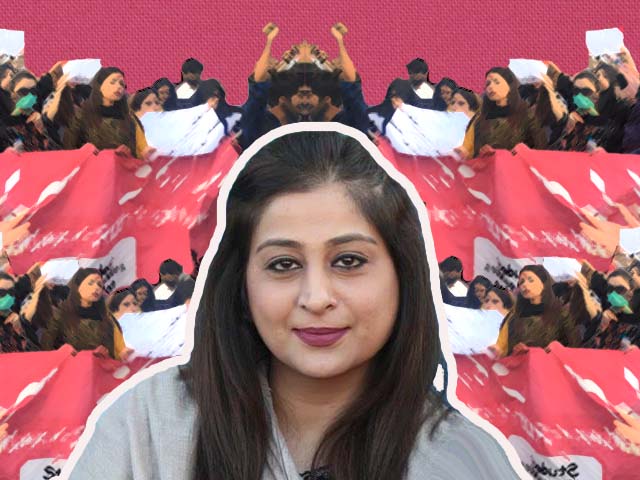 ---
Why is lifting the ban on student unions important?
It is worth questioning why it took the PPP so long to get the ban on student unions lifted
---
Over the past month, it appears that it has become increasingly apparent that the students of Pakistan are in desperate need of a greater number of bodies and student organisations which can help raise a voice for many of their concerns. The recent scandal which hit the University of Balochistan (UoB) resulted in the mobilisation of students across the country who were demanding that the university take immediate action to ensure that those responsible for such abhorrent behaviour be held accountable for their actions.

In Islamabad, students were protesting for their housing rights, students in Shaheed Benazir Bhutto University Nawabshah were injured by the police for demanding access to water and housing facilities, and demonstrations were also held to demand justice for a student who died after falling from the fourth floor of Bahria Univeristy, Islamabad. But these incidents are just a few which have caught the glare of the media spotlight and only scratch the surface of the problems which many students in Pakistan are currently encountering. In light of these mounting concerns, the resolution presented in the Sindh Assembly which calls for a lifting of the ban on student unions in educational institutions in Sindh is a much needed development. Pakistan People's Party (PPP) member Nida Khuhro tabelled the bill and stated that,

"It is of utmost importance for the youth of Sindh to actively and meaningfully participate in the democratic, social, cultural and political processes of their country and of the province."


This resolution is hugely important since not only does it move towards providing students with a platform where they can gather, discuss and disseminate ideas which are of importance to them but it is also a step towards finally doing away with a remnant from the Ziaul Haq era which has continued to endure. Zia did away with student unions in 1984 because,

"A 2008 discussion paper, Revival of Students' Unions in Pakistan, prepared by the Pakistan Institute of Legislative Development and Transparency (PILDAT) states that in 1984, it was believed that the ban was prompted by reports of anti-government student organisations gaining strength. The paper states that the government feared a students' movement, similar to the one that led to the ouster of President Ayub Khan in 1969."

However, although the passing of this bill could prove to be an important step, it is imperative to keep certain things in mind. Firstly, it is worth questioning why it took the PPP so long to get the ban on student unions lifted since in his address to the National Assembly in 2008 former prime minister Yousaf Raza Gilani stated that the restoration of student unions was part of his agenda. Despite having made those claims back then, neither Gilani nor the PPP were able to reverse the ban while Benazir Bhutto also tried to get the ban lifted during her tenure but had failed in doing so. Secondly, this failure to overturn the ban in Sindh for all these years seems all the more perplexing given that the PPP has long held a majority in the Sindh Assembly.

Thirdly, the passing of this bill will be worthless if its proper implementation is not overseen. Unless it is ensured that universities adhere to these proposed changes the resolution will accomplish very little. Fourthly, unfortunate cases of violence between student groups, which have erupted in the past, also need to be curbed and must not pass by unchecked. Often times the violence is a product of ethnic and political divisions, which is why it is imperative that universities are provided with clear rules and regulations with regards to the functioning of these unions. Perhaps the advice of Dr Pervez Hoodhboy about this can be helpful; he stated in 2015,

"A healthier option would be to allow student unions with recognised leaders who could be held responsible in case there is violence or disrespect for the law."

Nonetheless, despite the delay and the above mentioned concerns, the resolution is an important step towards Pakistan ensuring that students are provided with a space where they can actively engage with the political and social issues which are of importance to them. It is vital that students are not dissuaded from becoming politicised, and it is also important that the formulation of student unions across the country is encouraged and that students do not shy away from raising a voice on a whole host of issues.
Facebook Conversations
COMMENTS
Comments are moderated and generally will be posted if they are on-topic and not abusive.
For more information, please see our Comments FAQ