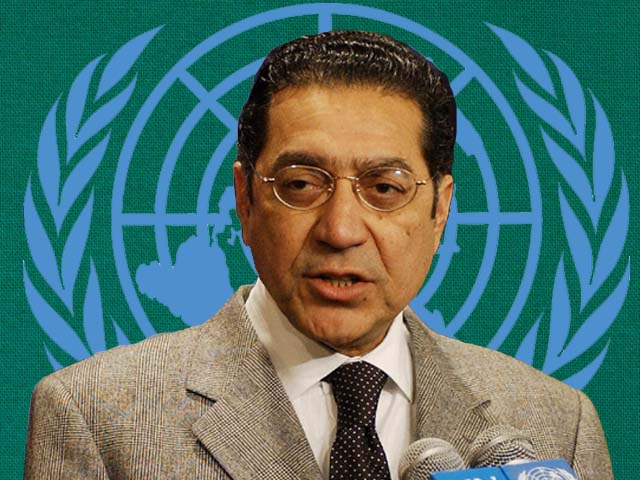 ---
The problem with Munir Akram's UN appointment
It is imperative that the state provides an explanation for Akram's return in light of the Civil Servants Act 1973
---
While Munir Akram officially taking over as Pakistan's ambassador to the United Nations (UN) on Friday did make headlines, a petition filed in the Sindh High Court against him did not, quietly slipping through the cracks. After Maleeha Lodhi announced her departure, the appointment of Akram was met with muted applause for several reasons. It was argued that Akram had already served as Pakistan's permanent representative to the UN during Pervez Musharraf's regime and that his return would only herald in more of the same polices. The bringing back of the old vanguard and a failure to bring something new to the table on the diplomatic front is certainly a pitfall which the Pakistan Tehreek-e-Insaf (PTI) seems to have fallen into, willingly or unwillingly, but that is by no means the only concern many have with regards to Akram's reinstatement. The Women's Action Forum (WAF), in its Sindh High Court petition, is asking for the removal of Akram on the grounds that his appointment is "illegal, unlawful, unconstitutional and liable to be struck down." Let's unpack this.

WAF argues that Akram's appointment violates Section 14(1) of the Civil Servants Act 1973 which states,

"A retired civil servant shall not be re-employed under the Federal Government, unless such re-employment is necessary in the public  interest and is made with the prior approval of the authority next above the appointing authority."

Given that Akram was no longer serving as a civil servant, this is indeed a valid point of contention. Now, naturally the question arises that if the government felt that Akram's appointment was an absolute necessity and in the best public interest, why was the public not educated as to exactly what the pressing reasons for his reinstatement were? Perhaps the state felt that absolutely no one else could fulfill this role and was absolutely bereft of any options except for the 74-year-old. Or perhaps it was Akram's glowing praise for Imran Khan after his speech at the United Nations General Assembly (UNGA) which made Imran realise that Akram was the only man for the job. Or perhaps Akram's return had already been negotiated at that point, thus making Akram's write-up nothing more than a sycophantic puff piece – in public interest of course. Regardless of what made Akram's return such a necessity, if anything, it is imperative that the state provides an adequate explanation in light of the Civil Servants Act 1973.

However, as many will already know, this particular stipulation is not was has been the biggest cause for contention. In 2002, Akram was accused of domestic violence and for physically assaulting his then girlfriend Marijana Mihic, who, according to police reports, had a bruise on her head and minor injuries on her knees. She also claimed that this was not the first time he had struck her. The United States (US) had reportedly asked Pakistan to withdraw Akram's diplomatic immunity, while the District Attorney's office in New York did pursue the case before dropping it in February, 2003 and it was also reported that Mihic had since repudiated her initial claims. The bizarre manner in which this entire episode unfolded meant that for many this incident continues to hang like a dark cloud over Akram's career. This very point was raised by WAF in its petition, which argued that,

"In light of the accusation of domestic violence, it is requested of the honourable court to reflect on the impression this (appointment of Akram) creates in the global environment, and also the impression made of the standards of behaviour reflective of official representatives,"
and
"To ignore one claim, especially at a time when women's rights movements are pushing for 'Believe Her', is to present a poor image of Pakistan, a Pakistan that does not uphold women's rights or understands the complexities of domestic violence claims."

Now, it is important to reiterate here that Akram was neither tried for nor was he found guilty of domestic violence. However, the gravity of a domestic violence accusation cannot be overstated. A nation's representative at the UN is supposed to represent the very best the nation has to offer, not just as a diplomat but also as an individual. Regardless of what one may think of Lodhi's tenure as Pakistan's permanent representative to the UN, she undeniably tried to embody an ethos which we as a nation could uphold as being representative of Pakistan. Furthermore, Akram's alleged domestic violence will also provide fodder for those who wish to malign Pakistan's image on the international front and are looking for ways to shovel dirt at our representatives at international forums. For instance, several Indian publications have already started referring to him as the "woman basher" and "diplo-basher," – not exactly the kind of moniker you would want one of your most important diplomats to have. At a time when Pakistan needs all the international support is can muster, there is no need to have our efforts on the foreign policy front being weighed down by this additional baggage. Furthermore, the fact that Akram was able to receive this appointment helps serve the message to men in Pakistan that even if you are reported for having committed such acts, your career will not be impacted in the slightest and the government will also do its best protect you.

Akram's appointment is problematic to say the least, yet is unlikely that any court in the country will call for his removal on these grounds since adjudicating as to whether or not a diplomat is the right man for the job does not fall under their purview, unless there is a clear violation of Pakistani laws. While the Foreign Office has dismissed the allegations against him as nothing more than a "slander campaign," the truth of the matter is that this could well damage Pakistan's image in the international arena. However, regardless of whether the current petition is dismissed or not, it is important to ensure that we as a nation continue to hold our public servants accountable for their actions, even if the state does not.
Facebook Conversations
COMMENTS
Comments are moderated and generally will be posted if they are on-topic and not abusive.
For more information, please see our Comments FAQ