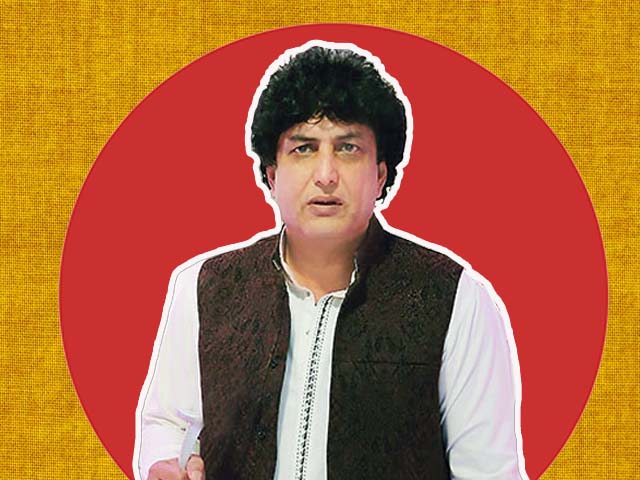 ---
Does the Pakistani media industry have the guts to boycott Khalilur Rehman Qamar?
The media fraternity largely seems oblivious to the impact of the content on the audiences
---
I had once been one of the most avid viewers of local television content. Gradually though, I stopped following most local dramas and became very selective about what I chose to watch – but given that my job is related to digital media, I do have to keep an eye on the latest developments in the film and drama industry. Every other day, I find celebrities complaining about the vile comments that people make on their social media profiles, mostly judging them, assassinating their characters and even slut-shaming them. I have always felt for them and wondered why our masses continue to spew such vitriolic statements and repeatedly perpetuate archaic gender stereotypes, especially when it comes to women. I have long wondered why society continues to view women in a binary way, as either good and pure or bad and vindictive. I got my answer to this question when I accidentally came across Khalilur Rahman Qamar's recent 
interview
. I also suddenly realised why I had stopped watching local content, and although the interview is rather alarming, it did not particularly shock me.
A major chunk of our public spends a decent amount of their time in front of their television sets daily. The day begins with morning shows and ends with prime-time drama serials followed by repeat telecasts. If you closely analyse the content, you will begin to realise just how problematic it is. A good woman is submissive, dresses in
 shalwar kameez 
and wears minimal makeup. She is a doormat almost, who takes care of all the household's needs and chores regardless of how toxic the environment is. On the other hand, the bad woman, or the vamp in a drama is always outspoken, bold, modern and more often than not, career-oriented. There is also a sense of shame that they attach to women indulging in certain behaviours, such as smoking because women, usually playing morally ambiguous characters smoke on television. Not to mention, cigarettes are suddenly related to honour when in a woman's hand. 
The problem does not end at the abysmal unrealistic portrayal of women and many dramas make matters worse by treating sensitive issues such as rape and 
halala 
as mere tools for sensationalism. The insensitive portrayal of these themes often also attempts to humanise abusive men. One of my formerly favourite serials, Shukk had the audacity to justify the male protagonist cheating on his wife because he blamed her for losing their child. 
Khalil ur rehman Qamar types are present in almost every channel, film company or studio, fashion world, styling, media houses, post production, music industry, we all know it. It shows in our films morning shows News Tv dramas. Darkness is fed openly by creeps. Its all True!

— jami-ازار (@jamiazaad) November 1, 2019
Qamar too is a propagator of the same problematic themes and messages. He has reiterated his point of view through his work many times, cleverly disguised under compelling dialouges and behind beautiful actors. 
His script for 
Sadqay Tumhare
 had elements of misogyny scattered throughout it too. For some odd reason, both the men and women are cheating on each other in this drama but the onus of responsibility falls on, you guessed it, the women. 
The men were portrayed as meek, helpless sheep that could not ward off intimate advances by the women in question. It was a blatant expression of Qamar's thinking; men cannot say no and women are to blame for leading them astray. Interestingly, Qamar is one of the bigger names of the industry with projects like 
Pyarey Afzal 
and 
Punjab Nahi Jaon Gi 
under his belt. 
Another famous writer, Umera Ahmed has a novel '
Peer e Kamil
' to her credit that promotes the victimisation and bashing of an already marginalised, religious community and conveniently encourages bigotry under the guise of romance. Alarmingly, the novel is amongst one of the best-selling and most-read pieces of literature in recent times.
Seriously, though, what fresh hell is this.https://t.co/FzbYNqwJDv

— Osman Khalid Butt (@aClockworkObi) October 31, 2019
Ummmm and how many actors, actresses, pro/dir and channels will put their foot down in response to these views and send a message of resistence here? https://t.co/Dg7s0V3DNe

— MEESHA SHAFI (@itsmeeshashafi) October 31, 2019
One cannot blame the writers alone since our producers also look for such scripts, our directors execute them and our actors perform them while all four parties, including the writer, make money off of them. What they seem oblivious to is the impact of the content on the audience. By reinforcing the belief that any woman in a pair of jeans is inherently evil or that any wife who stands up for herself against abuse is bad, we complicate the lives of many women who are not this abhorrent stereotype. 
Most scripts also paint men as clueless, innocent creatures who only suffer because of the women they are around with barely any fault of their own. 
According to the linear Hypodermic needle theory, 
"

Media messages are injected directly into the brains of passive audiences."



Consequently, they become part of the system that conditions society to believe in such stereotypes and judge men and women by very different parameters, with some indeed taking their cues from television. 





Interestingly, very few people from the media industry, including Jami, Meesha Shafi and Osman Khalid Butt, have called out Qamar's problematic views, despite it being 48 hours since the interview went viral. I wonder if the fraternity will chose to take a stand against Qamar's comments at the cost of giving up lucrative scripts or if any actor will ever call out a writer or director for misogynist content. If the answer is no, we will continue to feed this vile circle of woman blaming and the botched notions that a woman cannot ask for her rights, especially when treated badly.



[poll id="796"]