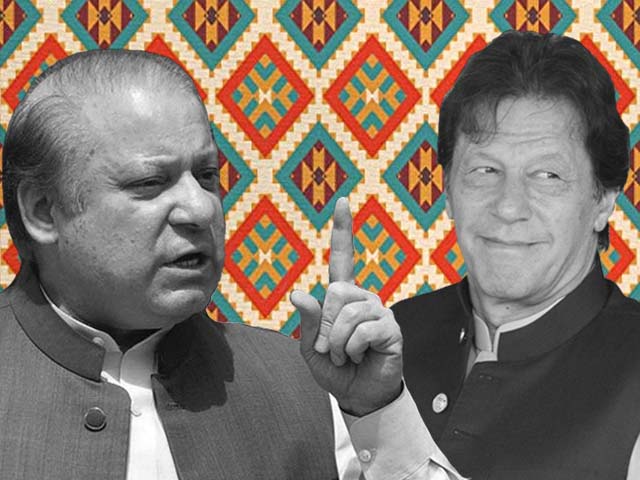 ---
How Nawaz Sharif's illness has changed Pakistan's political chessboard
The PTI government, which that was on the offensive, has now gone on to the backfoot
---
As per expectations, the Islamabad High Court suspended the imprisonment of Nawaz Sharif in the Al-Azizia reference case for eight weeks. The high court cited his deteriorating health condition as the reason for doing so. Since being hospitalised last week, Nawaz has been battling ill health while the current government and its backers are praying for his early recovery. This is perhaps a situation where even the worst of Nawaz's visible and invisible opponents want him to recover from his illness as soon as possible. As a result, Nawaz's critical illness has actually changed the dynamics of the power chessboard, and the government of Pakistan Tehreek-e-Insaf (PTI) that was on the offensive, busy in a witch-hunt against its political opponents, has now gone on the back-foot.

It seems that the powers that be have taken the matters of political prisoners in their own hands as Prime Minister Imran Khan is not able to keep his political opponents like Asif Ali Zardari and Khursheed Shah behind the bars. Accountability is the part of the proceedings but fulfilling the electoral promises and getting the country out of political and economic turmoil remains the biggest job of the government. This current game on the power chessboard is now seemingly out of Imran's hands. It is eventually Nawaz who will decide whether to get treatment abroad or in Pakistan since he has been told by Shehbaz Sharif and other family members to leave the country along with his daughter, Maryam Nawaz, for his medical treatment. If Nawaz stays here and due to his critical illlness does not recover, both Imran and his backers will find it very hard to keep the current political discourse intact. This is a catch 22 situation for the government and the powers that be.

On the other hand, Nawaz has to make one of the most crucial decisions of his political career. His problem remains that if he leaves at this juncture in time along with his daughter, this will grant a new lease of life to the current status quo. Nawaz's deteriorating health, and PTI's initial apathy have only helped pushed the narrative which the Pakistan Muslim League-Nawaz (PML-N) was hoping to use to its advantage. Therefore, Imran's heavy-handedness has backfired in this instance, thus playing into the growing public sentiment that in light of his health concerns Nawaz was treated unfairly – hence, PML-N only need to ride the crest of this wave for now.

Nawaz would not be too concerned about his political career since he still enjoys a great deal of support in Punjab and the sympathy narrative which is currently being propounded will only bolster it further. If Nawaz does go abroad he may lose a little political capital in the short term but in the long run he will benefit since he can easily resume his political activities from there, along with his heir apparent, Maryam. But the question remains, will Nawaz be ready to forgive the powers he thinks were responsible for his ousting? Whatever Nawaz decides may end up determining the outcome of this visible and invisible political battle which is now gathering great steam. The stakes are high but so are the rewards. If Nawaz is willing to risk his life for his narrative of democratic supremacy, the current political discourse will meet its end, but for Imran, there is no guarantee of smooth sailing.

No country can attract investment and ensure economic progress without political stability, but the current scenario makes it seem like it may well be a very difficult target to achieve. The situation right now is that Nawaz has used Fazlur Rehman as a proxy to clamp down on Imran, Rehman has used Nawaz and Zardari to present himself as the 'saviour' of democracy, and a certain faction of the powers that be have used Rehman as a backup plan in case they need to ditch Imran. With all these pieces currently in a state of flux, with Nawaz's health being the most unpredictable factor, it remains to be seen how all this will play out.