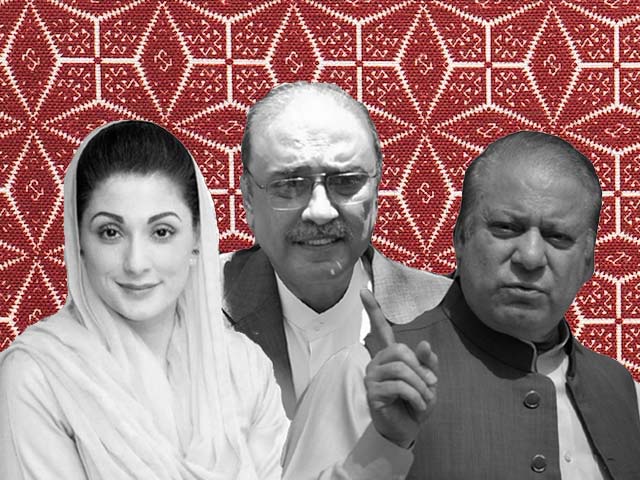 ---
The curious case of Pakistan's political prisoners
If the masses do not have faith in the transparency of the accountability drive, then its ramifications will be moot
---
On Monday night, Nawaz Sharif was taken to a hospital for a medical check-up, but Maryam Nawaz's request to visit her father at the hospital was rejected by a court in Lahore today. Similarly, Asif Ali Zardari was taken to the Pakistan Institute of Medical Sciences (PIMS) for treatment yesterday. Both these visits come after intense back and forth between the ruling party and the opposition regarding the conditions of the jail cells in which several politicians are currently being kept.

The state of the jail cells, and the charges under which these politicians have been arrested has led to much scrutiny and debate on public platforms. It has been argued that former prime minister Shahid Khaqan Abbasi is being kept in a "death cell" in Adiala jail while not even a single charge against him has been proven in the accountability court yet. Rana Sana Ullah, the former law minister of Punjab, was arrested on the charges of smuggling heroin a few months back, however, despite the court hearings, no substantial evidence has been presented against him by the prosecution thus far. Nawaz has been in jail since last year and despite the leaked video of the accountability court judge Arshad Malik, no action has been taken. The same is the case with the Rafique brothers, Khawaja Saad Rafique and Khawaja Salman Rafique, both of whom are currently in prison even though they have not been proven guilty. In August, Maryam Nawaz, who was leading the Pakistan Muslim League-Nawaz (PML-N) demonstrations against the incumbent government, was arrested in the Chaudhry Sugar Mills case and has been kept in prison even though the charges against her are yet to be proven. Dr Adnan Khan, who is a personal physician for both Nawaz and Maryam, informed me that Maryam is being kept in solitary confinement and has been given an "unhygienic prison cell." Other members of the opposition like Faryal Talpur, Miftah Ismail and Khursheed Shah also remain under arrest while the accusations levied against them are still not proven.

This locking up of political opponents opens the door to a whole array of questions. Firstly, one could ask why Imran Khan and his cabinet only discuss the alleged corruption of the PML-N and the Pakistan Peoples Party (PPP) while turning a blind eye towards the malpractices during the regime of General Pervez Mushafraf and other military dictatorships. Furthermore, Pakistan Tehreek-e-Insaf's accountability drive conveniently ignores the Billion Tree Tsunami scandal and the irregularities in the Bus-Rapid Transport (BRT) project in Peshawar that has wasted billions of rupees from the national exchequer. If the desire to bring corrupt politicians to justice is selective in nature then it will have not a leg to stand on.

As a result, this lack of transparency in the accountability drive could backfire for PTI. Take for instance the fact that Nawaz was declared a hijacker during the Musharraf regime by the courts and was essentially disqualified for life from holding any public office. However, not only did Nawaz manage to get that judicial judgment reversed, it barley put a dent in his political capital and, if anything, probably added to it. Similarly, Zardari also served jail sentences during Sharif's government in the 1990s and then during the Musharrf regime on charges of corruption. Yet he emerged practically scot-free in the eyes of his party-workers and went onto to become the president of Pakistan. It is therefore evident that simply locking away popular political leaders does not reduce their support base or their political capital. The longer Nawaz, Maryam and Zardari are behind bars, the more sympathy they will gain from their respective vote banks. Which is why if the process is mired with as much controversy and debate as the on-going accountability drive is, it only serves to turn these individuals into 'political martyrs' for their party members.

If PTI wishes to ensure that the accountability drive is not seen as a tool designed only to round up its political opponents, it is imperative that the party rises above petty politics, otherwise it runs the risk of having the tide of public opinion turn against it. They should allow Maryam and other political prisoners the facility of a B class cell, while both Sharif and Zardari's medical needs should be attended to. Until all such political prisoners are not convicted through a fair trial and their last appeal is not rejected by the highest court in the country, claims of a transparent accountability drive will satisfy no one. PTI has nothing to lose by ensuring that they facilitate these demands, after all, it will only improve the image of Imran and his party as one which is willing to ensure that its political opponents are treated in a fair an impartial manner, which is a befitting precedent to set. If the masses do not have faith in the transparency of the accountability drive, then its ramifications will fall on deaf ears.
Facebook Conversations
COMMENTS
Comments are moderated and generally will be posted if they are on-topic and not abusive.
For more information, please see our Comments FAQ