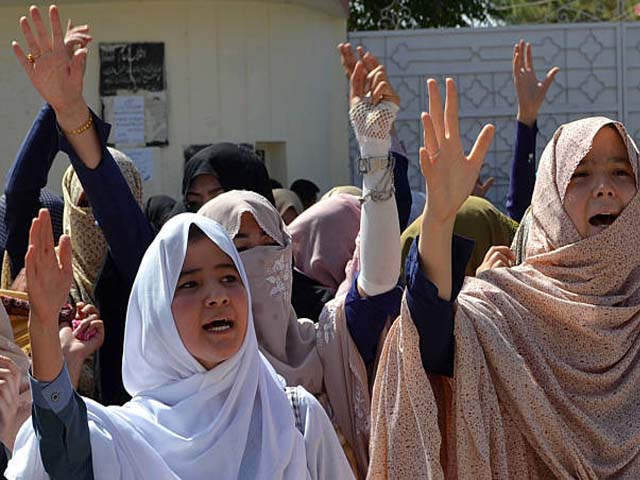 ---
What psychological impact is sexual harassment having on Pakistan's students?
It is imperative that we as a society sensitise ourselves to these issues and do not sweep them under the carpet
---
In light of the recent case of harassment that has emerged at the University of  Balochistan, it is vital that we do not shy away from discussing the psychological impact such incidents have on students. As someone who has previously been associated with the academia, it is worrying to see the apathy with which such occurrences are treated and how often teachers accused of harassment are simply not held responsible for their actions. This lack of accountability was the very reason why I left a teaching position about half a decade ago. During my time as an instructor, an entire classroom of students once wrote an application demanding for an inquiry into the conduct of a male lecturer. This lecturer had allegedly passed inappropriate comments about the body type and complexion of some female students. These comments had been passed in front of the entire class and had also been recorded on the surveillance cameras in the class. However, since the lecturer was well liked by the senior professors, no action was taken against him.



It is an open secret that students, particularly 

females

, often face sexual harassment at educational institutions in Pakistan. Male allies who try to stand with these students and raise a voice alongside them are also subjected to harassment in an attempt to discourage them from speaking up. 

Psychologically speaking, this can be very 

damaging

. A u

niversity is supposed provide a safe and conducive space for learning. Students spend eight to 10 hours at their universities and have pressure, expectations, and deadlines to meet. Furthermore, sometimes the first reaction of the family after hearing about sexual harassment is to discourage their daughters from studying. The trust of parents is shaken by the system and this in turn prevents other female children from studying at a university. In some cases, even i

f parents choose to take action, they are subjected to as much social scrutiny, which is why many choose to keep the matter confined within the four walls of their home.



From a psychological perspective, harassment can result in the victim experiencing flashbacks of the incident, mistrust and hyper-vigilance. In some cases, it is exhibited in the form of Post-Traumatic Stress Disorder (PTSD), while in others it may manifest itself in shape of depression, anxiety and a completely shaken sense of self and confidence. 

There are countless examples of incidents of sexual harassment at academic institutions in Pakistan. For instance, e

arlier

 this year, a few female students decided to file a complaint against their professors. The professors were accused of sending them inappropriate text messages, and screenshots of those messages were also revealed. 

But this begs the question, what happens to the students who experience harassment? Are they provided with mental health aid, if not legal aid? 





A number of students have come to me with cases of 

unreported

 sexual harassment at their universities. 

For instance, two patients of mine were being harassed by a professor and his wife who were trying to satisfy some sick fantasy of theirs. One of these students, upon being sexually harassed, went to the professor's wife with evidence of the harassment. The wife, who was a professor at the same university, calmed down the student, gained her trust and obtained all the evidence from her. She then threatened the student that an edited form of the evidence would be sent to the girl's father and thus blackmailed the student into going through further harassment at hands of her husband. Students at the university

 tried to help her by influencing the female professor through their contacts, which led to the entire ordeal ending. But again, nothing could be done about the impact this had on these girls. Her perception of the world completely changed, as a result of which she tried to commit 

suicide

 before being brought in for 

counselling

. 

She was one of those rare ones whose family was aware enough to provide psychological help to her, even though the family knew nothing about the harassment. But what about hundreds of such students who are unable to share their stories and have to silently carry their accounts of harassment with them?





It is evident that both families and academic institutions need to be educated as to how to

 react

 to such incidents of sexual harassment. It is imperative that we as a society sensitise ourselves to these issues and do not simply sweep them under the carpet out of fear or shame since this only furthers the mental burden on the victims. If we are to fight sexual harassment as a nation, we must come together to tackle it head on and rid ourselves of the stigma which we continue to attach to any discussion surrounding such topics.