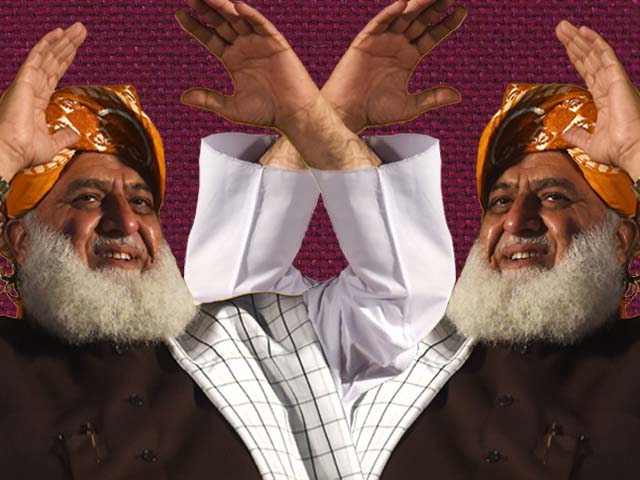 ---
Fazlur Rehman and the art of staying politically relevant
Rehman knows that the PTI's weak performance on the economic front will automatically attract support for him
---
Maulana Fazlur Rehman is well versed in the art of staying relevant. Despite the constant shifts on the political chessboard, Rehman has proven himself to be a very shrewd politician with excellent political acumen. Rehman's 'Azadi march' aims to end as a sit-in against the incumbent government until Imran Khan resigns and dissolves the National Assembly. The fervent support base that the Jamiat Ulema-e-Islam- Fazl (JUI-F) enjoys means that Rehman and his followers are unlikely to be deterred by the continuous warnings from Interior Minister Ijaz Shah. If the Pakistan Tehreek-e-Insaf (PTI) government really wanted to avoid Rehman's impending march and sit-in, it should have started negotiations with Rehman.

If Rehman does not take a U-turn and does indeed arrive in the nation's capital along with his supporters, Imran Khan and his party will find themselves in some very hot waters. On the one hand, the PTI government will have to deal with the law and order situation and, on the other hand, it will have to give more space to the dissenting members in Parliament in order to keep its very thin majority intact. However, the question remains: will Rehman actually go to Islamabad?

Judging by Rehman's politics over the decades, and the fact that he has been preparing for this day since last year and has already been organising different public gatherings across the country to mobilise his supporters, the likelihood of him going through with this proposed march is rather high.

The only snag in Rehman's plan thus far has been that both the Pakistan Muslim League (PML-N) and the Pakistan Peoples Party (PPP) appear reluctant to join the march. Since PPP already has Sindh under its control, Rehman's success or failure during the long march will not really change the odds for PPP. As far as Asif Ali Zardari and Bilawal Bhutto are concerned, demanding a fresh election will not particularly impact the fortunes of their party.

PML-N's decision to participate will be impacted by the fact that the party is currently divided into two factions. Shehbaz Sharif is keen to mend fences with the powers that be and is eager to avoid incurring the wrath of Pakistan's invisible forces. Therefore, Shehbaz is trying his best to convince Nawaz Sharif to stay out of Rehman's long march. However, the close aides of Nawaz are in favour of the march and, if the sources within PML-N are correct, Nawaz will give a nod to PML-N to go and participate in the march.

PTI should have used a bit of political sense and engaged in talks with Rehman in order to defuse the situation. Imran and his cabinet need to understand that Rehman and his supporters are different from the PML-N and PPP vote bank. They are bound by religious ideals, rather than political ones, and if Rehman chooses to use the religion card it could spell havoc for the government and such a move should never be endorsed by the masses. But unfortunately for PTI, they have no moral authority to stop the sit-in or to prevent Rehman from invoking the religion card. After all, PTI itself played the religion card against the PML-N government, first by aligning with Tahirul Qadri and then by saying that PTI members were willing to join Khadim Rizvi's sit-in at Faizabad in November 2017. Imran organised a sit-in against the previous government and he, like Rehman, levelled the same allegations against the previous regime. Imran himself has set this precedent and now his own tactics have come back to haunt him.

Rehman knows that PTI's weak performance on the economic front will automatically attract massive support for him from the segments of society bearing the brunt of price hikes, and unemployment. Perhaps what will be more concerning for PTI is the fact that a seasoned politician like Rehman would have never set sail against the tide unless he had been given a nod by those quarters that actually make or break any government in Pakistan. Rehman is keeping his cards very close to his chest and, even some of his allies are perhaps wondering why he seems so confident about the success of this march.

For PTI, the best thing is to try and appeal to third party mediators in an attempt to get Rehman to call off the march. However, the existing tensions appear to leave little hope for any rapprochement. Furthermore, the spreading of fake letters on social media, which the JUI-F is accusing PTI of creating, only further compound and already aggravated situation. According to the letter, JUI-F workers were advised to not engage in sodomy without the permission of their leader.

Even if PML-N abandons Rehman at the last moment, he seems ready to take solo flight. One cannot say whether Rehman will be successful in toppling the PTI government but, as we have seen in the past, these kinds of long marches and sit-ins eventually shrink the space for the elected government. Rehman has nothing to lose. If he fails to oust Imran and his government, his cult vote bank will still remain loyal and none of his party members will defect. PTI on the other-hand could stand to lose a lot. Furthermore, if traders and the masses come out in support of the sit-in, the PTI government will find it very difficult to survive this onslaught. If PTI is hoping that Rehman will be stopped through the use of force or by the threats of his arrest, then it is making another political mistake. In the end, if PTI truly wishes to resolve this impending nightmare then the party has to wake up and engage in talks with Rehman before it's too late.
Facebook Conversations
COMMENTS
Comments are moderated and generally will be posted if they are on-topic and not abusive.
For more information, please see our Comments FAQ