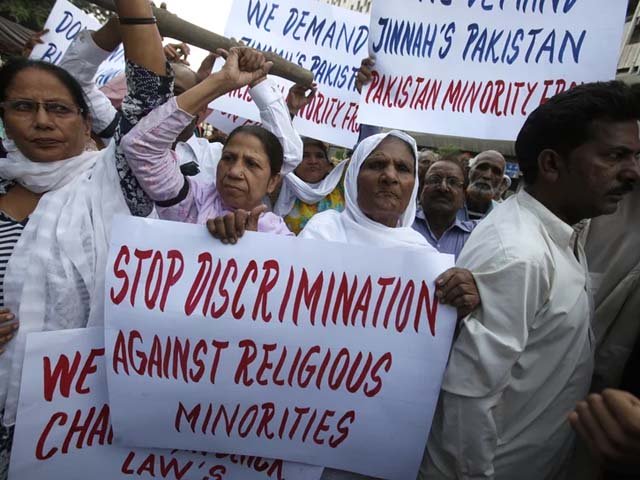 ---
Why can't a non-Muslim dream of becoming the prime minister or president of Pakistan?
If religious discrimination is enshrined in our Constitution, claims of religious equality will fall on deaf ears.
---
When Sajid Javid announced that he would join the race for 10 Downing Street earlier this year, the news was met with a joyous reception in Pakistan. Just the thought that a man who was raised in a Muslim household was even in contention to become the next prime minister of Britain was seen as a matter of great pride; after all, we feel it is imperative that all other nations ensure an equal access to opportunities for all religious minorities and do not discriminate on the basis of religion.

However, how many in Pakistan would be celebrating if an individual from a religious minority was in the running to become the prime minister or president of Pakistan? In truth, we may never know the answer to that question since the Constitution of Pakistan does not allow a non-Muslim to occupy either of these offices. According to Article 41 (2) of the Constitution,

"A person shall not be qualified for election as president unless he is a Muslim of not less than 45 years of age and is qualified to be elected as a member of the National Assembly."

Similarly, Article 91 (3) stipulates,

"After the election of the speaker and the deputy speaker, the National Assembly shall, to the exclusion of any other business, proceed to elect without debate one of its Muslim members to be the prime minister."

Now, as a Hindu who was born and raised in Pakistan, I never felt the need to question the heights to which I could rise. I had been weaned on the belief that all citizens in Pakistan are equal, and that the state will never endorse discrimination along religious lines. Whenever there are incidents of religious prejudice in Pakistan, of which there are many, I reassure myself with the belief that these instances in no shape or form reflect the thinking which underpins our sate machinery. But this approach now seems increasingly paradoxical to me.

On the one hand we say individuals belonging to religious minorities are equal, yet on the other hand we do not want any of them to ever become the premier of our country. Telling religious minorities that they are equal citizens holds little value if they are simultaneously told that they are not allowed to occupy the office of the prime minister or president. It only reinforces the notion that no matter how accomplished and capable an individual may be, their religious beliefs will always dictate how far they are permitted to climb on the ladder. As a result, it isn't hard to see why such promises of equality came off as mere lip service. If religious discrimination is enshrined in our Constitution, claims of religious equality will naturally fall on deaf ears.

But surely times have changed, right? A modern, more socially and politically aware Parliament would not endorse such a clause, right? Wrong.

Last week, Naveed Aamir Jeeva, put forth a bill which proposed that Article 41 (2) and Article 91 (3) should be amended in order to ensure that non-Muslims are given the right to become the prime minister and president of the country. This proposed legislation was rejected, and the Minister of State for Parliamentary Affairs Ali Muhammad stated that while Pakistan continues to protect the rights of religious minorities, the nation is an Islamic republic and therefore can not have a non-Muslim prime minister or president.

Firstly, it is unsurprising that this bill was put forth by a member of parliament who is not a Muslim since it seems rather unlikely that such an amendment would be championed by anyone else. Secondly, Muhammad's statement is concerning since he is a member of Pakistan's ruling party. If Imran Khan and Pakistan Tehreek-e-Insaf (PTI) are truly committed towards ensuring equality for all, why then is Muhammad so opposed to the concept of a non-Muslim president or prime minister? Thirdly, Muhammad's line of argumentation relies on an oft repeated notion that since Pakistan is an Islamic republic, certain things are off limits for non-Muslims. This way of thinking is echoed by many in the country, and Muhammad's statement only lends credence to that. But how much prejudice will we continue to endorse by hiding behind the fact that Pakistan is an Islamic republic?

However, ultimately, this is about more than that which is enshrined in the Constitution. It is a matter of public acceptance and institutionalised religious discrimination. For instance, ask yourself, does it seem likely that Pakistan will appoint a non-Muslim as the Chief of Army Staff (COAS) anytime soon? Even though, in theory, there is no stipulation that should prevent this from happening. Therefore, even in arenas where there are no visibly erected roadblocks, there is an underlying religious prejudice which has been normalised.

I have always felt proud to call Pakistan my homeland, but constitutional limitations such as this one always make me wonder whether the state is proud to call me, and other non-Muslims like me, its own. While we readily call for religious plurality in other parts of the world, why are we so reticent to abide by those same principles in our country? We cannot berate other nations for discriminating against Muslims along religious lines if we ourselves fail to ensure that any Pakistani can rise to the highest office in the country.

Perhaps what is more concerning is that the news about the rejection of the bill tabled by Jeeva came and went with little debate or discussion in the country. This needs to change. We cannot better ourselves as a nation if we do not openly talk about both the good and the bad in Pakistan.