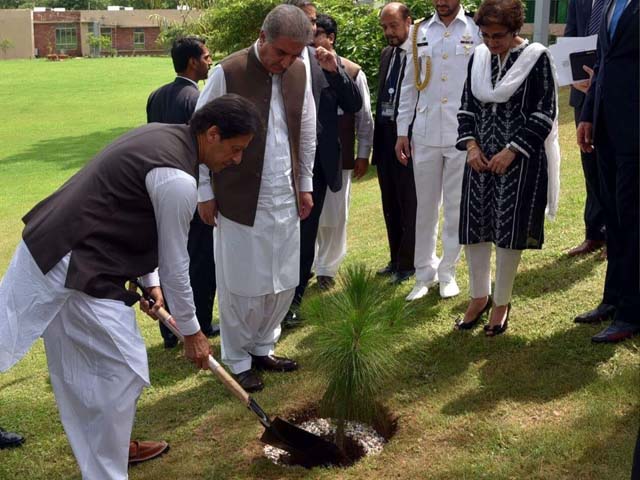 ---
How effective is PTI's climate change policy?
Pakistan should look towards China to introduce energy based on renewable sources such as water, solar and wind
---
Prime Minister (PM) Imran Khan began his historic speech to the United Nations General Assembly (UNGA) last week with climate change, calling it one of the "most urgent problems the world must address". Climate change was of course on the agenda of this year's global leaders gathering in New York. But to be fair Khan has noted the importance of climate change in several of his earlier speeches to the nation as well.
1st let me talk about climate change; I have seen a lot of leaders talk about this. But I don't see world leaders really realizing the urgency of the situation. We have a lot of ideas; but as they say, ideas without funding is mere hallucination.
-PM Khan#ImranKhanVoiceOfKashmir

— PTI (@PTIofficial) September 27, 2019


His political party, to its credit, has been one of the first in the country to talk about climate change. And they have transformed those talks into action with the Billion Tree Tsunami project in Khyber Pakhtunkhwa (K-P). The PM referred to this project, which is now being scaled up to the 10 Billion Tree project, in his UNGA speech. However, aside from planting trees, what more can Pakistan do to protect its people, as one of the countries that will be the most impacted?

The PM pointed out in his speech that Pakistan is already in the top-10 list of countries that are the most affected by climate change. The list he was referring to was from the Germanwatch Annual Report, 'The Long-Term Climate Risk Index: 10 countries most affected from 1998 to 2017 from climate related disasters.' Pakistan ranks number eighth on this list. The report states that Pakistan has suffered 145 disasters with 512 deaths and total losses of 3826 million US dollars over a 20 year period. While the villagers in the north and south of the country are on the frontlines of a changing climate, its impacts can also be felt across the agricultural plains, the country's breadbasket.

According to Malik Amin Aslam, the advisor to the PM on climate change,

"Almost five to six percent of our Gross Domestic Product (GDP) is washed away every year. Climate change is a reality for us."

From super floods to heat-waves to glacial lake outburst floods, we are facing this reality in Pakistan. Aslam was the architect of the successful Billion Tree Tsunami Afforestation Project, which was implemented on the ground in K-P. Under the project, 60% of the billion trees were grown as a result of protecting natural forests, while 40% came from new plantations by local communities with the help of the local forest department. The PM's advisor has expressed on many occasions that he is more interested in undertaking tangible measures rather than creating policies, which more often than not gather dust in various ministries.


Today we launch our tree plantation drive #Plant4Pakistan across the entire country. I want everyone to join this #GreenPakistan drive so we can counter the twin threats of climate change and pollution confronting our future generations.

— Imran Khan (@ImranKhanPTI) September 2, 2018


He recently announced that the PTI government has a five point agenda for a greener future. The first point of this agenda is the 10 Billion Tree project, which plans to regenerate forests and plant trees in all four provinces. The second point is the new electric vehicle policy, which has been sent to cabinet for approval, to ease the reliance on fossil fuels. Third on the agenda is the Clean, Green Index for over 20 cities in Pakistan. Each city will be rewarded points for waste management, providing clean drinking water and treating sewerage. Fourth is the plastic bag ban with the government committed to its enforcement in Islamabad. The ban will now be extended to the rest of Pakistan. Last on the agenda is the Recharge Pakistan programme supported by WWF-Pakistan and the Asian Development Bank. This programme aims to use floodwater in the Indus River to restore our wetlands and ecosystems. The government has allocated a budget for all this and they 'hope to move forward.'

However, given the scale of the climate crisis, citizens are now demanding more comprehensive action from the government. During the citizen's marches that took place all over Pakistan just before the UNGA meeting as part of the Global Climate Strikes, a set of demands were handed over to the government. The protests, organised by the coalition ClimateActionPk, demanded that the government declare a climate emergency and adopt a low carbon economy while ensuring grass root level climate adaptation efforts amongst other demands. In their view,

"Pakistan may not be a massive emitter of greenhouse gasses, but our population and economy are bearing a disproportionate burden as a consequence of global greenhouse emissions. Nevertheless, we believe that Pakistan's federal, provincial and local governments, as well as ordinary citizens, must accept responsibility and play their part in reducing greenhouse gas emissions. It is for this reason that we protest. Pakistan's Climate Change Policy, 2012, to the extent that it is implemented at all, is ignorant of the growing climate challenges in the country."
The event kicked off with participants cycling from the Pakistan National Council of the Arts (PNCA) on a designated route as a symbolic gesture to raise awareness about increasing greenhouse emissions and promoting eco-friendly modes of transportation. @aminattock pic.twitter.com/uyflP1Iqil

— WWF-Pakistan (@WWFPak) September 29, 2019


Pakistan's Climate Change Policy 2012 and the newer Climate Change Act of 2017, passed by the previous government, are for all intents and purposes gathering dust. The National Climate Change Council with its long list of members has never convened and the Climate Change Authority is still not operational.

According to veteran climate change specialist and Higher Education Commission Chairperson Tariq Banuri,

"The national climate policy needs to be reconfigured and weaned from its reactive and diagnostic stance towards a proactive and substantive one. The government still sees climate change as a threat that needs to be coped with by attracting global support. The private sector still sees climate change either as a corporate responsibility issue or as a potential source for subsidies, but not as a potential source of profitability, exports or industrial growth."

In Banuri's view, climate change is an all-encompassing issue that needs to be mainstreamed into every ministry and his advice to our policymakers is to reshape the system so that all ministries and institutions incorporate climate change considerations centrally into their mandates rather than relegate the entire mandate to a weak and marginalised ministry.

In addition, Pakistan should be looking to partners like China to build 'forward-looking industries' to look into the manufacturing of solar panels, wind turbines and water efficient technologies which can eventually also be exported. The world is definitely changing and we must change with it too!