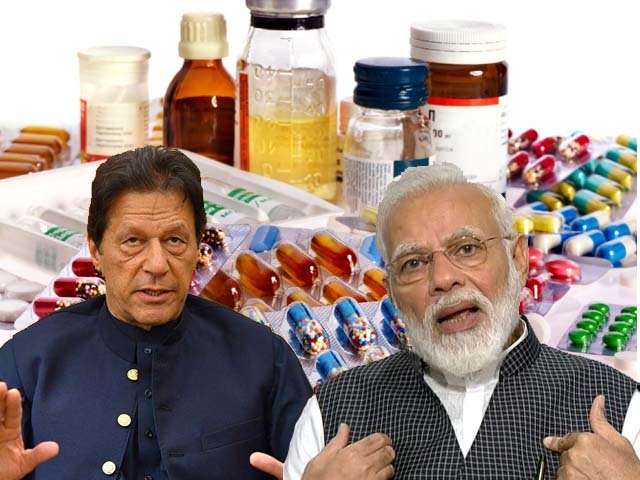 ---
The curious case of Pakistan's dependence on Indian pharmaceuticals
The Drug Regulatory Authority of Pakistan is to blame for the situation, not Pakistan's pharmaceutical manufacturers
---
As relations between India and Pakistan soured as a result of the Kashmir crisis, Pakistan stopped all trade with India. Some even went so far as to prophesise that this in turn would wreak havoc for the Indian economy. It appears that such measures are usually taken in a sudden burst of nationalist fervour, and usually ignore Pakistan's economic realities. The simple truth of the matter is that many sectors in the country are unable to sustain themselves on domestic products alone; case in point the lifting of the ban on Indian pharmaceuticals. 

Under Imran Khan's orders, Pakistan had suspended all bilateral trade with India on August 7, 2019. However, less than a month later, the ban on the import of Indian pharmaceuticals and raw materials used by Pakistan's pharmaceutical industry were lifted. It is telling that an exception to the trade ban was only made for these products and reflects the state of Pakistan's pharmaceutical sector. To put it bluntly, Pakistan's health sector can not survive without these Indian imports. This is because Pakistan has thus far relied heavily on importing pharmaceutical raw materials from India and has failed to develop its own capacity to produce these raw materials.

This has crippled Pakistan's pharmaceutical industry which has become so reliant on India to ensure that there is a steady stream of pharmaceuticals in the country. This is all the more concerning in light of the fact that this dependency will not end anytime soon since last year Pakistan imported pharmaceutical products worth $62.42 million, a figure which has been increasing ever since 2015. Furthermore, nearly 40-50% of the raw materials used to produce pharmaceutical products in Pakistan are imported from India.




Out of the almost 700 pharmaceutical organisations which are currently operating in Pakistan, most of them have no choice but to import raw materials from India. But the blame for this persistent problem should not be shouldered by Pakistani pharmaceutical manufacturers but instead by the Drug Regulatory Authority of Pakistan (DRAP). Pakistan's pharmaceutical market is adversely impacted as a result of the inefficiency of DRAP, leading to decreasing national and international sales. These discrepancies came to light after an audit was conducted with regards to the expenditure of the institution.

A special audit done by the auditor general of Pakistan (AGP) states that irregularities which have cost Rs750 million have been observed in the DRAP audit. The audit also observed that the DRAP management failed to utilise the Rs606.6 million Central Research Fund (CRF) which was given to them for conducting research and evaluation of medicinal drugs. The fact that these funds have still not been put to use in order to ensure that Pakistan is able to develop a self-sustainable pharmaceutical sector should be a great cause for concern. Until the allocated money is put to its designated use Pakistan will continue to depend upon Indian pharmaceutical imports. This situation is further worsened by the fact that a failure to utilise these resources also damages the export potential of Pakistan's pharmaceutical sector.

Additionally, the establishment of the Federal Drug Surveillance Laboratory, which was announced in 2006, has still failed to materialise – another failure on a long list of poorly designed and incompetently implemented government policies. In this regard, it would not hurt Pakistan to borrow from India's playbook. The ambitious Pharma Vision 2020 and the decision to launch six pharmaceutical parks in Utter Pradesh (U-P) were decisions taken by the government to try order to bolster its manufacturing of pharmaceuticals.

While trade with India still remains suspended, Pakistan's crippling reliance on Indian pharmaceuticals and raw materials has now become glaringly evident. Ultimately, this matter can not be addressed by simply encouraging investment in the sector and opening more pharmaceutical production facilities in Pakistan. Unless the bevy of problems which are currently promoting inefficiency in DRAP are not addressed, Pakistan will continue to depend on Indian imports to fill this void. As Pakistan Tehreek-e-Insaf now looks to stabalise the economy and increase exports, the pharmaceutical industry and health sector in the country are still waiting for a Messiah.
Facebook Conversations
COMMENTS
Comments are moderated and generally will be posted if they are on-topic and not abusive.
For more information, please see our Comments FAQ