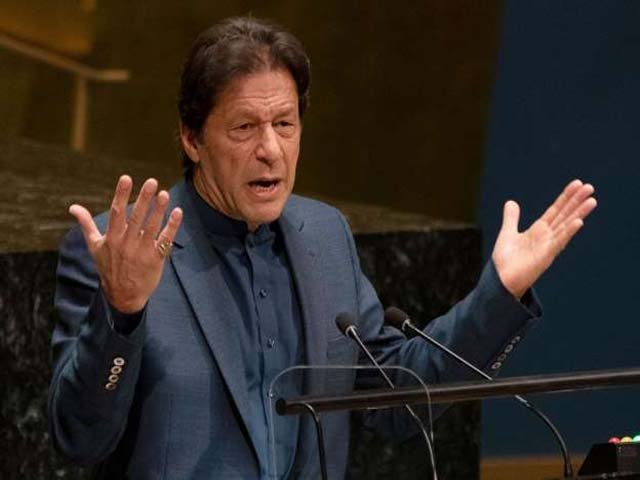 ---
New York 2019: A watershed in Pakistan's diplomatic history
Khan landed in America as the head of just another third world country but left as a statesman
---
On January 14, 1977, the Pakistan team entered the Sydney cricket ground as underdogs. Before the start of the series' most pundits had expected Australia to steamroll the Pakistanis. After a face-saving draw in the first test and a shattering defeat in the second, Pakistan hoped to draw the series level in Sydney. Before that fateful game Imran Khan had toiled for years, even remodeled his bowling action, but that moment of glory had evaded him.

At Sydney however, as the entire nation sat glued to their TV and radio sets, Khan bowled marathon spells of scintillating fast bowling. Spells that were a perfect blend of aggression, accuracy, pace and intelligence and they left the mighty Aussies wanting. Khan took twelve wickets during that game, six in each innings, as Pakistan completed their first test win down under.

To most analysts Sydney 1977 represents a seminal moment in Pakistan's cricketing history. For Khan himself, it was the one game he had been waiting for all these years. He entered the match as just another innocuous medium pacer but left as a menacing world class fast bowler, part of a Pakistan team that had become a force to reckon with. Neither Pakistan, nor Khan, looked back as they went on creating history for another fifteen years; Melbourne 1992 was the climax of a journey started in Sydney

More than 40 years later, Prime Minister Khan landed in New York on September 21, 2019. This time, heading the Pakistani delegation to the United Nations during particularly tumultuous times; stakes far higher than any cricket match.

Less than two months ago India had revoked article 370 of its constitution, practically annexing the disputed region of Jammu and Kashmir. Anticipating mass protests following the move, 900,000 Indian troops imposed a yet-to-be-lifted curfew in the valley, effectively imprisoning 8,000,000 people. Perhaps not surprisingly the world community responded with virtual indifference. After all, for the last several years while Pakistan was pursuing a defensive, regressive and apologetic foreign policy, India had aggressively fostered economic and diplomatic ties with all major world powers.

With the odds heavily stacked against him, Khan started his Mission Kashmir with intent and poise. In the week leading up to his address to the United Nations General Assembly (UNGA) he spoke at the Council on Foreign Relations and Asia Society New York. He also met world leaders including President Trump; spoke to CNN, and to secretary generals of the UN and Amnesty International.

During all these interactions, he paid great attention to building a coherent narrative highlighting Indian atrocities in Kashmir, the mindset driving these brutalities and the potential for an all-out war between two nuclear armed countries.

On September 27, Khan began his maiden address to the UNGA with millions of Pakistanis glued to their TV screens. After speaking about two relatively uncontroversial issues; climate change and money laundering, the prime minister shifted his focus to Islamophobia and blasphemy. Speaking on behalf of 1.5 billion Muslims, he very persuasively delinked religion from terrorism and apprised the world of the special reverence Muslims have for the Holy Prophet (PBUH) and the sensitivities associated with the blasphemy issue, drawing a parallel with Jewish sensitivities associated with the Holocaust.


A relatable, frank & convincing speech from PM @ImranKhanPTI touching on pressing issues like #ClimateChange, #Islamophobia, #Kashmir explaining all with relevant background. Much better than speech at CFR. We couldn't get support at UNHCR for Kashmir hope this speech sways #UNGA

— M. Jibran Nasir (@MJibranNasir) September 27, 2019


It was during the last part of his speech that he proceeded to talk about Kashmir. His impassioned plea to the international conscience started by detailing the human rights violations committed in the world's most militarised zone. He talked about 100,000 Kashmiris losing their lives in pursuit of their right to self-determination, about the use of pellet guns in the valley, and the systematic use of rape as a weapon.

He warned the world about the current humanitarian crisis in Kashmir where 8,000,000 people have been locked in their homes for nearly two months, and how the world's indifference threatens to radicalise them. His masterstroke perhaps, was to lay bare before the highest forum of the world, Narendra Modi's strong ties to the Rashtriya Swayamsevak Sangh (RSS).


Pakistan's prime minister, Imran Khan, urges the UN to take action on the Kashmir lockdown and warns of possible nuclear consequences if the issue isn't dealt with. pic.twitter.com/y120KuA2z6

— TRT World (@trtworld) September 28, 2019


He concluded by warning of a 'bloodbath' when the curfew is eventually lifted, and how it could push Pakistan and India, two nuclear neighbours, into a conflict that will have repercussions for the entire world. He established that the UN has the responsibility to act immediately and ensure that the people of Kashmir get their rights to self-determination.


Indian PM Narendra Modi ignores the crackdown in Kashmir during his UN General Assembly speech this week. Pakistani PM Imran Khan makes it his focus. https://t.co/2qy4Lv2yR3 pic.twitter.com/LsGF21ReKU

— Kenneth Roth (@KenRoth) September 28, 2019


The speech was very well received in Pakistan, Kashmir and internationally, even India choosing to limit its criticism of the speech mostly to its duration. It firmly shifted the focus of the international community to the nuclear flashpoint that is Kashmir and effectively preempted a second Pulwama. The onus has now been placed on the world community to end a humanitarian crisis and prevent a nuclear war. It may take a long time for Pakistan to achieve all the desired objectives of Mission Kashmir, but the initial developments have been encouraging with both the US and UN pressing India to end the curfew and ease tensions.




On the @UN official YouTube channel where speeches of ALL heads of state are published, averaging views from 1.5K to 3K, PM Imran Khan totally breaks the status quo and has 426K views as the most watched speech of #UNGA #ImranKhanMakesHistory #ImranKhanVoiceOfKashmir pic.twitter.com/UDbhuefV1s

— Imran Ghazali (@ImranGhazaliPK) September 29, 2019


By eloquently and effectively voicing the opinions of over 1.5 billion Muslims about Islamophobia and blasphemy, Khan has garnered respect and admiration among several Muslim heads of states. This can serve Pakistan well in the months to come as Pakistan plans an OIC meeting dedicated to Kashmir. Most significantly however, the unprecedented onslaught against Modi, his ties to Rashtriya Swayamsevak Sangh (RSS) and the ideology of Hindu supremacy, has for the first time put India under the spotlight with regards to terror.

Khan landed in New York as the head of just another third world country but has left as a statesman that the world wants to hear more from, and thankfully Pakistan has finally shifted gears to a more aggressive foreign policy. There is plenty of lost ground to regain, but if New York 2019 is anything to go by, Pakistan is well on its way.
Facebook Conversations
COMMENTS
Comments are moderated and generally will be posted if they are on-topic and not abusive.
For more information, please see our Comments FAQ