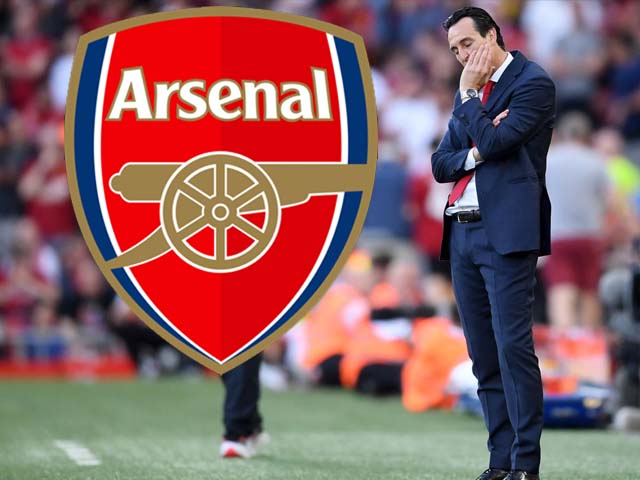 ---
Is removing Unai Emery the answer to Arsenal's Premier League woes?
The quandary Emery finds himself in is similar to the one Frank Lampard is currently in over at Chelsea
---
After an abysmal showing at Vicarage Road over the weekend, it looks like Arsenal's title chances in this year's Premier League could well be over even before they had a chance to cross the first hurdle. In a league which features heavy hitters and unrelenting sides like Manchester City, Liverpool and Tottenham, this deeply flawed Arsenal team simply does not look like they will be able to go to toe with England's top clubs. Unsurprisingly, the bulk of the criticism has been aimed at the manager, Unai Emery, who has so far failed to impress after Arsene Wenger's departure last year.

The fact that a side like Watford, who currently sit at the bottom of the table, mounted an impressive comeback in order to tie the game against Arsenal should lead to the ringing of all sorts of alarm bells in the Arsenal camp. The Gunners were able to muster only a two-two draw, despite taking an early lead, and the team once again failed to show that fighting spirit which has been missing from Arsenal of late. But what exactly is the problem over at club?

The Emery conundrum 

Arsenal's lacklustre start to this season is only symptomatic of a host of problems which have been festering for some time now. While it would be unfair to make Emery shoulder all the criticism, the incessant calls for his removal from the managerial position will only increase the pressure on the Spaniard. The quandary Emery finds himself in is similar to the one Frank Lampard is currently in over at Chelsea, since both teams have had a faltering start to the season. But Lampard has always had the goodwill of the Chelsea fans and his inexperience as a coach will allow him some leeway. Emery does not have that luxury. The former Paris Saint Germain (PSG) boss faced a baptism by fire in his maiden season at Arsenal since the club lost the Europa League final against their London neighbours, Chelsea, and also failed to qualify for the Champions League this season.

His arrival at Arsenal has put a big question mark over the direction the club is heading in, especially since he has failed to win any silverware for the club. But removing him now will only lead to further chaos in an already confused dressing room. Arsenal's best course of action is to stick with Emery, at least till January, even though some Arsenal fans would like to see the back of him as soon as possible. But there are many other problems that the club has to contend with.




Lacking a skilled centre-back

Arsenal desperately need a quality player at the back who can anchor the team and serve as the backbone for the squad. If you need any proof of just how integral the role of the centre-back is in today's football you need look no further than Virgil van Dijk. The Dutchman was instrumental in ensuring that Liverpool won the Champions League title last year, and also helped bring the club to within touching distance of the Premier League crown. Arsenal requires a player of that calibre at the back, and Sokratis Papastathopoulo is not the man for the job. His costly mistake in the match against Watford demonstrated that the Greek international has not settled well into his centre-back role. There is no greater evidence of this than the fact that Arsenal, thus far, have faced more shots this season than any other major side in Europe. If that isn't a red signal for Emery to revamp his team's defence and bring in a quality centre-back, then I don't know what is.

Granit Xhaka has to go

Gone are the days when the Gunners had midfielders like Gilberto Silva who could read the game and dictate play on the pitch. While Granit Xhaka has had a good run at Arsenal, he no longer has the agility and skill which should be characteristic of a team's holding midfielder. His middling form is all the more infuriating for Arsenal fans since they have the likes of Pierre-Emerick Aubameyang and Alexandre Lacazette playing upfront. But having quality forwards is essentially useless if your midfielders can't feed them the ball. Xahka's poor form is severely impacting Arsenal's goal scoring ability at the moment, and one wonders if Emery will continue to persist with Swiss.




Lacklustre wingers

The role of a team's wingers is crucial, especially in England where the pace of the game is very quick and strikers need pin point crosses into the box in order to score. But ever since Dani Ceballos and Mattéo Guendouzi have been patrolling Arsenal's wings, their strikers haven't scored a whole lot of goals from crosses. For this reason, the entire responsibility of playing the ball in for the attackers to pounce on now rests solely on Mesut Ozil's shoulders. Emery desperately needs to keep his eye out for young talent in the January transfer window because Aubameyang and Lacazette are in need of wingers who can set up goal scoring opportunities.




But simply replacing players will not cut it. Arsenal needs to change its brand of football and instil a new club philosophy, something which Emery has failed to do so far. Nonetheless, although Emery is currently struggling at the Emirates, I believe he has the potential to change his fortunes in London. After all, the Spaniard proved his worth after winning back to back Europa League titles with Sevilla, and he certainly has the potential to bring some new silverware for Arsenal's trophy cabinet.

All photos: AFP
Facebook Conversations
COMMENTS
Comments are moderated and generally will be posted if they are on-topic and not abusive.
For more information, please see our Comments FAQ