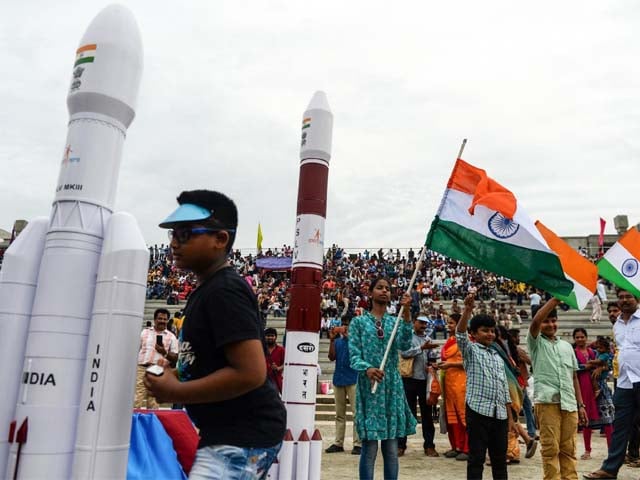 ---
Dear India, congratulations on your space mission. Sincerely, a Pakistani
We cannot make fun of someone with a hole in their sock when we are barefoot ourselves.
---
On September 7, 2019, the Indian Space Research Organisation (ISRO) failed to maintain contact with the Vikram Lander when it was only 2.1 kilometres away from touching down on the moon. Mission Chandrayaan 2 was over for now. This was India's second attempt to land on the moon after Chandrayaan 1 in 2008.

The aim of this space mission was to become the first spacecraft to land on the moon's South Pole. Nevertheless, the loss of contact meant India's bid to become the fourth country to land on the lunar surface after Russia, America and China will have to wait.

Space enthusiasts or not, everyone was following the mission that day, including the people of Pakistan. However, keeping in mind the relationship India and Pakistan share, many in Pakistan did not let go of this opportunity to troll their neighbours. If the same thing had happened with a Pakistani spacecraft, I am sure the celebrations in India would be similar to the ones on Diwali.

What came as a shock though was that the leader of the army of trolls on Twitter that night was our Minister of Science and Technology Fawad Chaudhry. Chaudhry is notorious for his witty one-liners and bizarre tweets. Thus, the chance to troll India, combined with his nature, meant that Chaudhry was not going to let this chance of mocking India fly by.

However, considering these tweets came from our science and technology minister and not some teenage keyboard warrior, maybe it was not India but Pakistan who was being trolled that night.


Endia only way now you can reach moon is through Bollywood,another 100 crore and you guys ll be on the moon. on serious note extremists always fail and you failed when instead of scientists you relied on Jotshi and delayed the mission,Come out of hatred for other communities.

— Ch Fawad Hussain (@fawadchaudhry) September 8, 2019
Awwwww..... Jo kaam ata nai panga nai leitay na..... Dear "Endia" https://t.co/lp8pHUNTBZ

— Ch Fawad Hussain (@fawadchaudhry) September 6, 2019


Chaudhry's digs at India's space mission were more ridiculous than amusing. As a minister, he should have shown more grace and humility, especially when we are leagues behind India in the space game. His conduct was frankly disappointing and totally uncalled for. He made a fool out of himself along with every other government official who trolled India that night. The criticism he faced from Pakistanis later proved that no one found his demeaning tweets funny.

On an individual level, I think India has all the right to feel proud of what their scientists have achieved. If anything, Pakistan should be taking notes. Hyper nationalists in Pakistan may not agree with me, but what Pakistan needs the most right now is constructive criticism.


Someone please do a televised interview with Fawad Chaudhry and ask him about Pakistan's space programme and what he knows about astronomy and astrophysics... or just ask him what "soft-landing on moon" means! #Chandrayaan2

— Faran Rafi (@faranrafi) September 7, 2019
guy who was leading the mocking was same minister whose biggest achievement was fighting for the state to stop using medieval practices of sighting - not landing - on the moon.

— Ahmer Naqvi (@karachikhatmal) September 7, 2019


Pakistan and India have been compared with each other throughout history, whether it's in the realm of cricket, military, gross domestic product, dramas, films, music or even looks for that matter. We are programmed that way and we just cannot help it. Thus, India's close attempt to land on the moon led to attention towards Pakistan's space programme and questions like, "Do we even have one?" Turns out yes, we do. It's called the Space and Upper Atmosphere Research Commission (SUPARCO ) and was established in 1961, one year before ISRO. Let that sink in.

SUPARCO recorded a number of pioneering accomplishments in space flight during the initial years of its establishment. Pakistan's first satellite, Badr-I, was launched by the People's Republic of China in 1990, and it was built through the joint efforts of SUPARCO and China National Space Administration (CNSA). However, the success of SUPARCO has now tapered off and the organisation long became prey to budgetary issues and indigenous programs.

SUPARCO saw many setbacks and difficulties that slowed down the progress Pakistan's space programme. Increased bureaucratic meddling and politicisation of the institute further stalled the competition of many projects. ISRO'S budget is $1.45 billion, while SUPARCO'S budget is around $43 million. Since 1990, SUPARCO has not achieved anything ground-breaking. I am sure a big chunk of Pakistanis don't even know it exists.

If we are so keen on trolling and competing with India, we need to realise that India has strengthened its institutes, while we weakened them by constant bureaucratic and political involvement. India backed its scientists while Pakistan kicked its brightest mind out of the country just because of his religious beliefs. Dr Abdus Salam, who was the founding director of SUPARCO, had put forth a great vision for the institution. Unfortunately, that seems to have fallen by the way side.

As a Pakistani, I readily admit that India's space programme is superior to ours. Even though Chandrayaan 2 was unsuccessful, I have no doubt that the Indian space mission will achieve its aim quite soon. Instead of mocking India, we should appreciate and take inspiration from what they have achieved in space exploration already.

Without a doubt, Pakistan is capable of reviving SUPARCO and achieving more if we support the talent we have in our country. Whether or not the space programme should be our top priority is a totally different debate, but there's no denying that ISRO is in fact light years ahead of us and we have yet to start our journey. Despite India's lunar mission failing at the last minute, Indian scientists have every right to be proud about what they have achieved over the years. We cannot make fun of someone with a hole in their sock when we are barefoot ourselves.

To India, congratulations from a Pakistani!