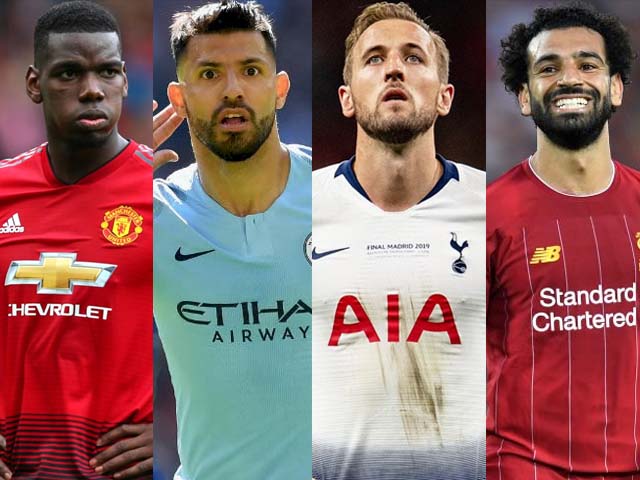 ---
You may want to reconsider your bets this English Premier League season
Crystal Palace, Newcastle and Leicester have made it clear that there are other contenders this season.
---
Now that the international break is finally over, football fans across the globe will once again be glued to their television screens this weekend. Although it's still early days in this season of the English Premier League, the table is already shaping up in an intriguing and both, unexpected and expected, manner. The battling titans from last season, Liverpool and Manchester City, have already pulled into pole position and look like early favourites to win the title, while the likes of Chelsea, Manchester United and Tottenham have gotten off to a slower start than they would have liked.

Undoubtedly, the most interesting thing to observe over the course of this season will be the manner in which Jurgen Klopp and Pep Gaurdiola marshal their troops this season.

Klopp's arrival at Liverpool changed the course of events at Anfield, and although the Reds were crowned European champions last season, they are probably still licking their wounds after having missed Premier League glory by just one point. Their confidence going into the matches is only bolstered by the fact that they already have one trophy under their belt this season after beating Chelsea in the Super Cup final. But Klopp will surely be hungry to add to that tally. Having amassed 12 points after having played only four games so far, Liverpool look intrepid after their rampant start. But Manchester City will not let them sleep easy.

City's mammoth 98-point haul last season was a sight to behold, and it looks like the team is simply going from strength to strength under Guardiola's watchful eye. The Citizens have already hit the back of the net 14 times this season in only four matches, which is more than any other team in the league. City's attacking prowess has always set them apart and should lead to the ringing of many alarm bells in the dressing rooms of all their competitors. But while Liverpool and City are dominating the headlines and hogging the spotlight, there are other contenders for the title too.

Manchester United made a decent start after thrashing Chelsea 4-0 in their opening match, but since then the Red Devils have found themselves in a bit of a quandary. A surprise defeat against Crystal Palace at home and two consecutive away draws against Wolverhampton and Southampton have severely rattled the club's self-belief.

Similarly, Frank Lampard's tenure at Stamford Bridge is off to a precarious start. The newly anointed Chelsea boss was greeted with a thumping defeat at Old Trafford and, at the moment, Chelsea sit in a sordid 11th place on the table with only five points after four matches. Their title chances look rather unlikely at the moment, especially after the departure of Eden Hazard from the club.

That being said, what makes the Premier League such a fun watch are the surprises and the upsets.

Crystal Palace's victory at Old Trafford, Newcastle's triumph against Tottenham Hotspur, and Leicester City's impressive start have made it clear that this season may be more openly contested than most people are thinking. Therefore, while this weekend's clashes may not seem particularity flashy, I have a suspicion that it'll be these kinds of tightly fought games which may end up making the difference between success and failure; ultimately deciding who gets crowned champion.

Chelsea versus Wolverhampton

Nuno Espirito Santo will be aiming for a Champions League spot next season because his side has already qualified for the Europa League this time around after a drought of 38 years. The ambitious Portuguese boss has instilled a new ray of hope into the Wolves as the men in orange finished in an impressive seventh place last year. In previous years, today's clash would have been heavily skewed in Chelsea's favour, but their wobbly start and Santo's leadership make this match anyone's game for the taking.

As things stand, Wolves look solid against a floundering Chelsea, and the fact that Santo's men drew their match against Manchester United, will do their confidence a world of good. Hence, while Chelsea may have a more stacked trophy cabinet, don't be surprised if the Wolves snatch a victory on their home turf.




Manchester United versus Leicester City

Harry Maguire will welcome his former club to Old Trafford this weekend in what promises to be an enticing encounter. The Englishman is already enjoying fine form at his new club, but Leicester currently sit above United on the points table. After the departure of Romelu Lukaku to Italy, the Red Devils will be hoping for Daniel James to continue his ferocious display since the Welshman has thus far scored three goals in the Premier League. He'll have to carry that form into the match against Leicester, who will be eyeing to repeat their fairy tale run from 2016 when they lifted the crown after a stellar season.

Leicester's defence looks firm after conceding only three goals in their four games, and United will need their players to really show up to the party otherwise the 2016 champions could work their magic at Old Trafford.




Liverpool versus Newcastle United

Jordan Henderson will be leading his side against a mercurial Newcastle United, whose only victory this season came against formidable opponents Tottenham Hotspur. Naturally, the Reds are the favourites to win the match against the Magpies since they have seamlessly carried over their form from last season. Klopp's trio at the front looks as dangerous as ever, while the reliable Virgi Van Dijk continues prove why he may well be Liverpool's most valuable asset.

Liverpool will be hungry for a win and keen to retain their number one spot on the table before having to travel to Napoli for their opening Champions League clash. A comprehensive win against Newcastle would give them a great confidence boost.




Tottenham versus Crystal Palace

Unexpectedly, Crystal Palace currently sit in fourth place on the table, above the likes of Manchester United, Chelsea and Arsenal.

Roy Hodgson's side had a remarkable victory against Manchester United before beating new arrivals Aston Villa at home. The Eagles have surprised many because of their impressive start this season and will be looking for a third straight win when they visit Spurs today – and it wouldn't be foolish to think that they could walk away with a win. Despite their heroics in the Champions League last season, Mauricio Pochettino's side looks feeble at the moment, thus allowing Luka Milivojevic's men an opportunity to pounce on their wounded opponents.




As the league is heating up, another thing to keep in mind is that the introduction of the Video Assistant Referee (VAR) this year has led to some really interesting decisions, so don't be shocked if it comes into play once again in the coming weeks. After all, what would the Premier League be without some shocking victories, unexpected upsets and lingering controversies!

All photos: Getty
Facebook Conversations
COMMENTS
Comments are moderated and generally will be posted if they are on-topic and not abusive.
For more information, please see our Comments FAQ