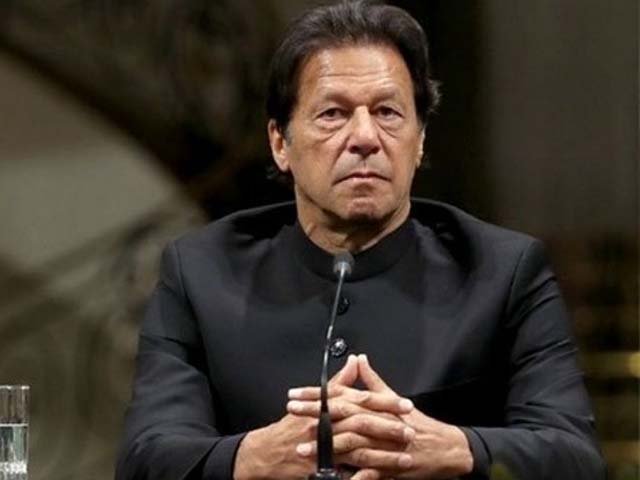 ---
Why PM Imran Khan should first worry about his own country and then Kashmir
The Kashmir crisis should not take away from the dire issues plaguing his country. Imran needs to put Pakistan first.
---
While Pakistan has tried to raise the Kashmir issue on the global stage, Prime Minister Imran Khan has to realise that that is really all he can do. The Foreign Office and Shah Mahmood Qureshi will now continue to raise a voice for the people of Indian-occupied Kashmir (IoK) on the international platform, and Imran should now focus on the domestic issues in Pakistan. After all, that's what he was elected to do. But this seems unlikely.

Here are a few things that Imran should focus his attention towards instead.

Economic turmoil

The current budget deficit has soared to Rs3.45 trillion, which has only broken the back of an already struggling economy. For any government, the first priority must always be the betterment of the economic conditions in the nation in order to attract investors and capital. The devaluation of the rupee has not only resulted in rising external debts, but it has almost brought to a standstill the circulation of capital in the economy because of reluctant investors.

Imran's narrative of shifting the blame of all the economic failures onto previous regimes is also losing steam since it has been more than a year since he has been at the helm of affairs. The automobile industry in particular is suffering, and both Indus and Honda have cut their production because inflation and price hikes have decreased the demand for their cars. A similar fate has befallen the real estate sector and the finance advisor to Imran, Abdul Hafeez Shaikh, has already said that the road towards an economic revival will be a difficult one.

Perhaps Imran should be paying slightly closer attention towards Pakistan's crumbling economy.

Health sector

Ever since the devaluation of the currency, the masses have been left at the mercy of pharmaceutical companies because medicine prices have skyrocketed. As a result, the fees charged by government hospitals are now continuing to spike up. 'The Holy Family Hospital' in Rawalpindi is currently charging around Rs1200 for the Dengue fever test. This is happening at a time when the prices of life-saving drugs are rising every month and dengue fever in the twin cities of Rawalpindi and Islamabad is spreading at an alarming rate. The hue and cry which erupted due to the Medical Teaching Institutions (MTI) Act will only further convolute our public healthcare system and hospital buildings, which are already in a pitiful state. If Imran were to visit some government hospitals, he would come to know that they are short of medicines and basic life-saving drugs.

Police reforms

The recent killing of Salahuddin Ayubi while he was in police custody has shocked the country. From the Sahiwal massacre to the Ayubi case, there have been numerous instances of police brutality, making it all the more apparent that the police sector needs to be reformed immediately. However, other than tall claims of taking immediate action and saying that justice will be provided to the aggrieved families, it is evident that nothing will change in the long-run.

Currently, the police seem to be acting on their own whim since they know that no one will be held accountable and the few suspensions or judicial inquiries will ultimately change nothing. If Pakistan Tehreek-e-Insaf (PTI) cannot protect its own citizens from extrajudicial killings by the police department, then one wonders why the party claims that it is more concerned with the common man's well-being than other political parties.

A flooded country

Pakistan is currently experiencing monsoon season and as a result major cities are drowning due to urban flooding. People are dying due to electrocution, roads are flooded, Karachi is turning into a dump city rather than a metropolitan city, and not much is being done about it except for a few empty promises of short-term policies.

An inefficient cabinet

The PTI cabinet seems unaware of the economic and political turmoil in the country. Most of the ministers like to spend time on Twitter or talk shows, accusing their political opponents of the current woes faced by the country. While this may give them some ratings and acceptability among the die-hard PTI voters, it does not address the problems of their relevant ministries.

Let's take the Pakistan railways as an example. Like it or not, during Khawaja Saad Rafique's in tenure as railway minister, at least it was a reliable source of transportation and logistics. However, since Sheikh Rasheed has taken charge, the railway sector has been on a constant decline and ultimately, this will only further the financial losses in the sector. Instead of threatening India with the use of nuclear arms, Rasheed should put his head down and get to work on Pakistan's railways.

Similarly, the likes of Shireen Mazari and Fawad Chaudhry continue to meddle in affairs which simply do not concern them. Perhaps Imran should work a little harder on trying to delegate responsibilities to his cabinet.

Imran and his cabinet can devote as much time as they like for the Kashmir cause, but they need to fix Pakistan's domestic issues on a priority basis, otherwise they will find themselves in a situation where public opinion at large will start to turn against them. Wasting time on symbolic acts like joining Defence Day and Independence Day with Kashmir Solidarity Day will benefit no one. The crisis in Kashmir should not take away from the issues plaguing Pakistan.

PM Imran needs to put Pakistan first. He can't be shouting for help for his neighbour while his own house is on fire.