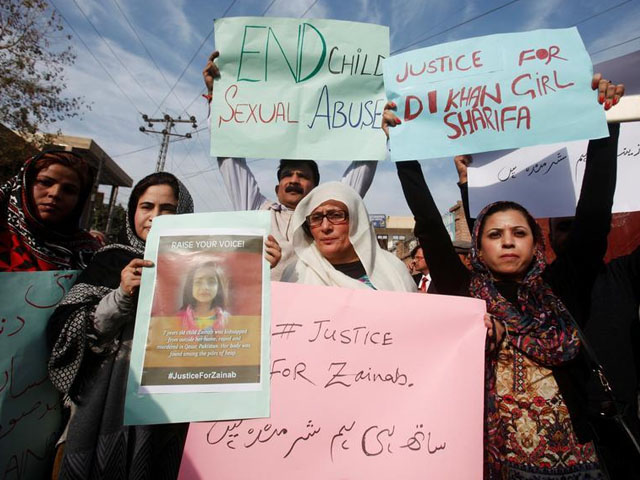 ---
A rape for a rape: Another child, another case in Kasur's long list of injustices
A 7-year-old was raped by a 40-year-old, whose clan then offered to settle the dispute by suggesting a 'rape for rape'
---
As a highly empathic person who is passionate about speaking about deeply-rooted social issues, the fact that I always have an atrocity committed against a girl to write about saddens me extremely.

I am, unfortunately, going to shed light upon yet another horrendous incident of rape that took place just a few days ago in Kasur. I remember just last year the country was clouded in shock, disgust and hopelessness when seven-year-old Zainab Amin's body was found from a heap of trash. Since Zainab's case was the 12th such incident to take place that year within a 10-kilometer radius of Kasur, it ignited immense rage and several protests across the country. Apart from multiple riots that broke out in Kasur, a huge part of the nation also cried to put an end to violence against children.

A year later, just when I was starting to think that perhaps such a wide outcry over Zainab's case would deter situations towards a positive direction, I come across another such case that erased any hope I had built up previously. Pakistanis who have spent a majority of their lifetime in this country know very well that complex patriarchal and misogynistic power systems exist and to what extent those very power structures carve the way many people think. In many areas, there are panchayats, run by a group of tribal men, which serve as a swifter way of resolving issues. Considering that these village councils can act as judges, are more accessible, financially cheaper, and can speed up the process of punishment as compared to the country's judicial system, the masses don't mind giving power to these people.

I believe that due to the shortcomings of our judicial system, people in the country (read: men) have taken it upon themselves to make hefty decisions on how to deal with crimes. Frustration is at an all-time-high considering the deteriorating state of the economy and the general unrest in the nation and it has remained that way for years. Due to these detrimental factors that have plagued our society over time, a barbaric mindset has set in and I am not sure how long it will take to change that.

Keeping these things in mind, what happened in Kasur explains it all. A seven-year-old girl was raped by a 40-year-old barber in the market place, while she had gone to purchase buttons from the market. In the Burj Kalan area of Kasur, the perpetrator's clan offered to settle this dispute by suggesting that someone from the victim's family rapes a minor from their own family. As compensation, a 'rape for rape' settlement was offered. Even though the victim's family did not accept the offer to rape, they simply chose to forgive the rapist which, in my opinion, is solely a deranged move. If someone has the guts to commit such a crime, one should have the guts to at least report it to the police. Thanks to the Minister of National Assembly (MNA) Maleeka Bokhari, a First Information Report (FIR) was registered against the criminal and he has been arrested. Though the arrest happened within 24 hours of the crime, as Bokhari tweeted, "we still need a national strategy on prevention and implement of laws".


Spoke to IG Punjab & RPO Sheikhupura @DrTajikSohail who registered FIR within 24 hours, against the man resp for attempting rape against minor. However, we need a national strategy on prevention & implement of laws. Not sharing copy of FIR for protection of victim & family ident. https://t.co/MxqnwOVDXo

— Maleeka Ali Bokhari (@MalBokhari) August 30, 2019


Just thinking about the kind of mentality that exists makes me sick. There is clearly no value and respect for girls and women, whether they are children or grown adults. They are simply seen as objects offered for 'compensation' to settle disputes to escape punishment and stay safe from rotting in jail. The extent to which patriarchy influences the minds of the men here terrifies me. What bizarre personalities and disturbed understanding of self-worth will these girls grow up with? This is not just about highlighting the unjust and dangerous power given to men, it is also about what kind of message we are sending to girls about themselves. By allowing such actions and narratives, we are willingly and consciously teaching them their existence means nothing; that their existence holds value in the most rotten sense — when men want to (mis)use their bodies.

Especially because the perpetrator involved in the rape and murder of Zainab was given capital punishment, I am amazed that people continue to commit such dirty crimes. However, I am still convinced that if our judiciary system is strengthened, citizens will be able to trust the law more confidently because the chances of getting speedy justice would increase significantly. Needless to say, the education system also needs to be reformed completely from within — from the core to the most superficial level there is. There needs to be just the right kind of exposure for the public to learn the right things.

There are so many loopholes in all the public departments of this nation that unless the existing systems are completely uprooted and made again, there can be no change. And they cannot be remade like they've been in the past; they need to be built with people who really care about building an educated, progressive, inclusive and sensitive environment. These are the only qualities that should be taken into consideration while hiring someone for a position of power. What happens next is simply a waiting game. I know I will be back again to express my sorrow about a similar incident in the near future but one thing is for sure — I will never stop calling a spade a spade until this stops.