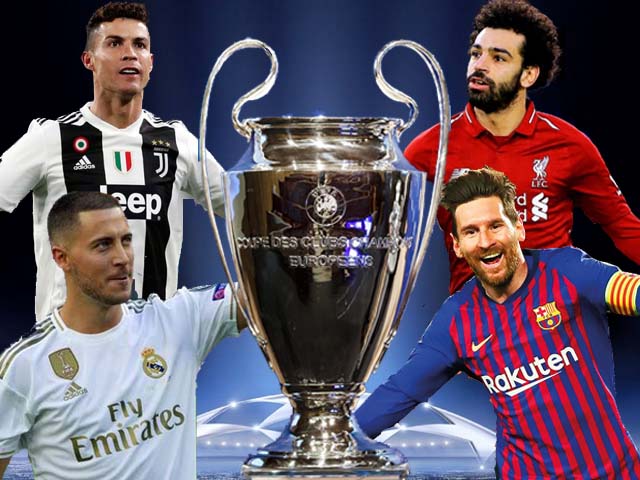 ---
Champions League draw: A look at the thrilling clashes
Liverpool already look like early favourites and God help any team that stands in their way!
---
With the commencement of Champions League's new season just a few weeks away, it looks like the group stages are primed to set up some mouth-watering clashes. Since the dramatic semi-finals from last season are forever etched in people's minds, fans are now hopeful that the same level of thrill and drama will continue this season. And based on the group stage draw which took place in Monaco recently, that certainly appears to be the case.

Some big clubs will be seen in action against each other in the group stages and here is a look at what will surely become some of the most anticipated clashes during this season of the Champions League.


The official result of the 2019/20 #UCLdraw! 😍

3⃣ toughest groups are __ __ & __ 🤔 pic.twitter.com/c7Xdro1vhn

— UEFA Champions League (@ChampionsLeague) August 29, 2019


Real Madrid versus PSG

After a turbulent season, Real Madrid called back their former legend, Zinedine Zidane, to once again manage things at the helm. Given the string of titles he has won as manager, it is evident that his presence at the club is vital since the Los Blancos won three straight Champions League trophies under his command. Not only that, what makes Real Madrid all the more threatening this time around is the arrival of Eden Hazard at the club. The inclusion of the former Chelsea man gives the team a more balanced look, and the prospect of Hazard and Gareth Bale linking up at the front will have many Real Madrid enthusiasts very excited.

However, despite the abundance of talent, Zidane and his men will have to play well in order to survive the group stages. The club has been drawn against the French champions, Paris Saint-Germain (PSG), once again. Since the denizens of the Parc des Princes are aiming for their first ever Champions League silverware, it will be exciting to see how they tackle their formidable Spanish opponents. PSG are counting on their star players like Neymar Junior and Edinson Cavani to prove their worth in the tournament since the team had a disappointing end to their run in Europe last season, succumbing to Manchester United at home. Hence, both Real Madrid and PSG are looking to atone for their sins from last season.




Bayern Munich versus Tottenham Hotspur

Tottenham Hotspur had a dream run in the Champions League last season when the north London side reached their maiden final in the tournament. Although they eventually lost to Liverpool, it was quite a treat to watch the Lilywhites almost go all the way, especially after their marvellous attacking display against Ajax in the semi-final. Mauricio Pochettino seems to have instilled a philosophy in his team that the sum of the parts is greater than the whole. While players like Harry Kane do bring a considerable degree of star power, it is clear that Spurs have inculcated an ethos which focuses heavily on teamwork rather than relying on the individual brilliance of big names.

While Spurs are still basking in the glow of having reached the finals, Bayern Munich are desperate to once again prove their mettle in Europe's premier tournament. The German champions have not touched the Champions League crown since they won it back in 2013. Since the team has already bid farewell to club legends Arjen Robben and Franck Ribery, the performance of their new arrival, Philippe Coutinho, will surely be under the spotlight. Although the reconfigured Bayern Munich outfit looks strong, they cannot take Spurs lightly, especially after their heroics last season.




Atletico Madrid versus Juventus

Fate has once again reunited Atletico Madrid and Juventus. The two sides met in last year's Round of 16 when Atletico eased past the Italian giants in the first leg but lost in Turin during the return leg after Cristiano Ronaldo scored a remarkable hat-trick to snatch victory away from Diego Simeone's men. As a result, this time around, the Spaniards will be looking to avenge their defeat.

As Maurizio Sarri is now back in Italy to take command as Juventus' new boss, it will be interesting to see how the side performs under their new manager. And, as always, all eyes will be on the talisman – Ronaldo.




Liverpool versus Napoli

Liverpool's European glory last season was perhaps triggered by their win against Napoli at Anfield because the Reds needed a major win against the Italian side in order to qualify for the knockout round. Once Alisson Becker made that memorable last-minute save at a very close distance, it seemed almost inevitable that the team would go on to do great things. Liverpool beat the likes of Bayern Munich, Barcelona and Tottenham Hotspur to lift the Champions League trophy, and if that form continues this season, they will prove to be a very difficult side to defeat for any opponent.

However, it should not be forgotten that Napoli did defeat Liverpool in the group stage before losing at Anfield, and that will surely give Carlo Ancelotti and his men some much needed confidence. As the two sides prepare for another battle, it does look like Jurgen Klopp's side will retain their splendid form in Europe, and God help any team that stands in their way!




Barcelona versus Dortmund

Dortmund came close to winning the Bundesliga title last season but Bayern Munich were able to retain the crown, albeit by a close margin. But Dortmund would fancy their chances against Messi and company because Barcelona look rather rigid with Antoine Griezmann and Luis Suarez up at front. On the other hand, Paco Alcacer and his players are in fine form.

Moreover, the two sides will also have to play Inter Milan in their group, and that's why it has been labelled the group of death this season. The Italian side has completed the signing of the Belgian Romelu Lukaku and will be relying heavily on his goal-scoring abilities to tackle the teams in this stacked group.




Chelsea versus Ajax

The return of Frank Lampard to Chelsea as the manager has been met with a mixed response. Although the Blues have had a slow start to their domestic campaign, the Englishman would be hopeful that his team will smoothly tackle the Dutch champions. But a lot is riding on Lampard's performance at Chelsea, not only because he is relatively inexperienced, but also because he does not have the ability to call upon Eden Hazard to work his magic for Chelsea.

On the other hand, Ajax will look to build upon their performance from last season when they knocked out Real Madrid and Juventus, and were on the verge of beating Tottenham in the semi-finals. But one potential cause for concern is the fact that Ajax's defence looks feeble after the departure of Matthijs de Ligt, who played phenomenally well for his club last year. As things stand, both sides look equal in terms of quality and technique, and since they will have to battle against Valencia too, this seems like a fairly open group which could produce some very intriguing matches.




With the Champions League set to kick off in two weeks' time, it's too early to say who will be crowned champions, but Liverpool already look like early favourites. But given the level of talent on display this year, it could be anyone's trophy to take home.

All photos: Getty
Facebook Conversations
COMMENTS
Comments are moderated and generally will be posted if they are on-topic and not abusive.
For more information, please see our Comments FAQ