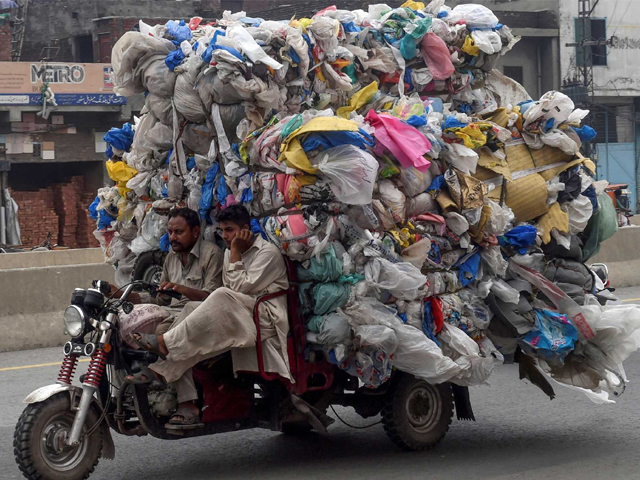 ---
#CleanPakistan: A plastic ban with no alternatives
Banning plastic bags without any alternatives will backfire and create practical issues for consumers.
---
Every now and then, Naya Pakistan surprises us from its bag of wonders. Every new policy is a roller-coaster turn. While one is still gasping from the last swirl, the next one is even steeper and more unpredictable. The recent drive to de-plasticise the capital territory is the latest. 

Although going plastic-free had been on the cards for some time, its implementation plan seems to have been not. The Ministry of Climate Change announced plans in early August to abolish the manufacture, sale and purchase of plastic bags in the capital. The local administration too announced to make Islamabad plastic-free in the next 45 days. However, the policy has been apparently implemented with no alternative plans. Thus, it isn't surprising that the suppliers, commercial buyers and end consumers in the supply chain, all seem to be equally lost.

One step forward and many backwards has always been the practice of policy-makers and implementers on the path of clean, green and plastic-free Pakistan. All previous de-plasticisation campaigns in Punjab and Sindh in the 90s, and in Khyber Pakhtunkhwa (K-P) in around 2001, were laced with good intentions but fizzled out before they could even start to make a difference. A common thread ran through all of them: they lacked sustainability. A structured implementation plan including targeted pre-awareness campaigns and the provision of alternatives is what's needed to at least kick-start the campaign.

Plastic bags have long been the staple in the Pakistani market. While there's no denying that the benefits of the low costs of production, durability and versatility of plastic bags do not outweigh the threat they pose to human life and the environment, the flip side is also crucial to analyse. What is the cost of banning the product? Will a ban in policy and paper be enough? What is the implementation plan? And what are the implications of loose implementation? Let's now analyse these aspects.

The plastic bag manufacturing sector in Pakistan is a cottage-sized industry. According to the Environmental Protection Department (EPD) report, it comprises of around 8,000 manufacturing units with an average daily production of 250-500 kilograms. It doesn't take much to imagine that this is not a high value-added business that would be able to easily absorb the cost of diversification. There is a direct economic and social cost in the shape of unemployment for 0.2 million people, while another 0.6 million will be affected indirectly.

The supply spectrum consists of commercial consumers as well as the common man. The former still responded relatively well by switching to paper and propylene bags or other environmentally-friendly materials. However, most small outlets, grocery stores and roadside vendors, that form a major chunk of the usage chain, find it hard to adopt and adapt. Even though the policy threatens with punitive measures such as high fines and even incarceration, providing alternatives to plastic bags remains a struggle. Paper bags are in short supply and not readily available to replace plastic, both by shopkeepers and the general public. Given that 55 billion plastic bags are used annually in Pakistan, as estimated by an EPD survey, a ban without a fall-back plan is bound to backfire and create practical issues for consumers. A perfect impetus to take the steam out of the policy perhaps.

Some suggestions are, thus, in order. To begin with, consumer awareness campaigns should be run to highlight the dangers of plastic and the benefits of reusable biodegradable bags. The corporate sector should be encouraged through ways such as Corporate Social Responsibility (CSR) initiatives to provide and distribute free-of-cost bags outside commercial centers and on roadsides. The local administration's decision to encourage sale of plastic bags through the less privileged segments of society such as beggars and transgender people is creative but requires sustained management and supply of bags. EPD should announce a government-backed upgradation plan for plastic bag manufacturers for the production of biodegradable paper, propylene, reusable nylon, jute, cotton and calico bags to encourage the final swap. Big retail chains and outlets should be provided tax rebates on the free distribution of reusable cloth and canvas tote bags. Denim and waterproof jute bags can also be used which are biodegradable and are used as compost.

All in all, the role of the local administration should be to not only force people in a plastic-free direction but making better and cost-effective alternatives available to consumers. This is the ultimate test.
Facebook Conversations
COMMENTS
Comments are moderated and generally will be posted if they are on-topic and not abusive.
For more information, please see our Comments FAQ