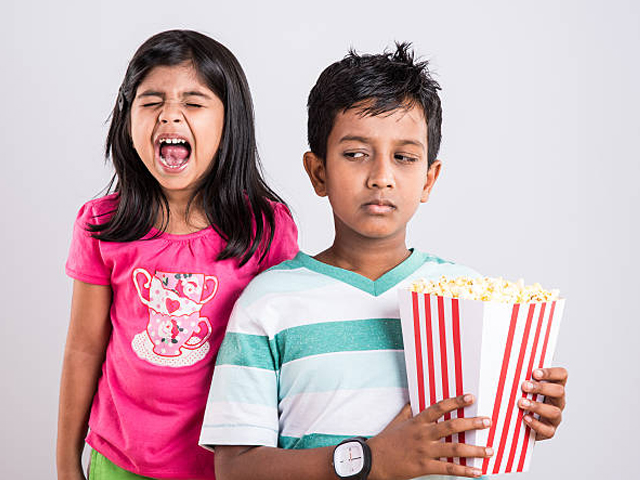 ---
#TherapistDiaries: Sibling conflicts could be more than what it seems
Unfavourably comparing your children damages all of them.
---
It is not brought up much, but every therapist who deals with adults, encounters a lot of people with sibling conflicts. There are many cases of hoarding a sibling's property in my profession. The gender ratio is more or less equal, and at times, the spouse or in-laws of a sibling also play a part in these practices.

Scar says to Mufasa in The Lion King,

"I'm from the shallow end of the gene pool."

Jasmine*, a woman in her late 30s, had her property hoarded by her younger brother as soon as her husband died. Jasmine was financially independent but her house held emotional value for her after the passing away of both her parents. Her legal fight was not for financial gains but for the emotional attachment with the house and the hurt that her brother caused her.

"He could have just asked for the house and I would have happily given it to him as I own two houses in the Middle East. The worst part is the betrayal and I will not be satisfied until justice is served."

In some cases, siblings manipulate their parents on the basis of their gender or marital status. Naved*, a highly successful IT person, has always been looked down upon by his mother. His life, however, remained unaffected by this until his father passed away, who used to side with Naved and tried to stop the injustice. The mother had always favoured the eldest daughter who, after separating with her husband, came back to the family and took over the entire household. This case is not about the property but about the eldest sister and how she misused her power to ruin Naved's life.

When Naved wanted to marry his long-time girlfriend, the eldest sister convinced their mother to do otherwise. They both refused to go to the girl's house for the proposal, despite the fact that Naved's father, while he was alive, had already met the entire family and even had a verbal engagement of sorts. Not only this, the interference went so deep that Naved could not even have the food of his choice at home because the cook was instructed not to make it.

Naved became deeply depressed because of this situation and yet everybody who heard about it laughed it off as sibling rivalry. A friend remarked,

"Oh, so you're like Jerry and aapa is Tom."

These adult age issues and sibling conflicts had multiple causes. They arose due to property disputes, power play and, undoubtedly, the comparisons drawn between siblings by their parents. When parents prefer a certain sibling over others, or make unfair comparisons, all the siblings involved are at stake.

Sahil's* parents used to give him less attention as compared to his five siblings. His birth order fell in the middle and right after his birth year, twins were born. His elder siblings were older than him by a decade or more. Parental ignorance took the form of nobody being available to help him with his homework, nobody appreciating his achievements, and mostly contacting him to have him run errands. But the most traumatising part was the unfair comparison with his older siblings. He was compared on the basis of his appearance, and since he was undergoing puberty then, he was made to feel ugly for his incomplete moustache or hoarse voice. His father give him names such as 'sissy' and advised him to be more of a man like his older male siblings.

As a result, all siblings grew apart. There were countless conflicts among them and feelings of hatred arose due to favouritism. One particular sibling, the one who used to be favoured the most, was diagnosed with Narcissistic Personality Disorder later on in his life. Two other siblings, though academically sound, lived in poor financial conditions due to the inability to sustain a job. In their 40s, they were being financially supported by their parents and extended family. Sahil grew up to develop Borderline Personality Disorder and a panic disorder. And one sibling ran off to another continent changing their entire identity, with no one actually knowing the truth about them.

We take sibling rivalry as something that is not a big deal and will be resolved on its own. To some extent, it does have a lot to do with puberty, gender differences and interests. But if your children don't stand up for each other when you are being unfair to one of them, it's a sign that they are distant from each other. Despite of the cussing and physical fights siblings engage in, at the end of the day, if they are not making up for it, you need to get actively involved and assess their behaviour.

Often parents' personal conflicts with their own siblings also gives insight into how they maintain justice between their own children and how they project their own sibling conflicts upon their children.

Sibling trauma is a psychological reality and needs therapeutic intervention as it has life-long effects. Unfavourably comparing your children damages all of them. It's not as if the one being favoured will grow up to be a competitive person who wouldn't need to punch someone to feel like a winner in life. In fact, they may feel guilty because of being put in a favourable position by demeaning their sibling.

There are no winners and losers among siblings. These are the people we should be taught to trust the most in the world. These are the people who can actually donate parts of their flesh to save each other's life. It's a privilege to have siblings because they are one of those few people who know your history firsthand, and stick with you throughout your life. It's a great loss if we can't experience sibling relationship and if parents raise their children in ways that create conflicts within them.

(*Names have been changed to protect identities and doctor-patient confidentiality.)