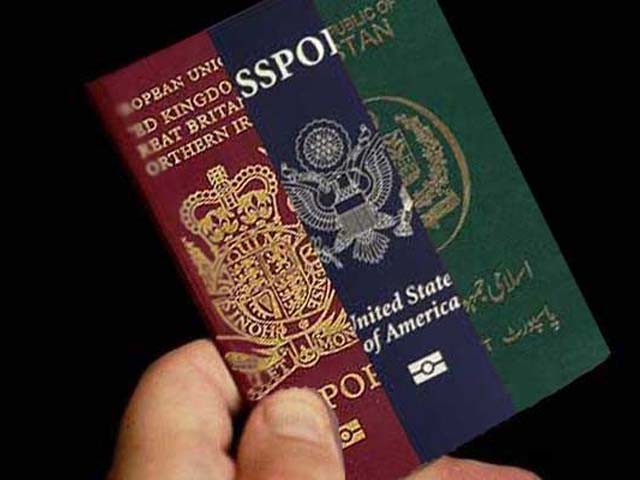 ---
Allowing dual nationals to contest elections: Another U-turn or another gimmick?
Is it not the height of hypocrisy for Imran to want to implement this change after clamouring about its demerits?
---
In what can be called another U-turn, the Pakistan Tehreek-e-Insaf (PTI) government, during a meeting chaired by Prime Minister Imran Khan, decided to allow dual nationals to contest in Pakistan's elections. It is hard to believe that this is the same party that has previously criticised its political opponents for keeping dual nationalities and for having vested business interests abroad.

Imran, during his dharna (protest) days and throughout his time as a member of the opposition, had told the nation that when elected representatives stash their wealth abroad, have dual nationalities and/or business in other countries, they cannot serve the nation effectively due to a "conflict of interest".


Which democracy would tolerate its Govt Minister having undeclared foreign accounts; undeclared foreign assets; foreign iqamas with foreign-source incomes? Conflict of interest is obvious. 1/2 pic.twitter.com/0XjAt044El

— Imran Khan (@ImranKhanPTI) January 30, 2018


Of course, Imran at that time was very vocal about the drawbacks of holding a dual nationality, but now it seems like one can add this to his growing list of U-turns. Perhaps he is still basking in the glow of his trip to America and has forgotten that the Constitution of Pakistan bars elected representatives from being foreign nationals. As per Article 63(C) of the Constitution of Pakistan:

"A person shall be disqualified from being elected or chosen as and from being, a member of the Majlis-e-Shoora (Parliament), if he ceases to be a citizen of Pakistan, or acquires the citizenship of a foreign state."

The Supreme Court of Pakistan, during the tenures of Chief Justice Iftikhar Chaudry and Chief Justice Mian Saqib Nisar, disqualified many sitting legislators for having dual nationality. In fact, last year, the Supreme Court even barred government officers from holding a foreign passport. Additionally, former premier Shahid Khaqan Abbasi's sister was not allowed to be a senator due to this very clause.

So, in the presence of detailed judgments by the Supreme Court and the restriction placed by the Article 63(C), PTI will need to amend the Constitution if it wants this policy to be implemented. In order for that to happen, it will need a two-third majority in both the upper and lower house of Parliament. Since Imran is busy in a witch-hunt against his political opponents, it is next to impossible that the opposition will lend him support to bring about this change in the Constitution. The PTI does not enjoy a comfortable majority in the National Assembly while in the Senate it is outnumbered by the opposition, meaning that it cannot bring any change in the law unless is advocated by the opposition. And it is unlikely that Imran is unaware of this technicality.

Therefore, it is possible that Imran has announced this idea in an attempt to gain the sympathies of foreign nationals. All these manoeuvres come on the heels of the PTI government having instructed the Election Commission of Pakistan (ECP) to fasten the process of registering dual nationals as voters. It appears that after his trip to the United States, Imran has become even more confident about the support he enjoys abroad and is eager to incorporate dual nationals in the electoral process during the midterm elections.

Regardless of how this plays out, is it not the height of hypocrisy for Imran to want to implement this change after clamouring about its demerits for so long? Those demerits still ring true today. Elected members represent their constituency and in order to fully understand the problems faced by their voters they must spend a great deal of time in their constituency. An individual who has one foot in Pakistan and one abroad would find it harder to understand the daily problems of the people, the dynamics of domestic politics, and would prioritise interests abroad.


Overseas Pakistanis have proved their mettle all over the world. About time, their way to serve Pakistan is paved. Yet another imp moment for them as SAPM on overseas Pakistanis @sayedzbukhari shares the news on Twitter!
🇵🇰🇵🇰 pic.twitter.com/rjdc3RB4Q0

— PTI (@PTIofficial) July 26, 2019


Furthermore, even if dual nationals are somehow allowed to contest in the elections, only wealthy and influential dual nationals, such as Special Assistant to the PM for Overseas Pakistanis Zulfiqar Bukhari or Governor of Punjab Chaudhry Mohammad Sarwar, would be able to avail this luxury. Most overseas Pakistanis simply would not have the political reach or the connections needed to run a political campaign while straddling two different countries. Although the likes of Bukhari and Sarwar have enough clout to attract a few foreigner legislators who can contribute to the party fund, they can never understand the on-ground realities of politics in Pakistan. Many dual nationals living abroad get information regarding politics through electronic and digital media, meaning that they view Pakistan's political landscape through a rather closed aperture and are largely unaware of the broader picture.

Moreover, while living in America or Europe, these dual nationals enjoys the benefits of democracy and freedom of speech, but when it comes to investing in or 'donating' to the democratic process of 'their country' or giving up the good life in the US for 'their country', it's all talk and no action.

This decision by PTI, like many of their other statements, comes across as another hurried, uninformed idea. The fact is that a party that is dependent on other political parties in order to keep a simple majority intact in the National Assembly cannot amend any law. Whether it is a political gimmick to gain the sympathy of overseas voters or an attempt to divert the public's attention away from the political and economic realities the country is facing, PTI and Imran have yet again gone back on their word.
Facebook Conversations
COMMENTS
Comments are moderated and generally will be posted if they are on-topic and not abusive.
For more information, please see our Comments FAQ