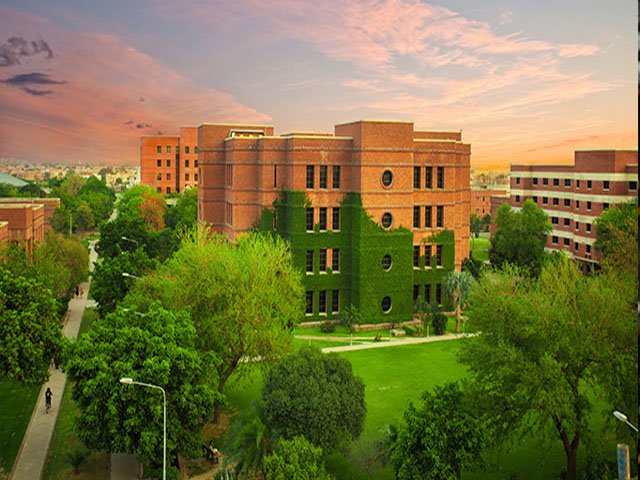 ---
Is LUMS an 'elitist' institution?
There is a hefty amount of documents that need to be submitted and other invasive details like a picture of your house
---
Over the past few months, LUMS was caught in a storm of scrutiny. Many current students reported having their financial aid for the coming academic year decreased or completely pulled out in most cases. Students took to social media to ask for funds; collecting their semester fee rupee by rupee. During this fiasco, the dog-eared label of 'elitist' was once again attached to LUMS by critics online.
I am struggling with paying for my next semester at LUMS since I've been denied aid like several other kids this time for no good reason. I'm trying to raise 389,347PKR and I have raised 200k. Need as much help as i can get!!

— Areeba Fatima (@AreebaFatimaa) July 5, 2019
hi! a girl i know is a Junior at LUMS and she was denied financial aid this year. does anyone know of any external sources she can get scholarships/ need based aid from? all kinds of help would be appreciated. thanks!

— commie bf / #RevertLUMSFeePolicy (@BeghairatAurat) July 4, 2019


From the tussle emerged Ali Zar, who happens to be a student at LUMS and has garnered a considerable amount of following on his YouTube and Twitter account. He posted a tweet which inflamed the argument further and pushed LUMS into a harsh and blinding limelight.


1. Money is not only enough for you to get into LUMS
2. #LUMS people carry a class that money doesnt buy
3. Yes My Dad is Rich, Deal with it bitch pic.twitter.com/B31FXOXrRI

— Ali Zar Raza (@alizarraza) July 17, 2019


His tweet was distasteful yet a faint reflection of the attitude that a LUMS student often dons and one that LUMS helps cultivate. It is an attitude that makes you hold pride over your intelligence yet you're aware deep down that if it weren't for your intelligence, things still wouldn't be that bad. This attitude in Zar's tweet stares you right in the face and is difficult to avoid. If you read it with one eye closed while riding the back of an ostrich you can still (sadly) tease out the words: 'class', 'merit' and 'deal with it'.

An official statement from the Dean's Office at LUMS clarifies that the institution is disbursing over Rs1 billion to over 35% of the student body, which it claims is "significant compared to other private universities". Apart from completely glossing over the panicked students who are now scrambling to find the money to complete their degrees, LUMS has another blind spot.

In their carnival of reassurances where 'merit' and 'a diverse student body' are the most popular rides, LUMS, as an institution and as a student body, often forgets that the process of being admitted to LUMS is elitist in nature. In order to get admitted to LUMS, one has to have the perfect grades and the perfect SAT scores. But what are the costs of having the perfect grades and the perfect SAT scores?

This is Sociology 101! There are structural hindrances set in place that stop students from a lower economic background or students belonging to underprivileged families from being admitted into reputable private institutions like LUMS. Your final SAT scores and your transcript are a long fought battle that begins the second your parents decide to put you into school. The school you study in, the time your parents can devote to your studies if they aren't busy working to put food on the table, the matter of hiring an additional tutor and the social connections you or your parents have are all major factors that influence your transcript. Additional factors such as the academies that help you prepare for entry tests or the SATs or the college counselor you hire to help you write your personal statements and assist you in other admission processes also contribute to you getting into LUMS.

It can be argued that these are structural problems that are beyond the control of LUMS. But what happens when these students have somehow wriggled their way through those barriers? Does class just magically disappear?  These class differences are only magnified when you walk through those gates.

To begin with, LUMS has a ridiculous rule which, or so it seems, serves just one purpose: to unnecessarily make life difficult for those on financial aid. The students who receive financial aid only get it for one semester, which means they have to reapply for aid and go through the stressful process at the end of every semester until they finally graduate. There is a hefty amount of documents that need to be submitted and other invasive details like a picture of your house.

Some of the deserving students are rewarded with a fully funded scholarship through LUMS National Outreach Programme (NOP), which focuses on identifying exceptionally brilliant students of Matriculation and FA/Fsc and making them a part of the LUMS community. However, not all of these students are fully accepted by the LUMS community. In some cases, these students are not fluent English speakers and find it difficult to fully express themselves in their assignments and to converse with other students freely. LUMS does offer additional classes in order to help students with their language skills; however, it does little to bridge that gap. In addition to this, these students have the constant threat of having their scholarship taken from them if they take a single wrong step. A semester that starts out well can easily turn into a nightmare with a few missed lectures and some failed quizzes. Once that happens, the pressure is increased and panic sets in.

The studying is half of what LUMS requires from you, it also requires you to socialise with the students and the faculty. Therefore, in a way, half of your degree is earned at the khoka, sipping chai with others, going to selective parties or going to your instructor's office to talk about Emily Dickinson's evolving use of synesthesia in her poetry. However, all of these activities are not open to everyone. They require capital that comes in all shapes and sizes.

So, to a great extent, both the admin and the student body are to blame for harbouring this elitist culture; one that simply demands you to 'deal with it'. It is precisely this 'deal with it' outlook that LUMS operates on that I, as an undergrad at LUMS, can assure you holds true and makes LUMS an 'elitist' institution. But there is also a culture that LUMS promotes which demands you to question everything, to speak up for others, and to use the voice that your status has given you and not abuse it. It is this culture that I am now exercising and will continue to do so.
Facebook Conversations
COMMENTS
Comments are moderated and generally will be posted if they are on-topic and not abusive.
For more information, please see our Comments FAQ