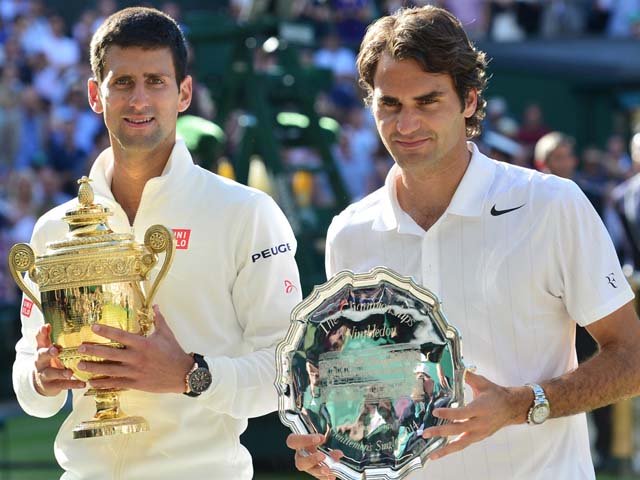 ---
The game of courts: The Wimbledon final of the tennis kings
After avenging his 2008 defeat to Nadal yesterday, is Djokovic next on Federer's list?
---
Since 2017, Roger Federer, Rafael Nadal and Novak Djokovic have dominated the Grand Slams. While their status as legends of the game is already secure, it appears that neither one of them is willing to relinquish their iron grip on each tournament. Their consistency and hunger keeps the rest of the pack on their toes and it therefore seemed inevitable that two out of this reigning triumvirate of tennis kings would go onto reach the final at this year's Wimbledon.  

But which two?

Federer has been looking to add to his tally of 20 titles, while Nadal has been snapping at his heels with 18 Grand Slams to his name. But it looks like Nadal will have to put his dreams of Grand Slam glory on hold for now because Sunday (July 14, 2019) will see Federer and Djokovic battle it out on centre court in the Wimbledon final.


A battle today, lots of respect for Roberto 🙏🏼 @BautistaAgut
⠀⠀⠀⠀⠀⠀⠀⠀⠀
I'm very proud to play again in Sunday's #Wimbledon final. What a journey being back! Idemooo LET'S GO 💪🏼 #TeamDjokovic #NoleFam pic.twitter.com/EjbD7RO235

— Novak Djokovic (@DjokerNole) July 12, 2019
Amazing match well deserved win by @rogerfederer I had some chances but... Roger played better. Good luck for the final @Wimbledon 2019. Thanks all for the support. Always fantastic to be here. See you next year! 😘

— Rafa Nadal (@RafaelNadal) July 12, 2019


While Djokovic did see a brief dip in form during 2017, his resurgence since then has been truly remarkable and he is currently the reigning Wimbledon champion. The Swiss and the Serb have actually had a thrilling rivalry when it comes to the Wimbledon final. They have previously faced each other at this juncture thrice, in 2012, 2014 and 2015, wherein Federer beat Djokovic in 2012, but succumbed to his counterpart in 2014 and 2015.

Djokovic's Wimbledon journey this season was fairly straightforward as compared to Federer's. The Serb hadn't lost a single set in the 2019 tournament before meeting Hubert Hurkacz in the third round, and one thought that David Goffin would pose a challenge for Djokovic in the quarter-final. Instead, the Serb cruised past the Belgian in straight sets and also brushed aside surprise semi-finalist Bautista Agut. The fact that Djokovic has already won the Australian Open this year and his dominance on centre court last year means that despite Federer's prowess and pedigree, he'll have to put up a real fight to put the brakes on Djokovic.




While Federer had a slightly tougher draw, one still expected him to saunter into the semi-finals. Although he lost a set against Lloyd Harris in the first round, he went on to win his remaining matches without losing a single set, until he met Kei Nishikori. The Japanese sensation has been improving year by year and always looks like a serious threat at the Grand Slams. This was evident when he gave Federer an early scare by winning the second set 6-1.

But Federer's experience ensured that he eventually closed out the match quite comfortably. Of course, all tennis fans wanted him to enter into the semi-finals and play his tennis rival, Nadal. The match-up is always a mouth-watering prospect which represents the pinnacle of the sport.




Federer and Nadal share a long history of memorable clashes. Can anyone ever forget the never-ending Wimbledon final in 2008, when Nadal beat Federer in five sets and claimed his first Wimbledon title? Oddly enough, since then, the two arch rivals did not cross each other's path at Wimbledon until they came face to face yesterday.

It was their first meeting at the historic lawns of Wimbledon in 11 years, and Federer wanted to avenge his 2008 defeat. Both players started off with some beautiful rallies, as Nadal's resilience and Federer's backhand had the crowd riveted.




Although neither of the two could break each other in the first set, Federer got the upper hand when he won the set in the tie break. But the second set was perhaps a nightmare for the Swiss, as the Spaniard thrashed him 6-1. Suddenly the match sprung into life, and it looked like some potential fireworks were now on the horizon. But Nadal's resistance soon sputtered out. While he had looked belligerent in the second set, the final two sets belonged entirely to Federer because of his ferocious serves and cross court shots. A commanding display from Federer saw him tackle past Nadal and into his 12th Wimbledon final.




Sunday's final will be the 48th time that Djokovic and Federer have played against each other, with the Serb having the upper hand against his Swiss counterpart by 25-22. The final has all the makings of a great match and although both the players are in tremendous form, I have a feeling that this time Federer will win against Djokovic by a score of 3-2. However, regardless of who wins or loses, we are perhaps living in the greatest era of tennis, and are truly privileged to see such players performing at the height of their powers.

(All photos: Getty)
Facebook Conversations
COMMENTS
Comments are moderated and generally will be posted if they are on-topic and not abusive.
For more information, please see our Comments FAQ