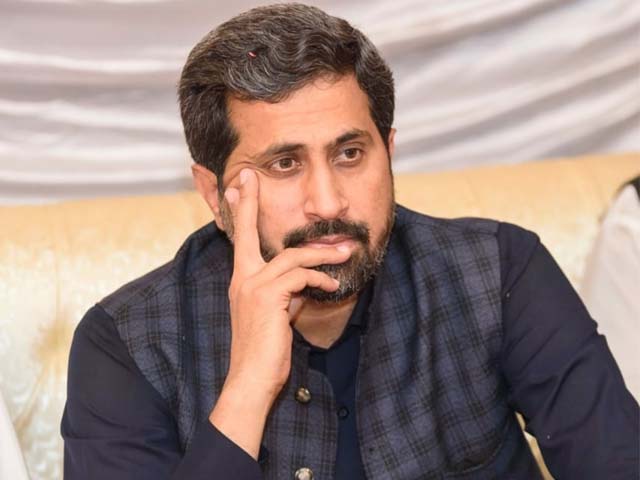 ---
The return of Fayyaz Chohan: Is tolerance no longer the 'first and foremost pillar' of Pakistan?
Such decisions only make the party look hypocritical and uncommitted towards fostering a truly tolerant society.
---
When Pakistan Tehreek-e-Insaf (PTI) came to power, Fayyaz Chohan was given charge of the Punjab Information Ministry. During his stint as Punjab's information minister, Chohan not only used derogatory language against his political opponents, but he also passed disrespectful, misogynistic remarks about a stage actress, accusing her of spreading vulgarity in society. His statements soon became an embarrassment for the PTI government and it seemed that every time Chohan spoke, PTI had to clean up the mess after him.

However, when Chohan spoke against the Hindu community in an offensive and bigoted manner, it seemed that he had finally crossed the line. Pressure was put on PTI and Imran Khan finally asked Punjab Chief Minister Usman Buzdar to sack Chohan from the ministry. It seemed like this was the straw that finally broke the camel's back.

But not for long.


Fayyaz Chohan's oth taking ceremoney as the forestry, fisheries and wildlife minister.

Punjab Assembly Speaker Chaudhry Pervaiz Elahi administered the oath at the Governor's House. The ceremony was attended by Chief Minister Usman Buzdar among other guests. pic.twitter.com/YrTcFVJRwf

— DrJaveria Suharwardy (@DrJavariaPHTF) July 5, 2019


PTI recently took another U-turn and appointed Chohan as the minister of Forestry, Fisheries, and Wildlife. It is pertinent to note that when Chohan was initially removed, PTI had tweeted:

"Bashing someone's faith should not be a part of any narrative. Tolerance is the first and foremost pillar on which Pakistan was built."

Given that Chohan has been appointed as a minister again, the question arises: has PTI changed its stance regarding tolerance and plurality in Pakistan? Has the party forgotten that his statement led to severe backlash from members of his own party? Perhaps PTI only removed Chohan earlier in order to pacify and avoid the backlash from within and outside the party. One cannot justify giving Chohan another ministry since he has made it apparent that he holds little respect for the Hindu community.


PTI Punjab government has removed Fayyaz Chohan from the post of Punjab Information Minister following derogatory remarks about the Hindu community. Bashing someone's faith should not b a part of any narrative.Tolerance is the first & foremost pillar on which #Pakistan was built. pic.twitter.com/uKJiReWc26

— PTI (@PTIofficial) March 5, 2019


Apart from the fact that PTI has repeatedly repealed its decisions on a number of matters, there is also a clear double standard within PTI when it comes to holding its own members accountable for their misdeeds. It seems counter-intuitive to bring back an individual whom the party itself chose to oust from his designated post. Evidently, PTI is unaware of this lapse in logic.

To put things in perspective, let us assume that Chohan had made a similar sort of statement against Muslims. Would PTI still have appointed him as a minister again? Evidently not. If Chohan had hurt the sentiments of Muslims, he would have been declared a blasphemer and PTI would have distanced themselves from him as much as possible. The hypocrisy in this regard is evident. PTI may state that it wishes to defend the rights of minorities, but its actions say otherwise.

Since the Hindu community in Pakistan has had its voice stifled, Chohan is free to return to office without any long-lasting repercussions and with no one to hold him accountable for his words. If Chohan is forgiven for hurting the sentiments of the Hindu community, then how can PTI accuse the Bharatiya Janata Party (BJP) of hurting Muslim sentiments in India? Religious bigotry in Pakistan has already led to the marginalisation of minorities and many sectarian killings. Members of the Christian community are often accused of blasphemy, while members of the Hazara community are persecuted because of their religious beliefs. In a nation where religious rights are not safeguarded, Chohan's brand of hate speech only gives ammunition to those who want to victimise the marginalised. It is time our leaders realise that their words have consequences. A country which has suffered from religious extremism for decades cannot afford to have people like Chohan in the corridors of power.

PTI must re-evaluate where it stands on this matter. A pluralistic society is the need of the hour since we must protect the social fabric of our nation and Chohan's return sends an alarming signal to the minorities in Pakistan. Excusing such behaviour will undoubtedly set a dangerous precedent going forward. PTI must realise that the kinds of views Chohan harbours will continue to damage the reputation of the party and only breed more vitriol and negativity. One hopes that the saner voices in PTI like Shireen Mazari and Asad Umar will question the return of Chohan.

PTI needs to understand the message this will send to the religious minorities in Pakistan. Such decisions only make the party look hypocritical and uncommitted towards fostering a truly tolerant society.
Facebook Conversations
COMMENTS
Comments are moderated and generally will be posted if they are on-topic and not abusive.
For more information, please see our Comments FAQ