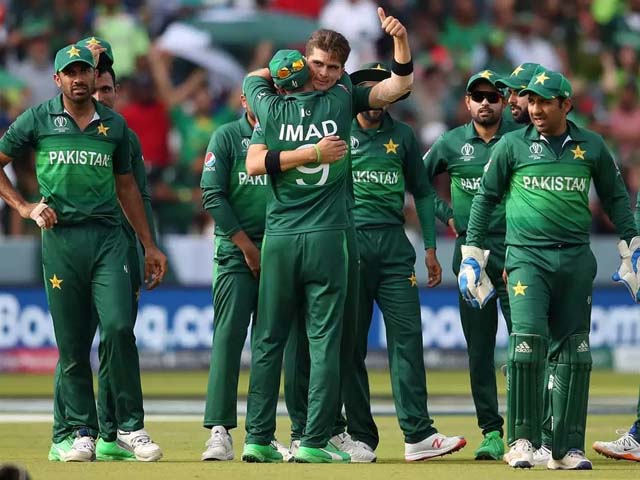 ---
CWC19: Pakistan couldn't score 500, but proved they are worthy of the semi-finals
The young talent emerging from the grassroots looks fantastic, and the future of Pakistan cricket looks hopeful.
---
Before the Pakistan-Bangladesh encounter, Sarfaraz Ahmed said, "we will aim for 500 runs". While it seemed highly unlikely, Pakistan fans at least expected their team to attempt the impossible. That's what sport is about, right? Always trying to push the boundaries and make the impossible possible. After all, records are meant to be broken and Pakistan should have done everything they could to try to qualify for the semi-finals.

Of course, this was only possible if Pakistan got off to a fast start.


Sarfaraz Ahmed "we will try to score 500" #PAKvBAN #CWC19 pic.twitter.com/JPN3sQ5DR8

— Saj Sadiq (@Saj_PakPassion) July 4, 2019


While the top order batted decently, it wasn't at the rate we had expected. After 18 overs, Pakistan had scored 84 runs for the loss of one wicket. In a normal game, this would be considered decent, but this wasn't a normal game. This was a game where Pakistan needed to attack from the get-go and show intent. To go at a run rate of fewer than five, in a game where a score above 370 was required, was rather unimpressive. No matter how improbable the feat may have been, Pakistan should have backed themselves to go out fighting for a spot in the final four.
Instead, it seemed like they were content at wrapping things up with a simple win. Had they gone out all guns blazing and tried to put Pakistan in a position to qualify for the semi-finals, they would have received far more plaudits, even if they were to lose. Asif Ali should have been brought in to give the squad some much needed firepower.

Despite the lack of 'extra' intent, the Pakistani batsmen managed 316, courtesy of a brilliant partnership by Babar Azam and Imamul Haq, but this begs the question: why didn't Imam play like this earlier in the tournament? It was a fantastic innings, but came far too late to really matter for Pakistan. But once again, Pakistan's middle order collapsed. As I've been saying throughout this tournament, the batting order is completely wrong.

Mohammad Hafeez should be coming in at six and Ahmed should be coming in at number four because he simply can't bat later in the innings. Nonetheless, credit must be given to Azam and Imad Wasim for playing well and performing for Pakistan on a regular basis in the past few matches.




The 316 runs looked defendable on a slow wicket, but once again, it was Pakistan's fielders which let everyone down. This time the culprit was Haris Sohail, who dropped a sitter in the slips, emphasising how poor Pakistan's fielding has been right throughout this tournament. How can you expect to win a World Cup when such easy chances are dropped? You can excuse the odd mistake, but Pakistan's inconsistency in the field is a great cause for concern.

The departure of Steve Rixon seems to have had a massive effect on the Pakistani fielders. Under Rixon, the team was fielding brilliantly for a long period. As soon as he left, the fielding woes we've been accustomed to as fans have returned.

Credit, however, must be given to Pakistan's spirited bowling display. Despite the early drop, Pakistan managed to defend the total and ensured that Bangladesh never really looked to be in control of their chase. The 19-year-old wonder kid, Shaheen Afridi, proved that he has the potential to become a big asset in Pakistan's bowling attack. His six-wicket haul was a sight for sore eyes.




Going forward now, it is important for Pakistan to look at the positives from this tournament. Azam, Haq, Sohail, Wasim, Wahab Riaz, Mohammad Amir and Afridi have all performed well at the World Cup. The Pakistan Cricket Board (PCB) should now look to build on the young talent which has performed and find appropriate replacements for the likes of Shoaib Malik and Hafeez. The young talent emerging from the grassroots in Pakistan looks fantastic, and I simply cannot wait for the future of Pakistan cricket.

It was fun while it lasted, but sadly this marks the end of Pakistan's World Cup campaign. Thank you to all the players who made it special.

All photos: Getty
Facebook Conversations
COMMENTS
Comments are moderated and generally will be posted if they are on-topic and not abusive.
For more information, please see our Comments FAQ