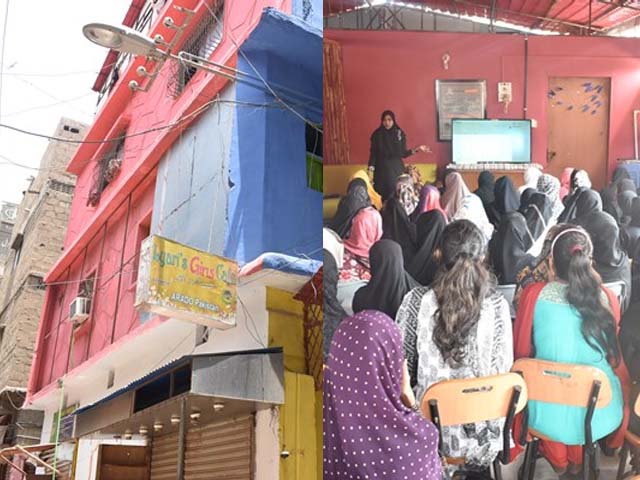 ---
Once a neighbourhood of gang wars, Lyari's Girls Café is helping women reclaim the streets
More than 1,500 women have successfully completed their training and are now working in their respective fields.
---
Among poorly-designed, bullet-riddled houses, there stands an immensely eye-catching building right in the heart of Lyari. This three-story residential building painted in striking shades of blue, pink and green is not a sight that can go unnoticed. The street, once most widely known for its vacant houses and gang war tussles, now hosts a place that welcomes hundreds of young girls and women from every nook and cranny of the area.

This place, inaugurated around three years ago, is known as the Lyari's Girls Cafe (LGC) where girls and women gather daily to learn, teach and share ideas, both long-standing and innovative. LGC opens its doors early in the morning and engages its students till the end of the day.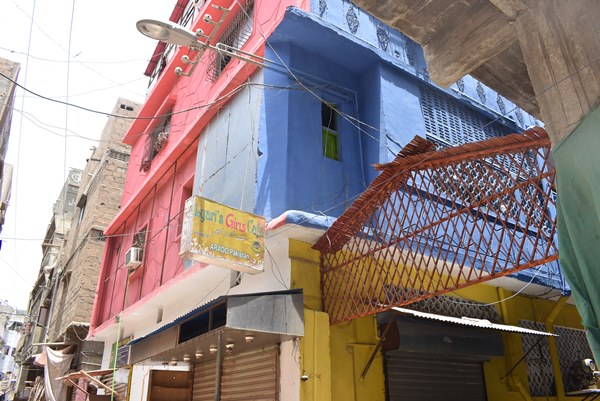 The devastated infrastructure of the narrow streets of this area sketches the poor conditions of governance. The undeveloped water-supplying pipes are a daily reminder for bikers and cyclists to not go over a certain speed. The cluttered garbage tells the story of how the oldest area of the port city is being treated. Children are seen killing their endless spare time by participating in the day-to-day street fights and teenagers sit outside their doors, dawdling on their phones and counting pedestrians.

Despite many odds, every morning, women of all ages draped in veils and scarves flock to the most attractive building in the area. The total tally of the women coming in on a daily basis goes up to 500, out of which over 400 come to receive technical training. More than 1,500 women have successfully completed their training here and are now working in their respective fields. Other courses taught at the LGC include henna art, hair styling, beautician skills and arts and crafts, to name just a few.




Children whose parents hardly value education and those who spend a majority of their time on the streets attend the morning session too. There is no standardised course for them, no uniform or punishment. A variety of indoor games, namely carom, chess and ludo, keep them involved for at least half of the day. They learn dignity, respect and civic sense that is then reflected outside of LGC.

LGC welcomes its visitors with a LGC hashtag at its entrance. Vastly similar to an idea imported from Germany, a book shelf is strategically placed in the corner which encourages visitors to pick a book and share their personal spare books. This open and free-of-cost library also attracts men who are looking to pass their leisure time.


Discussions with @Lyari_GirlsCafe to understand challenges & opportunities Lyari has seen hard times Watch this space for updates & our insights in bringing #tech to women #TechKaro @CIRCLE2020 @AdilNajam @R_Hawkes pic.twitter.com/I7dQ1cARLm

— Sadaffe Abid (@SadaffeAbid) May 30, 2019
The Lyari's Girls Cafe celebrated the 'International Day of the Girl'#AaoCycleChalaen' "let's go cycling"
at Sea view, Karachi #IDG2018 to highlight the challenges girls face while advocating for their empowerment.
Any distance, every mile - you can achieve your dreams. pic.twitter.com/KKo021BJ7Z

— Lyari's Girls Cafe (@Lyari_GirlsCafe) October 12, 2018


Constructed entirely out of bamboos, the newly-established stitching shop on the ground floor offers trained women a working space along with equipment that they can utilise for free. Amina Sultan, who works at the LGC, feels that it should provide extensive training to girls and make them capable of supporting their families. She says,

"It is a one of a kind female shop in Lyari. It aims to support skilled women."

The vibrant colours of the interior of the building tempt visitors to photograph it from every possible angle. The signature green couches, smiling Santa Claus, tiny cloth flags of Pakistan and Germany, hanging paper birds and more aesthetically pleasing little items keep one amused.




From the teachers to the students and even the office staff, this place is highly female-dominated and serves as a safe space for them. Sehrish, who has been working for the LGC for the last three years, says,

"The girls feel comfortable in asking what they wish to ask. This is their second home. The idea is to provide an open space for girls. They learn, teach and pass on the skills to each other."

The cafe is not limited to the building only; in the evening, young girls partake in boxing and football classes outside of the cafe. Inspired by Lyari's boxers, they are increasingly passionate about the sport now. In addition to boxing, cycling is another form of outdoor activity that LGC offers. Around 30 girls have registered with the cafe's cycling club. They set out on their bicycles every Saturday morning, cycling all the way to Customs House, which is two-and-a-half kilometres away. Determined to increase their visibility and reclaim the streets, these girls cycle defiantly on roads which aren't bicycle-friendly.




With no monthly fees, the students regularly attend educational sessions ranging from career counseling to cyber-crime awareness. LGC invites women to attend lectures given by experts on highly relevant and pressing issues such as domestic violence, depression, climate change and women rights.

This second home for the girls of Lyari has also produced over 100 female photographers who promote the area on various social media sites by capturing its ancient buildings, embellished rickshaws and tantalising street food. These photojournalists attempt to portray a different picture of Lyari, encouraging  people to look past Lyari's dark past.

(All photos by author)