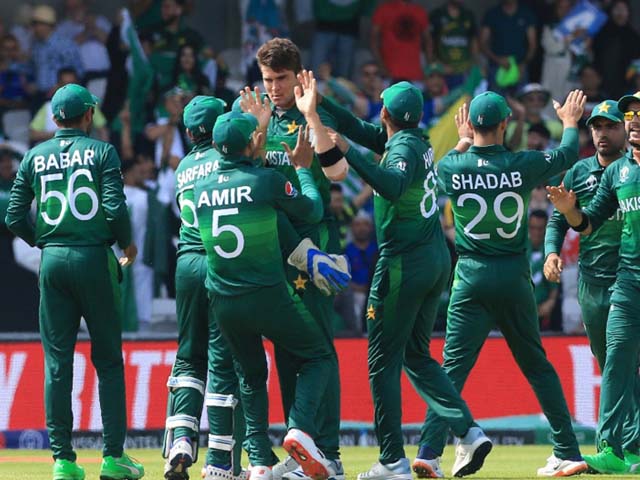 ---
#PAKvsAFG: Imad Wasim pulled off what Dhoni couldn't – a late onslaught
To call it a 'tough chase' would be an understatement. Pakistan, as they do so often, tormented their fans.
---
Pakistan's fate now hangs in the balance. At the start of the weekend, the equation for the Men in Green was simple: Pakistan must beat Afghanistan and India must defeat England. Unfortunately, one of these matches didn't go according to plan. Nonetheless, Pakistan's World Cup hopes are still alive because they managed to clinch a crucial victory against Afghanistan, but only just.

Going into the match, Pakistan were tipped as being the favourites, even though Afghanistan had previously given India a run for their money. Any fan of Pakistan cricket knows that chasing down a target in an ODI has always troubled our players, but one thought that Pakistan, given their recent form, would make quick work of the meagre Afghan total. But that was not to be.


This victory is for all the pakistanis around the world......love u all #pakistan zindabad

— Imad Wasim (@simadwasim) June 29, 2019
Really felt like Pakistan stopped losing to Pakistan to let Afghanistan defeat Afghanistan. Both teams flipped being the more panicked side before the less experienced one couldn't hold it together.

— Ahmer Naqvi (@karachikhatmal) June 29, 2019


As usual, Pakistan's bowling effort started well, with youngster Shaheen Shah Afridi striking in back to back deliveries. The fact that Afridi is regularly chipping in is a promising sign for Pakistan because Mohammad Amir needed another strike bowler to be firing alongside him at the start. The fact that Afridi took four wickets proves that the decision to pick him in the playing 11 ahead of Hasan Ali was a wise move. His efforts ensured that the Afghanistan batsmen never really formed a decent partnership.

The Pakistan management often get a lot of stick, but credit must go to them for selecting a youngster over a more established name. They could have easily persisted with Ali, but instead they took a risk and it has certainly paid off.

I feel what has brought the change in Afridi's bowling is the new length at which his deliveries are hitting the deck. He has finally started to pitch the ball up a bit more and has found success as a result. Credit must also go to the bowling coach, Azhar Mahmood, for this transformation.




It became clear that the surface had something in it for the spinners when Imad Wasim took two wickets, his first in the tournament. But no one could have foreseen that the Afghan spinners would use the deck to completely befuddle Pakistan's batsmen.

Since Afghanistan had managed to amass only 228 runs from 50 overs, most experts felt that Afghanistan were around 30 runs short from the par score on this surface. Nonetheless, it was clear that it would be a tough chase on a spinning track against world-class spinners.

But to call it a 'tough chase' would be an understatement. Pakistan, as they do so often, tormented their fans. Despite losing Fakhar Zaman early, the run chase looked comfortable enough while Babar Azam and Imamul Haq were at the crease. However, in usual Pakistan fashion, one wicket led to another. Haq was stumped, attempting an awful shot, and Pakistan's centurion from the previous game, Azam, was out shortly after.




The fact that both Mohammad Hafeez and Haris Sohail did not last long either and because the ball was turning miles, it looked like the game was in the balance.

When Wasim walked to the crease, he initially looked extremely wary, unable to pick the spin of Rashid Khan. You felt as if his wicket could fall at any moment, but he stuck in there and got set, trying his best to stay at the crease till the very end. But when captain Sarfaraz Ahmed ran himself out attempting a double, it looked as if Pakistan's chances were practically over, especially since the lower order has been weakened since the exclusion of Ali.

Fortunately for Pakistan, Wasim had plans of his own. It was spin that had caused Pakistan problems right throughout the innings, but at a crucial juncture, the Afghanistan captain chose to bowl himself, which proved to be immensely costly in the end. Wasim took a liking to his bowling, which brought the required run-rate down significantly. Support from Shadab Khan and a crucial Wahab Riaz cameo ensured that Pakistan crossed the finish line after much huffing and puffing.




Wasim finished not out on 49 runs and he probably played the best innings of his career. It was the first time we have seen him play an impactful innings in such a pressure situation. I feel this innings will give him some much needed confidence going forward because I've always rated Wasim highly as a batsman. He's been used as a power-hitter by the Pakistan management, but I have always felt he has so much potential as a proper batsman.

It was a fantastic game of cricket, where Pakistan once again lit up the tournament. The team now have a five-day break, during which they can relax, until they take on the tigers from Bangladesh in their final match.


Here's how the #CWC19 table looks after today's result 👀

Remarkably, none of India, New Zealand, England, Bangladesh, or Pakistan have qualified for the semi-finals, but all have their fate in their own hands!

Who do you think will end in the top four? pic.twitter.com/DM3sHRLoA3

— Cricket World Cup (@cricketworldcup) June 30, 2019


Bangladesh cricket has taken remarkable strides over the years and their team has had a good World Cup thus far, with Shakibal Hasan being their main talisman. Therefore, I cannot wait to see the game between Pakistan and Bangladesh, in what looks like it could potentially be a quarter-final match.

Prior to India's loss against England yesterday, the qualification equation for Pakistan was simple. But now, the journey to the top four has become a little more complicated. Theoretically, so far, only Australia is guaranteed a place in the semi-finals. All the remaining spots are up for grabs.

But as I've said right throughout this tournament, I still back our boys to win the tournament and bring the trophy back home. I cannot wait for Friday at Lord's.

All photos: Getty
Facebook Conversations
COMMENTS
Comments are moderated and generally will be posted if they are on-topic and not abusive.
For more information, please see our Comments FAQ