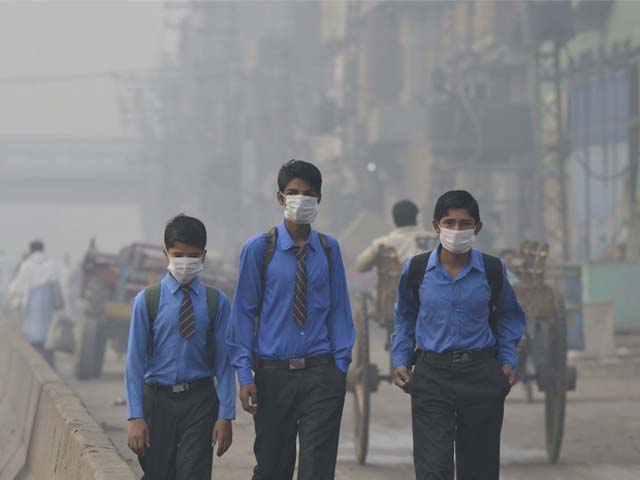 ---
Carbon pricing: the solution to Pakistan's smog and economic woes
Polluters decide whether to reduce emissions or pay for it, which can be a source of revenue for the government.
---
Air pollution has been a growing concern for many in Pakistan. With rapid population growth and urbanisation, Pakistan is facing the worst air quality it has experienced since in its existence. AirVisual, an air quality monitor, ranks the major cities of Pakistan like Karachi, Lahore, Faisalabad and Peshawar among the most polluted cities in the world.

Another major problem that has emerged in the past few years is smog, which is a result of extreme air pollution. Smog, quite literally, is formed when smoke merges with fog; a hazy, grey air which is produced when heat from the sunlight reacts with fine particles and atmospheric pollutants that are released from burning fuels. Unsurprisingly, the pollutants that cause smog come from factories, industries and transportation. Additionally, the burning of crops and widespread usage of brick kilns also serve as major contributors. Smog not only reduces visibility but is also detrimental for one's health. During the smog peak season in 2017, the health ministry recorded up to 1,000 patients that came in each day with respiratory issues in nine public hospitals of Punjab, which suffers the most from the smog problem.

There is no doubt that urgent and collective action is required in order to tackle the issue of air pollution and smog. Pakistan is already making efforts to counter it. The Environmental Protection Department (EPD) of Punjab has a smog policy and Punjab Clear Action Plan in place. The EPD has installed air quality monitors in major cities of Punjab, including Lahore, Gunjranwala, Multan and Faisalabad. They also monitor air quality and pollution from industrial units and brick kilns. Strict action is being taken against polluters; any polluting unit is sealed and fined until the necessary apparatus which can tackle air pollution is installed. The government is also introducing zigzag technology, which is more efficient and reduces fossil fuel consumption by up to 20%.


Who is putting a #PriceOnCarbon? Where #Pakistan stands??

WB just updated the @WorldBank Carbon Pricing Dashboard, check it out! https://t.co/37WGX4UACA. pic.twitter.com/Yy4z4QvHaH pic.twitter.com/uSXkxUiznj

— Noman Ashraf ♻️ (@noman_env) January 20, 2019


While efforts are being made, the issue continues to persist and a lot more needs to be done to improve the air quality in Pakistan. One of the most important things to do is analyse the major contributors and work to ensure that the source is targeted. The solution perhaps lies in introducing carbon pricing, which would reduce emissions and, as a result, air pollutants and smog. A price on carbon helps shift the burden for the damage back to those who are responsible for it, and who can reduce it. Instead of dictating who should reduce emissions where and how, a carbon price gives an economic signal and polluters decide for themselves whether to discontinue their polluting activity, reduce emissions, or continue polluting and pay for it. In this way, the overall environmental goal is achieved in the most flexible and least-cost way to society.

Carbon pricing is widely recognised as one of the most straightforward and efficient approaches for reducing emissions globally. It is also one of the most discussed topics in international climate debate. During the ongoing United Nation Climate Change conference in Germany, carbon pricing and its successes around the world have been highlighted significantly. Nicolas Mueller of the United Nations Framework Convention on Climate Change (UNFCCC), during one of the side events at the conference, talked about the potential of carbon pricing in Pakistan:

"Carbon pricing can be an important source of revenue for the government, when it is aligned with national priorities."

Ariel Yu of UNFCCC also explained the progress of carbon pricing among the Southeast Asian nations. She recognised that carbon pricing is not easy and needs to be tailored according to the context of each country. She also emphasised the potential for collaboration and support, saying that,

"Carbon pricing would require financial and technical support and a lot of potential exists for regional collaboration in terms of knowledge transfer and capacity building."

The air quality in Pakistan needs to improve and therefore it is essential that the issue is tackled in a holistic manner. While the government of Punjab is making efforts to curb air pollution, other provincial departments also need to take similar initiatives. The government also needs to look into the option of carbon pricing. Not only will it help in reducing air pollution, environmental degradation and associated health issues, but it will also allow the government to fulfil the promises it has made in climate action plans of reducing greenhouse gas emissions.