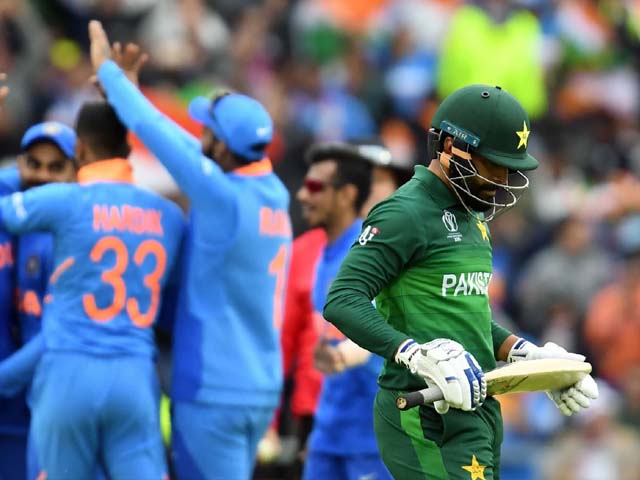 ---
From dropping catches to dropping matches, is it the end of the line for Pakistan?
So much went wrong in the match with India. So much is wrong with this Pakistan team.
---
On a morning when ominous looking clouds loomed above, Pakistan won the toss against India. But we soon realised it was to be the only thing that Pakistan would win that day. Due to the overcast conditions, Sarfraz Ahmed chose to bowl first, in what looked like a good decision. Over 330 runs later, he and the Pakistan cricket management realised it was in fact the wrong call.

The game followed a similar pattern to the one which Pakistan lost against Australia last Wednesday. Mohammad Amir initially bowled well, only for the pressure to be let off at the other end, this time by Hasan Ali. Having only one attacking bowler to open the innings has haunted Pakistan throughout this tournament, and it allowed India to get a footing in this vital match.




Right throughout the innings, India looked in complete control, and hardly any deliveries troubled them. This not only highlighted the nature of the surface, but also the lack of potency in the Pakistani bowling attack. Given the sublime form Rohit Sharma is in, Pakistan needed to remove him early on. But the likes of Hasan, Shadab Khan and Wahab Riaz allowed the Indian opening pair to settle into a comfortable groove. It is evident that our inability to take wickets up front and our failure to control the flow of runs in the middle part of the game is a serious problem.

India managed to score 336 runs, and this looked like a large total, but it was one that could be chased down if Pakistan adopted a proper strategy. Of course, they didn't. They started off poorly yet again, losing Imamul Haq, who right throughout this tournament has looked shaky. In addition to a poor innings, I counted at least three mis-fields and fumbles by him, which proved that the pressure of an India-Pakistan match got to him.




While Babar Azam and Fakhar Zaman were at the crease, it seemed as if Pakistan were on course to chase down the target; however, you always felt as if some silly mistake was just round the corner. Although they batted well, they never looked particularly secure at the crease, and eventually, their departure would trigger yet another middle order batting collapse.

I felt as if Zaman's wicket was crucial. Azam received a brilliant delivery from Kuldeep Yadav, and could do nothing about it, but Fakhar played an awful shot. That shot opened the gates for the rest of the Pakistani batsmen to crumble in front of the Indian bowlers.

Out of nowhere, Pakistan lost four wickets. If you thought the collapse against Australia was bad, this batting implosion was set to prove you wrong. Pakistan have now played four games in this World Cup (one was abandoned due to rain), and have had a complete batting failure thrice. It highlights a massive issue, and one that is too late to be corrected now.




Sarfraz is also receiving a lot of criticism for scoring just 12 runs off 30 balls at a time when his team needed him to accelerate the innings. However, I feel this is unjustified. He came in during an almost impossible situation and one which was not suited for his style of play.

Pakistan had an opportunity to win this game, but once again, they let it slip. While Zaman and Azam were building a partnership, if Mickey Arthur had given his players a proper game plan to follow, Pakistan could have won. Instead, they played the way they usually do, and now Pakistan's record against India in the World Cup is 7-0.

It is clearly a psychological issue. How can you be so good against a team in a bilateral series but then absolutely bottle up in the World Cup? Do we really have to wait another four years to play them again and correct this wrong? I hope not, as I still believe we have a slim chance of qualifying for the semi-finals.

So much went wrong in the match with India. So much is wrong with this Pakistan team. All these issues are a result of a larger problem with our cricketing infrastructure. In order to rectify these issues, we must look at reforming our domestic structure, which is miles behind the domestic cricket played in India.

But before we can look at our domestic structure, simple things such as fitness and athleticism must be addressed. I've seen lots of people complain about the lack of facilities Pakistani cricketers have. This may be true, but it is also true that you do not need good facilities to have a decent level of fitness.




But those are questions which we must tackle after the World Cup. For now, call me an optimist, but I just feel we will win our remaining four games, and then some bit of fortune will help Pakistan qualify for the next round. Historically, that has always been the way we have ended up in the semi-finals anyway.

Pakistan's next game is against South Africa on Sunday and I believe that we will bounce back and will qualify for the semi-finals!

All photos: Getty