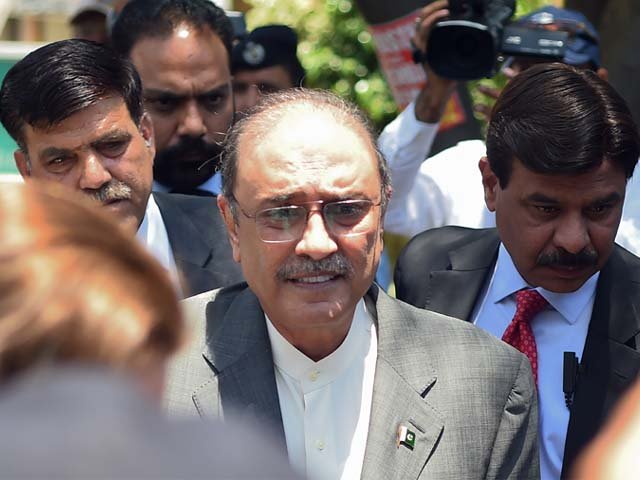 ---
Zardari's arrest: Separating facts from PPP's fiction
The case against Zardari is stronger than the case against Nawaz.
---
Let me steal a phrase from the The Shining:
"All work and no play makes Jack a dull boy."

After Asif Ali Zardari's arrest, the party rhetoric, the media noise and the social media trolling which ensued, have all made one thing very clear: all fiction and no fact makes Zardari a good boy. However, if we could attempt to achieve the insurmountable task of separating fact from fiction, our future generations, if not us, may live in a different and much better Pakistan.

Pakistan is a strange country. In other countries, when public officials or aspiring office holders face even the smallest allegations of wrongdoing, their careers come spiralling down. They can almost never recover from it. However, that's not the case in Pakistan. Here, politicians become revered leaders after going to jail as a result of grave wrongdoings such as running housing scams, kickback schemes, fake bank accounts, having undocumented sources of income, and so forth.

The world may someday discover whether aliens actually exist but I seriously doubt anyone will ever convincingly explain how the young teenage children of Nawaz Sharif became billionaires.

Nonetheless, in the Zardari saga, it is imperative to distinguish between fact and fiction. After Zardari's arrest, Pakistan Peoples Party (PPP) is naturally crying foul. They claim that they are being victimised by the ruling Pakistan Tehreek-e-Insaf (PTI) in the name of accountability. In light of these varied sentiments, let us first focus on the facts, since the fiction is constantly being regurgitated in the news cycle.

This 'benami' accounts case was started by the Federal Investigation Agency (FIA) in 2015 when fictitious transactions were observed in 29 accounts in Summit Bank, United Bank Limited (UBL) and Sindh Bank. A tip from a source had set the FIA in motion, and all this transpired while Nawaz was in power.


Bilawal Bhutto Press Conference On Asif Zardari Arrest | 10 June 2019https://t.co/90YmFP0Mvq@BBhuttoZardari

— 24 News HD (@24NewsHD) June 10, 2019


In the press conference held just hours after his father was arrested, Bilawal Bhutto said,

"Accountability means to (hold) the government accountable. Opposition's accountability is political victimisation."

I agree with him. PPP was the opposition in 2015 during Pakistan Muslim League-Nawaz's (PML-N) rule when this case started. PML-N and PPP have a history of politically victimising each other. Perhaps Nawaz's intentions were to pressure the opposition for a give-and-take deal, which had reportedly been the unwritten accord between PPP and PML-N for decades.

Zardari and his sister Faryal Talpur had been on a pre-arrest bail for the case pertaining to a transaction of Rs 4.4 billion, which turned out to be fake. The duo kept extending their pre-arrest bail until yesterday, when it was rejected by the Islamabad High Court (IHC). So, their claim of political victimisation means they are accusing the IHC of that because it was that honourable court that denied their bail, not Imran Khan.

If the protection of democracy is really the aim of PPP, which they keep repeating reflexively, then they now have a chance to do exactly that by respecting the court's decision and letting the accountability process do its magic. If democracy really is the best revenge, as Bilawal says his late mother told him, then his party should come clean about how a vendor in a small town became a billionaire. Because, after all, transparency and an informed citizenry are the true essence of that "best revenge".

Bilawal said that his party has always stood up against military dictatorships. Now that we have consumed, and I hope not internalised, this fiction, let us delve into some facts. When General Pervez Musharraf carried out the coup, it was Benazir Bhutto who celebrated by distributing sweets. At the time, Benazir, speaking to foreign journalists, said that the army generals did Pakistan a favour by initiating the coup:

"Of course I am a democrat. Of course I don't like martial law, but the fact of the matter is that Nawaz was a despot who was dividing the country."

That doesn't sound like standing up to military dictatorships to me.

About eight years later, she had secretly made a deal with Musharraf to return to Pakistan and become prime minister, while leaving the power to dissolve the National Assembly with that very dictator. She had made that deal despite signing the Charter of Democracy (CoD) with Nawaz, promising that neither would work with the army to come to power. I wonder if Bilawal would label his mother a "would be selected prime minister" ?

Another piece of fiction doing the rounds in Islamabad is that maybe Zardari's arrest has to do with PPP's planned 'march towards Islamabad'. It is being hinted that through his shenanigans, Imran hoped to pressure PPP into not marching. Again, this decision to not extend the pre-arrest bail in a very serious case was made by the IHC. In my humble view, these insinuations represent a contempt of court for which Bilawal should be held accountable. Furthermore, what happened to Bilawal's "best revenge"? Doesn't democratic process believe in removing the government by winning against them in the next election instead of Zardari saying, "It is time for us to march towards Islamabad and oust them (government)"?

People are wondering whether Zardari would be released soon or would he end up like Nawaz and stay in jail ? In my humble view, the case against him is stronger than the case against Nawaz, because while unraveling Nawaz's corruption saga required assistance from foreign governments and entities, the falooda vendor is right here in Pakistan. The 11-day remand granted to NAB is going to shed more light on his secret empire and his massive effort to clean his dirty money. Interestingly, pretty much none of the critiques of NAB arresting Zardari asserts that he is actually innocent. The remand could prove to be a prelude to a much longer stay inside.
Facebook Conversations
COMMENTS
Comments are moderated and generally will be posted if they are on-topic and not abusive.
For more information, please see our Comments FAQ