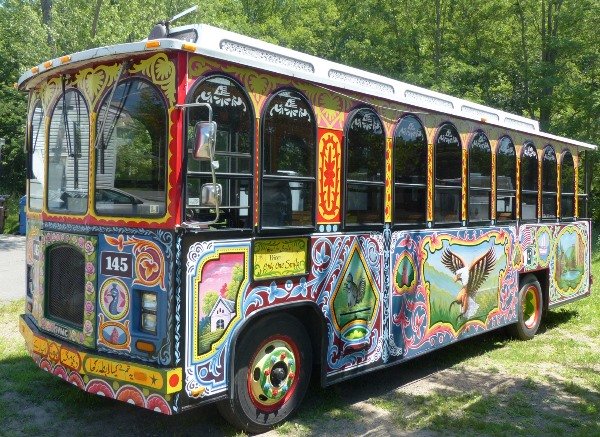 ---
Connecting bridges and spreading the colours of Pakistan to America
Phool Patti's contributions serve as a rolling bridge from Pakistan to America for some and a taste of home for...
---
When I first invited Karachi-based truck art group 'Phool Patti' to my small, New England town, my intentions were clear: to introduce my community to a softer side of Pakistan, which was still unfamiliar to many. However, the ensuing art project also became a liaison between overseas Pakistanis and their native home.

Back in early 2017, through an introductory meet up arranged by the US Consulate General Karachi, I met the Phool Patti artists during a visit to Pakistan. I learnt that although Phool Patti is primarily a commercial truck art business, they are also dedicated cultural diplomats of that sort. They employ their distinctive and exuberant art as a way to introduce Pakistan to the world in a whole new way.

Knowing not all but most about my small welcoming town of Amherst, I thought it would be an idyllic place to introduce the colourful side of Pakistan to Americans. For that purpose, I found the perfect 'canvas' for them: a drably painted local bus.




A few months later, they arrived in Amherst with a transformed bus exhibiting the rolling art of both Pakistani iconography and familiar Amherst images. As this week-long painting project ended up with appreciation and applauds, the bus was then parked at a summer festival in the town centre.




The now bright and cheery bus became an icebreaker for the artist fraternity as they introduced many curious locals and several media outlets to their art and to the undervalued warmth of Pakistan.

However, to my surprise, the painted bus also attracted local overseas Pakistanis. As the project wrapped up last summer, we met several local families who had heard about the project and wanted to see it themselves. The artists of Phool Patti felt delighted when they saw the crowd cheering and celebrating Pakistani culture in a foreign land.






In America, we've met many overseas Pakistanis. They smile at the Pakistani images and Urdu expressions while they share on how truck art makes them feel super proud of their Pakistani heritage. They often bring their local friends along to boast about their rich culture, customs and values.

Amid all the praises and compliments, nostalgia drew upon Nosheen Omer, a resident of Amherst, when she first saw the Phool Patti team showcasing their work and flaunting Pakistani heritage through art.




Hassan Awaisi, a local college lecturer at Amherst, immigrated to the US when he was five-years-old but has always felt connected to his roots, his native country.

 "Whenever we go back to Pakistan to visit relatives, I'm always awestruck by the amount of labour and money drivers invest in beautifying their trucks and rickshaws with colourful, bright imagery along with poetry and prayers sometimes."



Through the Amherst bus project, we seek an opportunity to see beyond the one-note headlines of war and terrorism and instead appreciate the knack for creativity that the people 

of Pakistan have to offer the world.



Tania Mohammad is another first generation Pakistani-American who heard about Phool Patti's visit through an announcement at the local mosque.



"I have been an old enthusiastic fan of Pakistani truck art who is now relishing the same cultural vibes in a land far away from my country."



Even long after Phool Patti left Massachusetts, the cultural bus was the centre of attention for many, mainly because of

 its loud, vibrant colours. 

During one recent evening in May of this year, the bus was the centerpiece of a Pakistan cultural event in downtown Amherst. The evening included rubab music and attan dancing. Another local Pakistani, after seeing a Pakistan flag waving near the trolley, quickly pulled his car over after seeing the bus since it reminded him so much of home.




With their truck art now rolling through the streets of one small town in Massachusetts, Phool Patti's contributions serve as a rolling bridge from Pakistan to America for some, and a taste of home for others.
(All photos by author)