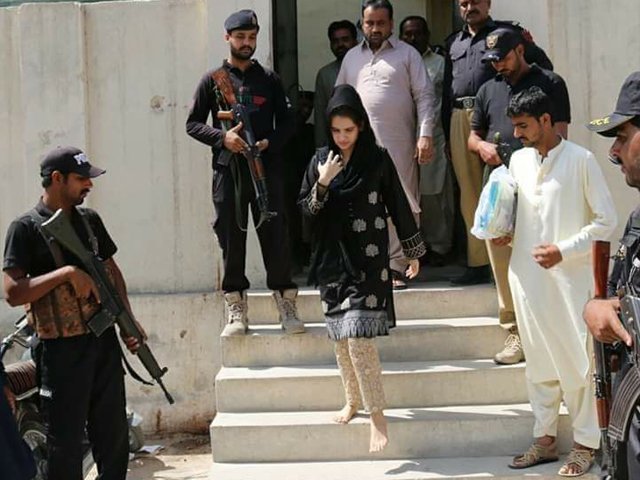 ---
Amidst feudalism, Umme Rabab marches bare foot to fight for justice
Rabab is a reminder of what we all need to do if we are to ever have a system that works: march any length for justice
---
Umme Rabab, a 20-year-old advocate from Sindh, went viral on social media recently after a video of her walking barefoot to and from court was shared widely. The young woman's family – grandfather, father and uncle – were murdered by powerful tribal chieftains belonging to the Chandio tribe of Sindh; influential men who are serving as MPAs in the Sindh Assembly.

Despite being advised to not pursue this case against 'influential men', Umme Rabab has taken it upon herself to fight for what is not only her right – justice for her family – but what is right in the greater scheme of things: making sure criminals are held accountable, regardless of how rich or powerful they may be.

Where most Pakistanis never get justice, women have to go the extra mile(s) to seek it, not knowing when (if at all) justice will be delivered. Rabab is a prime example of this. It is indeed inspiring to say the least to see Rabab showing the courage very few display to go out in a predominantly male-occupied space with the hope that our justice system will be able to see and side with justice, and not with the side that holds power and money.

This is an uphill battle, as we are all aware. Not too long ago we saw just how hard Khadija Siddiqui had to struggle to see action taken against the man who stabbed her over 20 times in broad daylight. Her victory offers some hope, perhaps not about whether influential people will be reprimanded appropriately for their crimes, but certainly about the fact that Pakistani women are waking up and demanding justice after seeing how the system repeatedly fails them.

Sadly, no one is naïve enough to be unaware of the advantages and leniency powerful men are granted in this country. If you are a man, and that too with money and 'connections', it is nearly impossible to hold you accountable, even if you kill someone around witnesses. Witnesses can be threatened and bought, while victims are often afraid to speak up out of fear of further torture and threats to their families.

Similarly, Rabab has been receiving serious death threats since she started fighting her case to get justice for her slain family.

The fact that the men responsible are elected government officials has not escaped anyone's notice. Once again we see the feudal system in Sindh, led by the Pakistan Peoples Party (PPP) protect their own at the cost of the people they are bound to serve. What is worse is that some members of our government, police personnel and legal fraternity are also threatened or paid to pick a certain side, leaving no hope for those who are left standing on the 'wrong' side.

It is also important to hold the PPP accountable in this particular case. Elected officials from PPP have not only allegedly killed people, their party is also stalling the case to protect them. When it comes to justice in Sindh, the PPP has done very little to deliver. It cannot tackle feudalism; after all, the party thrives upon it. Thus, despite members of the PPP being very vocal about other social issues, they remain silent when it comes to the injustices and social issues facing Sindh. It is devastating to know that there is neither a political party nor a legal platform in this country that one can trust blindly to bring justice in a timely manner, and that too a decision or hearing that is fair and makes sure the real criminals are punished adequately.

In 2017, 19-year-old Tania Khashkeli was shot dead in front of her family for simply refusing a marriage proposal from a feudal landlord by the name of Khan Muhammad Noohani in the district of Jamshoro. The killer was once again linked to the PPP, giving him the power to influence the police. Tania's family received death threats for taking the case to court. In fact, they publicly claimed that the people involved in Tania's murder did not only have affiliations with the PPP but also with Chief Minister Murad Ali Shah.

This is what we're dealing with in Sindh; an abuse of power so strong it goes right to the very top. To think that such cases are cloaked by the same people who are supposed to be the torch bearers of justice is frankly demeaning and outright despicable. Noohani and many other feudal lords like him are allowed to get away with whatever they please because no one is interested or powerful enough to put an end to this.

Paying off low-level police officers and bureaucrats and doing the dirty work of local political bigwigs make these lords the big fish in a small pond. This power allows the party that rules Sindh and has been doing so for as long as one can remember to sponsor such criminals. If it were not for the Chief Justice at the Sindh High Court (SHC), the provincial government machinery would have done everything possible to brush Tania's murder under the rug.

Then of course there is the infamous case of Shahrukh Jatoi, the son of feudal lord Sikandar Jatoi, murdering Shahzeb Khan. We do not need to look further than this to see the dangerous extent to which feudalism runs Sindh. Despite being a criminal and a murderer, the SHC set aside Jatoi's death sentence and ordered a retrial of the case. It wasn't until the Supreme Court took suo motu action and nullified the SHC order last year that he was sent to jail. If it was not for the uproar from civil society, this case would have never made it this far and Jatoi would be a free man.

It is clear that the feudal lords run Sindh, including their literal involvement in the PPP government, which is why there remains no hope for the people of Sindh who keep suffering under the rich and powerful with no system active to help them. Feudal lords hold everyone in their pocket; from the police and government officials to courts and judges. Then who is expected to hold them accountable?

In this way, people holding the power to draft and uphold laws in order to protect their citizens are failing at their primary responsibility. This is what discourages people in Pakistan from pursuing justice and is demoralising for those who end up seeking it. I know that seeing cases like these definitely has me concerned and wary of approaching the police or the courts if I ever need legal assistance.

Regardless of how dim the ray of hope may be, and irrespective of how we all know Rabab is not likely to get justice in Pakistan, she herself is an example of the resilience of a woman taking up her family's cause and going against the system. As she walks barefoot to court reminding us of what her family has been through as we all silently stood by, she is a reminder to everyone in Pakistan of what we all need to do if we are to ever have a system that works: march any length for justice.