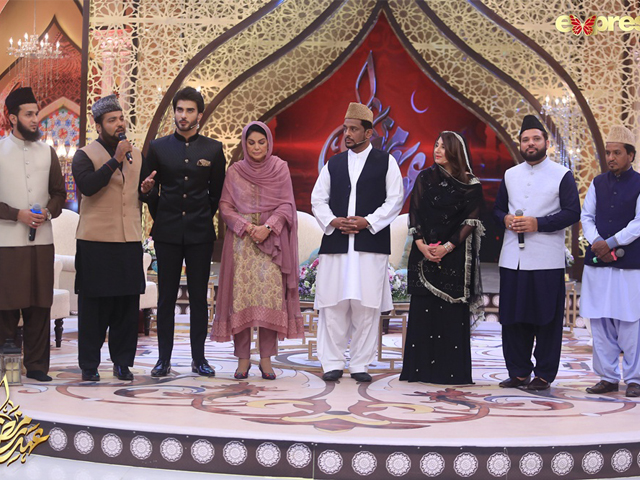 ---
Reviving our glorious past and traditions with Ehed-e-Ramazan
Revitalising lost talent, it gave the younger generation a peep into the past and made the older generation nostalgic.
---
Every year, the month of Ramazan comes loaded with blessings. It is perceived as an opportunity to cleanse one's self with spirituality and devotion. In the holy month this year, Express Entertainment started a series of segments for its valued viewers in order to revive their spirituality and refresh their souls.

The program, titled Ehed-e-Ramazan, went quite successfully last year, and this year as well it has received an unprecedented response from viewers while drawing universal acclaim.

Hosted by Javeria Saud and Imran Abbas, two of the most celebrated icons in Pakistan's entertainment industry, it is clear why the show has resonated with so many. The program is a combination of various segments, ranging from paying tribute to our heroes to enacting the essence of the holy days during this sacred month.




One of the segments paid tribute to the heroes of Pakistan as normally people's achievements get swayed with the wind and are easily forgotten. However, the impulse behind introducing this segment was to revive the forgotten and bring back the cherished Pakistani trends that are no longer in vogue. For instance, the art of naat khuwani was devoid of any musical instruments earlier, but with the passage of time, we have witnessed the vicious intrusion of subtle beats in the background.

In this regard, Umme Habiba was invited on the show to invigorate our souls with her heavenly voice. She shared her concerns over the revised forms of naat and called for the revival of the original essence of naat khuwani. She was then recognised with an honorary shield and gifts from the network for her devotion and contribution to the field. It was also pleasant to see her taking part in different segments of the transmission and not just reciting naats the entire time.




Her husband shared the story of how he fell in love with her voice when he first heard her recite a naat, and instantly decided to marry her. Upon the hosts' request, she then recited her famous naats and mesmerised the viewers with how poetically she praised God and his beloved Prophet Muhammad (PBUH), as always taking us to the seraphic world of purity.

Subsequently, while sharing his thoughts on the program, Abbas brought up how former naat khuwans from the 70's and 80's have been forgotten along the passage of time. To our misfortune, many of their recitations are not even available online or on any other source for us to benefit from today. This program thus revitalised talent that was lost over time and not only gave the younger generation a peep into the past, but also made the older generation extremely nostalgic.




Saud then shared her memories of how she grew up reciting these naats, which makes it sadder to see such masterpieces being forgotten. She highlighted how it is the need of the hour to bring back such vivacious voices, for the younger generation possesses as much right to instil their souls with these naats as the generations before them did. It made us relive the era we had long forgotten by dwelling into the essence of naat khuwani.




Among such forgotten names was Siddiq Ismail, a naat khuwan who started his career at Radio Pakistan in the 60's and was awarded a Sitara-e-Imtiaz in 2013. He recited a few famous verses from his famous naats, and the audience – especially the younger generation – was given a glimpse of the awe-inspiring voices their parents and grandparents grew up listening to.

Express TV has hence done a praiseworthy job in bringing back the legendary Habiba and Ismail together on one stage after so long. Saud and Abbas, alongside the naat khuwans, paid tribute to Habiba by reciting her famous naats; ones we have all been hearing since our childhood but that have slowly been fading from our collective memory. Habiba also seemed delighted and emotional while receiving the love and accolades for her significant contributions in the past years.




This tribute was not limited to naat khuwans alone. In fact, several renowned qawwals such as Aziz Mian were also invited on the show. Mian's talent remains unparalleled, for he defined and shaped the trend of qawali over the past decades.

Simultaneously, homage was paid to philanthropists and other silent heroes who have been serving humanity unobtrusively without expecting any rewards in return. Last Ramazan, Abdul Sattar Edhi was acknowledged for his endless efforts in the same segment. This year too, there are many on list who were praised and resurrected through their wonderful memories, and we must all embrace the memory of our glorious past.

All photos: Express Entertainment
Facebook Conversations
COMMENTS
Comments are moderated and generally will be posted if they are on-topic and not abusive.
For more information, please see our Comments FAQ