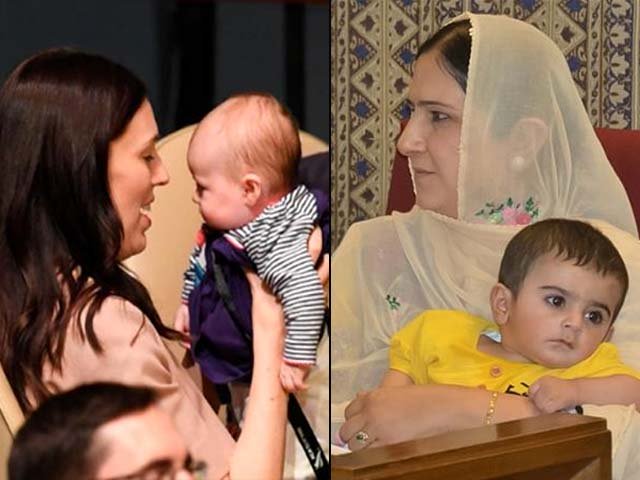 ---
We praise working mothers like New Zealand's Jacinda Arden but criticise our own
We praised Ardern as a working mother when she brought her baby to the UNGA but criticise Sheran for doing the same.
---
The past few years have been remarkable when it comes to the world accepting working mothers. Yuka Ogata, Larissa Waters, Jacinda Ardern and our very own Mahjabeen Sheran are all working mothers and politicians who made history by reminding the world of how women everywhere balance motherhood alongside a busy career in a way that fathers never have to.

When 42-year-old Ogata brought her baby boy to the Kumamoto City Assembly in Japan in 2017 – her way of highlighting the difficulties faced by working mothers in the country – it led to her receiving a written warning from fellow members for disrupting the flow of proceedings. On the contrary, when Senator Waters moved a motion in the Australian Parliament while breastfeeding her daughter, this act was welcomed and celebrated by the members of the house. However, things were not too different in Australia until a few years ago either. Waters was facilitated by a recent change in the rules of the Australian upper house. Back in 2009, Sarah Hansan Young, a member of parliament, was forced to remove her two-year-old child from the house. It took a while for it to happen, but eventually there was a realisation about the discrimination and injustices faced by working mothers that led to a change.

Then, in 2018, New Zealand's Prime Minister Ardern appeared at the United Nations General Assembly (UNGA) along with her three-month-old daughter. As a result, we are now seeing a legitimate acceptance of mothers who are balancing work and motherhood.


Reporting on NZ PM Jacinda Arden's recent speech at UN assembly

"Baby Neve looked on as her mother addressed the assembly while Gayford, whom the couple say is the main caregiver for their daughter, held the baby". They say? pic.twitter.com/nfNlsYYhnW

— School for Mothers™ (@SchforMothers) September 25, 2018


But what happened when Sheran, a member of the Balochistan Provincial Assembly, brought her two-year-old child to an assembly session? Unsurprisingly, the assembly, which is dominated by men, could not contain its shock. Sheran was severely reprimanded for apparently 'violating the rules' (there is no such rule) which prohibit her actions and consider it to disturb assembly proceedings. Eventually, after receiving opposition from male and female members alike, Sheran left the session.

Does this not display the hypocrisy in our society, where men needlessly disrupt assembly proceedings on a regular basis without being reprimanded? Is this not yet another instance of sexism where a female member of parliamnet was treated differently while exercising her right to protest in a democratic system?

Meanwhile, when Sana Baloch, another member of parliament, called a general strike by the opposition to show solidarity with jobless doctors, but why is it that Sheran's protest was not considered worth supporting? Why is it that the opposition could not unite or raise a voice for Sheran?


Balochistan MPA #MahjabeenSheran brought her infant to assembly only to be asked to leave as a result whereas world over political spaces are encouraging and facilitating working mothers. Mahjabeen expressed her wish to form day care centre at the assemblyhttps://t.co/sFqTq3ELmd

— M. Jibran Nasir 🇵🇸 (@MJibranNasir) May 22, 2019
A female member of Balochistan Assembly had to face criticism as she brought her child to the assembly.
Mahjabeen Sheran Baloch, a female MPA from Balochistan, was not only ridiculed but was also forced to leave the Assembly for bringing her child. pic.twitter.com/E7qx4ev6On

— VOA DEEWA (@voadeewa) May 20, 2019


It is interesting to note how conservative societies react when challenged by women. Where Ogata and Sheran faced backlash, Waters and Arden are looked upon as role models. This disparity makes it clear that the issues and struggles faced by working mothers are real and have to be addressed as these women try to make their way in a male-dominated society.

Sheran brought her child to the assembly in an attempt to highlight the plight of working mothers in the country and the province. It was also an attempt to show her male counterparts the hurdles faced by working mothers on a daily basis while the men go about their business unaffected. Balochistan specifically is a deeply patriarchal, tribal and male-dominated society where women barely get a say at home, let alone being allowed to step out of the house to work.

In these circumstances, it is remarkable to see Sheran not only work as a member of parliament, but also protesting against the sexism she faces regularly as she reminds her peers of the job they were elected to do; to make life better for everyone, including the women and mothers who struggle to juggle work outside and inside their homes.

It is understood that the number of women entering into the civilian labour force in Pakistan has been increasing drastically. According to the Pakistan Bureau of Statistics' survey 2014-15, 14.66 million women are part of the civilian labour force, as compared to 46.38 million male workers. Currently, the total women participation in the labour work force is 25%, many of these women being working mothers. According to the data compiled by the World Bank Group, which is highlighted in its report, it is revealed that although 'Vision Development Pakistan 2025' sets to increase female labour force from 25% to 45%, their remains numerous hurdles to tackle first.

As more working mothers leave home and join the workforce, it is safe to say that the issues they encounter are also increasing proportionally. After all, with only men making up the labour force previously and being in positions of power, there is a lack of awareness about women's struggles. Men do not think about who will take care of the baby during the day, or things like maternity leave and expenses for childcare. These are branded as being women's issues. But when women try to voice these concerns, like Sheran did, they are shamed into silence.

It is unsurprising to see Pakistan not ready for working mothers. Historically, we even shamed our premier Benazir Bhutto when she was pregnant while in office. In her autobiography, Daughter of the East, Benazir highlighted just how hard it was to be a working mother while holding the most powerful office in the country. The opposition tried to legitimise the idea that the rules of government would not even allow a maternity leave for the prime minister!

Our indifferent and often antagonistic political attitudes towards women can be chalked up to how sexist we are as a society. But it doesn't explain why we readily praise Ardern and yet remain shamefully silent when Sheran tries to do the same.

The issue is not an easy one. However, the best way to fix it is through increased representation of women in assemblies. Women are currently few and far between on the political landscape, but only by making more room for them can we hope to create a country where one day a female politician can highlight her plight and the plight of working mothers without facing backlash and being reprimanded from the very people given a position to protect them. The law changed for Waters, the law changed for Ardern, and hopefully one day the law will also change for Sheran.