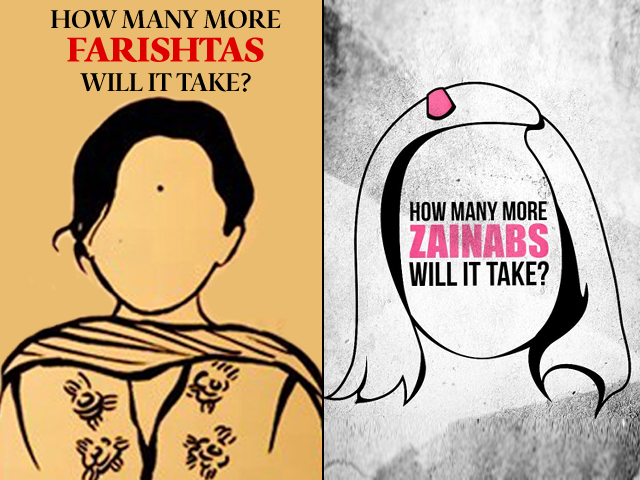 ---
#JusticeForFarishta is proof we did nothing after demanding #JusticeForZainab
Their names, locations and ages change, but what does not change is our silence and inaction every time this happens.
---
Childhood is perhaps the golden period in every individual's life, but not in Pakistan. Here, even the children are not spared in this world of lust and greed, and quite often they are the ones who become victim to the paedophiles and monsters that run free.

On May 20th, police recovered the body of 10-year-old Farishta, who had been abducted, allegedly raped and then brutally murdered, with her body thrown in some bushes at the edge of Islamabad. Farishta went missing from home five days prior to this, and when her father Gul Nabi rushed to the nearest police station to lodge a complaint regarding his missing child, the station house officer (SHO) told him she might have run away with someone instead of taking the case seriously.

A formal complaint was launched four days later and people started talking about the case on social media to find the girl, but it was too late because they found her mutilated body instead. The agony of little Farishta did not end with her death, as the doctors at the Polyclinic Hospital initially refused to conduct an autopsy. It was only after pressure was added by members of the Pashtun Tahafuz Movement (PTM) and civil society protests that they agreed.


Poor, helpless father of 10-year-old Farishta, who was abducted from Chak Shahzad Islamabad, raped & killed, sits outside Polyclinic Hospital demanding that an autopsy is performed on his daughter's body. First police didn't file an FIR for 5 days & now this! #JusticeForFarishta pic.twitter.com/FUZ1OuIXDo

— Bilal Farooqi (@bilalfqi) May 21, 2019
Disgusted & horrified. 10-year old child went missing 5 days ago but police refused to register FIR. She was raped & murdered & #PolyClinic hospital is refusing to carry out post mortem. Shame on this system of useless police & hospitals, only cronyism works. #JusticeForFarishta

— Usama Khilji (@UsamaKhilji) May 20, 2019


Meanwhile a local TV channel delivered the news that Farishta did not belong to the Mohmand Agency and that her father was an Afghan with a fake CNIC card. This was stated as if any of this justifies what happened to the little girl because she was not Pakistani and thus not our problem. With this we hit a new low, as we not only keep failing our children but we've also lost what little empathy we had.


ARY's sick smear campaign against family of 10-year-old child who was raped & killed is appalling & disgusting!
1) Install ARY.
2) Give it one star.
3) Add in the review that it is for smearing the family of rape victim
4) Uninstall#BoycottARYNews #JusticeForFarishta pic.twitter.com/jg44DuJpmk

— Bilal Farooqi (@bilalfqi) May 22, 2019


However, now that #JusticeForFarishta is trending and has gone viral, everyone is working to find the killer. The SHO of the Shahzad Town police station has been arrested amongst four others. Even the Army has offered help to bring her killer(s) to justice. But will any of this bring Nabi's child back? Will it undo the pain and torture Farishta went through before being murdered and dumped like trash? Will it save other children from going through the same?


I'm a citizen of the world & my homeland is Pakistan.I dwell in Lahore but I'm from all the provinces of Pakistan. My heart lives in KPK & FATA too.I demand #JusticeForFarishta just as I did for Zainab.Rape is inexcusable.Her pic makes my heart bleed.Arrest & punish the culprits. pic.twitter.com/hMTDgFG5Ax

— Jawad Ahmad (@jawadahmadone) May 21, 2019
Sick to my stomach. Stop sharing graphic images of the poor child. For Gods sake! @Twitter is there not a way to disable people from uploading such content online??!! #justiceForFarishta

— Mahira Khan (@TheMahiraKhan) May 21, 2019


After all, Farishta is by no means the first child we have failed. A year ago, we were all demanding #JusticeForZainab. These two cases were not anomalies either. According to Sahil, more than 10 children are abused in some way in Pakistan every single day. Their report revealed that a total of 3,832 cases of child abuse were reported in Pakistan in 2018, and we all know the high number of cases that go unreported due to taboo, shame and honour.

Zainab's tragic case should have been enough to wake us up, and in a more civilised society, it would have been a turning point, but what did it achieve here? No action was taken to be proactive, and the stats prove this to be true.

In February, a seven-year-old girl was raped and killed by a milkman in Faisalabad. In March, a fourth-grade student was raped and killed in Karachi. In April, an 11-year-girl who worked as a maid was found dead in a swimming pool at the house of her employer in Lahore. Police later arrested the employer on charges of rape and murder. In the same month, a 13-year-old girl in Shujabad was raped by a seminary teacher, while an eight-year-old girl was raped and killed in Dera Ghazi Khan. Neha Pervaiz, a 15-year-old Christian teenager, was raped and forced to marry a Muslim man in Karachi earlier this month. These are not even close to all the reported cases, and are all from this year alone.

Why didn't we learn enough from Zainab's case to be able to save them?

Their names change, their locations change, their ages change, but what does not change is the horrific abuse these children continue to suffer until they are eventually killed by their abuser. What does not change is our silence and inaction every single time this happens.


Police forced the family to clean the police station for registering his complaint. Now they're forcing him to bail out police #JusticeForFarishta https://t.co/jeQdBn6ZqV

— Mubashir Zaidi (@Xadeejournalist) May 23, 2019


Every case is a reminder of how we have failed as a society, for a state that is completely helpless when it comes to protecting its children is failing in the basic tenets of civilisation. The misogyny we display every time we fail to protect the women of our society is now so widespread that even little children are not spared. When people like Orya Maqbool Jan openly spew venom on national TV by blaming women for the rape and abuse they suffer and we all listen silently while many even agree, it proves we as a society are unwilling to look evil in the eye and acknowledge where the problem lies. Only a week ago, three policemen gang raped a young woman and she was blamed for being out late at night.


My response to #OryaMaqboolJan's misogynistic and shameless suggestion that women are raped and killed because men are provoked by their dresses and how they are allowed to mingle freely in society which is also leading to men abusing children & being killed. pic.twitter.com/5arFvdFKJj

— M. Jibran Nasir (@MJibranNasir) January 11, 2018


Our tolerance and apathy towards women being raped and murdered is what has led us here. Will we now talk about what Farishta was wearing? Why she was out of her house? What she did that made her deserve this brutality? All instead of placing the blame where it lies?


Don't you ever dare tell girls to cover up or to not live their life how they want to when sick and disgusting inhumane imbeciles like this exist who don't care who they abuse and kill. My blood is boiling, death penalty and nothing less #JusticeForFarishta https://t.co/K0W5EtTcFh

— McBaŋɠ (@TheMcBang) May 22, 2019


Had we learnt from Zainab and started a focused conversation on child abuse, we might have been in a better place. Should we not be educating our children in schools so they know the difference between good touch and bad touch? So they know to speak up and tell someone they trust instead of hiding in shame? Should we not have round-the-clock helplines? Should we not be taking stricter action when we know child pornography rings to be rampant across parts of the country?


Another day , , another Rape , another murder , another zainab , another daughter 💔💔#JusticeForFarishta pic.twitter.com/FsW9fU7ZtH

— D A N ! S H ~ (@danish_hunn) May 22, 2019
The fact that rape and murder of an innocent child and gang rape of a girl by policemen does not spark the same outrage in this country as aurat march makes me sick.#JusticeForFarishta#HangRapistsPublicly

— Arooba. 😷 (@arooba_haq) May 22, 2019


Farishta is not just another news story or a topic to fill a news slot for the time being. She was a child, like yours or mine, who deserved better than the curse of living in this society. Looking at my own daughter I feel ashamed to belong here, to a society that only waits for the next tragedy and then promptly moves on without learning anything. Pakistan has failed to protect its innocent, and if it keeps going in this trajectory, it is bound to destroy itself. Unless the state learns from Farishta and takes pre-emptive action to save other children before their mutilated bodies are found, there is no hope for the future of Pakistan.
Facebook Conversations
COMMENTS
Comments are moderated and generally will be posted if they are on-topic and not abusive.
For more information, please see our Comments FAQ