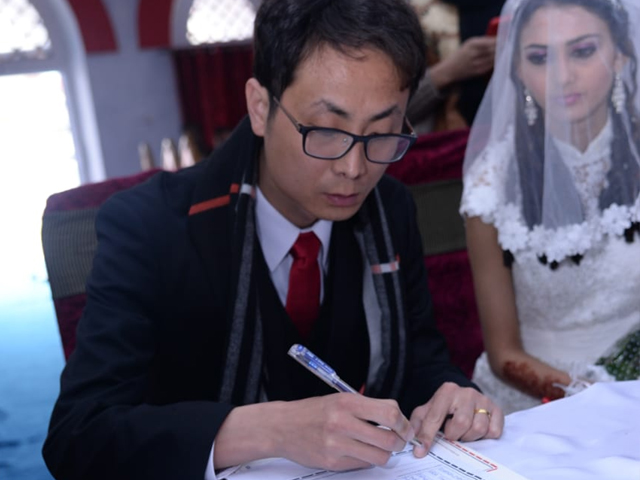 ---
Yes, Chinese men are sham-marrying Pakistani girls, but CPEC is not to be blamed for it
Every case involved from $20,000 to $30,000, while younger, attractive girls would be traded at around $40,000.
---
After she finished her initial studies, her parents could no longer afford to send her to college to continue her education. What her father earned was not even enough to make ends meet. The family was living in a rented house in a slum-like dwelling. Sensing she should not be a burden on the gradually weakening shoulders of her father, she started seeking a job but was not successful at all. She was willing to do anything to ease life for her parents so they could focus on her younger siblings instead.

Hira, the 19-year-old daughter of a Christian watchman from Sarai Alamgir, a small town in Punjab, became the latest victim of the growing illegal bride trade in Pakistan. Nearly three months ago, she got married to a 42-year-old Chinese businessman, Xiang Xung, in a church in Jhelum.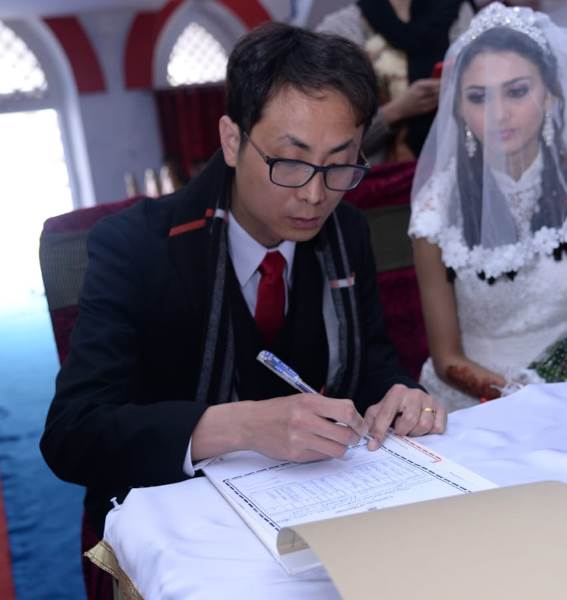 Talking to a local senior journalist, Syed Amjad Shah, she revealed that after marriage Xiang took her to Islamabad, where they stayed in a hotel for two months. Her eyes filled with tears as she explained her ordeal. Sitting next to her mother, she hesitantly revealed that her family was given a little more than $2,000 for this marriage.

With the advent of the Federal Investigation Agency's (FIA) crackdown on the gangs of matchmakers/human traffickers, Xiang, sensing danger, left for China almost a month ago and hasn't contacted Hira since.

Most recently, with the eruption of scores of cases of sham marriages, the Pakistan-China friendship is facing a menacing crisis. A source within the FIA revealed that they are currently working on a little more than 1,500 cases reported throughout Pakistan. Worryingly, he further stated that a majority of the cases are not getting reported due to several personal reasons of the affected families, and they are thus probing cases themselves through a thorough investigation of the matchmaking/human trafficking groups.

Initially, the scammers targeted the Christian community, which is considered a financially and socially weak community within Pakistan and is hence vulnerable to such kind of scams. As Punjab has a significant Christian population settled in rural areas as well as smaller cities, the so-called matchmakers got local religious leaders and priests of the churches involved for money. Suddenly it became an attractive and lucrative business. Chinese criminals started pouring in Pakistan to take advantage of our poor, vulnerable, virgin girls.

The majority of the reported cases have affected young Pakistani girls from Christian communities of different cities. This has been going for at least the past five years, and scores of girls have already been trafficked to China. The Christian daughters of my country have fraudulently been abused in China – physically and emotionally. The few that luckily contacted the Pakistan Embassy in Beijing escaped to Pakistan safely, with a torn soul. Several of such "CPEC" brides returned home pregnant.


It is absolutely outrageous that our media has only started reporting on such cases when the Muslim majority started being affected. I too shamefully hold myself responsible for ignoring many of such cases that previously chiefly involved the Christian minority. I admit that I have had documented details of several cases but I did not write on them. I believe had we started creating awareness in time, we could have saved many of our country's daughters from being preyed upon.

Chinese Deputy Chief of Mission in Pakistan Lijian Zhao, in an interview with senior journalist Waseem Abbasi, protected his government's stance but rightly pointed out that Pakistan needs to tighten its visa policy for Chinese nationals coming to Pakistan on business visas. He showed serious concerns over the reports and admitted that the Chinese authorities are probing into the cases and justice would be brought forth.


There is a lie that Pakistani girls were sent to China for forced prostitution or sale of organs. It is totally fabricated & for sensational purposes. We probed all those Pakistan wives in China. There is no evidence for it. @UrduNewsCom @Wabbasi007 pic.twitter.com/shuhKkHHqZ

— Lijian Zhao 赵立坚 (@zlj517) May 14, 2019


Meanwhile, the process of probing and catching these criminals by the FIA has picked up significantly after the rise in reported cases of many Muslim girls from poor families becoming victims. Chinese men would marry the girls after paying money to both, the matchmakers and the families. A source within the FIA watchdog reported that every case involved payment ranging from $20,000 to $30,000. The amount fluctuated with the age and looks of the girls. Younger and attractive girls would often be traded at around $40,000. The amount would be paid to illegal matchmakers and human traffickers that included both Chinese and Pakistani nationals, whereas the family was paid around $2,000 to $3,000.

It is important to mention here that the China-Pakistan Economic Corridor (CPEC) is not the cause behind this; it is indeed a game-changer owing to the relentless work being accomplished by Chinese workers. I have from time to time visited their work sites and found Chinese workers to be giving their all to their work. One such company I visited was the China Gezhouba Group working at the Sukhi-Kinari Hydro Power Project, and it was a unique experience where I saw Chinese and Pakistani workers working together under strong bonds of friendship and brotherhood.

It would be highly irresponsible to blame this human trafficking on the advent of CPEC. After all, the culprits involved from both sides have nothing to do with the economic corridor. Every society has good and evil elements, and the same applies here. A few habitual criminals, sensing illegal opportunities in Pakistan, have activated their rings to make the most out of it. There are always rich beasts who use the services of criminals to prey upon the vulnerable. Sadly, Pakistan has a large vulnerable population and China has a significant number of buyers in the shape of successful small businessmen.




The need of the hour for both Pakistan and China is to reassess their visa policy. While scrolling through the visa requirements to come to Pakistan from China, I was shocked to find out how weak the policy is. Currently, the Pakistan Embassy in Beijing does not require authentic criminal checks of the visa applicants, nor is it interested in digging deep into why someone wants to come here.

Moreover, the visa application does not caution any Chinese citizen travelling to Pakistan (on any type of visa) regarding the do's and don'ts of their stay in Pakistan. Frankly speaking, our own institutions are making us more vulnerable. We need to understand that as criminals exist in Pakistan, the same is the case with China. It is the duty of our Foreign Office to ensure that a strict policy is implemented towards Chinese visa applicants to avoid criminals entering and trafficking women in Pakistan without being discovered.




Equally important is the fact that there is no existence of a mechanism when it comes to marrying a foreigner in Pakistan. In the western world, citizens are to approach their government before they can legally marry a foreigner. The process takes a minimum of four weeks of scrutiny of the individual to assess their character history and whether it is a true relationship. The process not only confirms the authenticity of the alien in the country, but also decides whether the national should be allowed to marry that certain individual or not.

The government of Pakistan must hence act fast to design a policy that regulates marriages between Pakistani nationals and foreigners. A coordinated departmental effort by the Ministry of Foreign Affairs and the Interior Ministry could efficiently save vulnerable Pakistani nationals from getting preyed upon. As the National Database and Registration Authority (NADRA) has a presence throughout Pakistan, its offices could be used for the said task, while marrying a foreigner without following the due process should be considered a crime punishable by law.