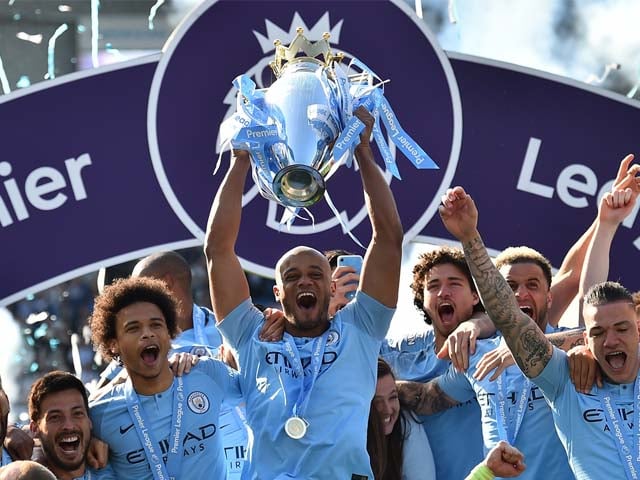 ---
How Manchester City set the bar last season, only to surpass it this season
City retaining the title, despite missing last season's key architects, is what makes this victory more astonishing.
---
Martin Tyler's commentary on the final day of the 2012 season of the Premier League will always remain an unforgettable moment for every Manchester City fan. It is a moment which has been etched in their minds and souls, something they will cherish for the rest of their lives and is a tale which will be narrated to many upcoming generations. It was the apogee of Manchester City's history; their biggest moment and also a declaration of their arrival at the summit of the Premier League.

Jump to the 2013-2014 season, when Liverpool bungled the opportunity to win the league after securing a draw against Crystal Palace in a match where the Reds were 3-0 up. As a result, Manchester City lifted the trophy for the second time in three years.

Glimpses of both seasons can be found in Manchester City's victory this year. They won it on the last day, at the final whistle and, to an extent, because of Liverpool slipping on their chance to win the trophy.


Back 2 Back Premier League Champions! 🏆🏆

We reigned and we retained! 💪

🔵 #mancity pic.twitter.com/stX3wPtV4P

— Manchester City (@ManCity) May 12, 2019


The title race came down to the last match day and the winner was decided by a margin of merely one point. It was a season filled with incessant goal-scoring, ferocious attacking and the domination of two teams, each with its distinct élan and each constantly trying to eke out in front.

After the record-breaking Premier League season last year, when Manchester City shattered almost every record and lifted the Premier League trophy, a lot was written about the relentless City and their belligerence throughout the season. But there was one question which was still left unanswered. After the rapture fizzled out and the celebrations ended, people were wondering as to how this performance can be bettered?




How can Manchester City improve on this near flawless performance? What is there left to be achieved after amassing 100 points?

Manchester City's manager, Pep Guardiola, was repeatedly asked this question, to which he always replied that the club will aim to improve their performance rather than beat this record-breaking Premier League tally of 100 points.

A year later, Guardiola and his team retained the title and after a decade, became the first club to lift the Premier League trophy in back to back seasons.


The final Premier League table.

Nuno at the wheel, how good does it feel? 😍 pic.twitter.com/w6dBdQkuds

— Wolves Live (@WolvesFC_latest) May 12, 2019


But this season, Guardiola and his team haven't had it easy. For a good part of this season, Manchester City weren't even the best side in the league, Liverpool were.

In the transfer window leading up to the season, Liverpool made sure they covered up all their weaknesses. They signed Alisson Becker, Fábio Tavares (Fabinho) and Naby Keita, and entered the season with a formidable squad with no ostensible weak link.

Their performance was a testament of their rejuvenation, and by the time December came, they were in clear contention of the title. From the final five games of 2018, Liverpool secured 15 points while Manchester City managed only six. Thus, by the start of this year, Liverpool were comfortably sitting at the top with a lead of seven points. A victory against Manchester City would have cemented their chances of winning the league.


Is right, Reds. 🔴@MoSalah and Sadio Mane win the 2018/19 @premierleague Golden Boot, after netting 22 goals each. 🔥 pic.twitter.com/pFWK84aVNh

— Liverpool FC (Premier League Champions 🏆) (@LFC) May 12, 2019


Cometh the game at Etihad, fine margins, which there were plenty of this season, saw Liverpool lose to an energetic City side and the season never remained the same for the Reds. They drew games which they should have won while City embarked upon a 14-game unbeaten run, which ended with them lifting the silverware.

But it'll be unfair to Liverpool to deprive them of their due acknowledgment. They have been the best team, but they were competing with the mighty City who, despite their failings in Europe, proved their ruthlessness in England. For the Reds, the sheer agony of recording 97 points and not being crowned champion, a sight never seen before in the history of the Premier League, will be more than compensated for if they lift the UEFA Champions League trophy.

If compared, their victory this season easily outdoes their victory last season where City, although having trounced the records, had a relatively easy dash to the summit. They were separated by a margin of 29 points from the second-ranked Manchester United. It was a domination which was unthought of, unheard of and unseen. For the other clubs, the only way to stop the ruthless City was to catch up with them, and that is exactly what Liverpool did.




They had a perfect team; solid defence, midfield and fierce strikers. With Virgil van Dijk, they had the best centre-back. Their two forwards, Mohammed Salah and Sadio Mane, combined to score 44 goals.

Manchester City, under the burden of the benchmark they had set in the previous season, had to battle against adversity after adversity throughout the season. Their adept left-back Benjamin Mendy spent almost the entire season on the bench. Kevin De Bruyne played only 11 Premier League games and City lost Fernandinho Luiz, who was instrumental last year in central mid-field, for more than a month at the end of February.

The fact that City retained the title, despite missing the chief architects of last season's triumph, is what makes this victory even more astonishing. One thing Guardiola has made sure is to instil a culture at the Etihad which is independent of individual brilliance or domination. The team as a unit stood up and new players stepped up to shoulder the responsibility.

At left-back, they found Oleksander Zinchenko, who earned Guardiola's confidence with his performances and became a regular starter this season. Bernardo Silva's brilliance in the midfield ensured that De Bruyne was not missed, and his performance might earn him the 'Player of the Season' award at the Etihad. Raheem Sterling showed great improvement and has now become a formidable attacking option along with the ever reliable Sergio Aguero.




Other than that, City always found moments of individual brilliance, like Vincent Kompany's bullet goal from outside the box against Leicester City, Leroy Sane's goal to secure three points against Liverpool at the Etihad, and Aymeric Laporte's header to put City back in front in the final game against Brighton.

There is more to Manchester City and Guardiola's accomplishment than just collecting 198 points over two seasons. City and its chief conductor have changed the way this league is played and now every point from every game is contested for. Salvaging a draw against top teams is no longer a strategy and teams now look to go all out and take those three points. This season, Liverpool and Manchester City outshone others by a wide margin, but it won't be a surprise if more teams start to match their ferocity from next season.




A more daunting challenge awaits Guardiola and his team in the next season, but at the moment, him and his players can be elated about their back-to-back titles. They demonstrated infallible tenacity over these 76 games. They must enjoy it while it lasts and before people start asking again, 'how can this performance be improved?'

All photos: AFP