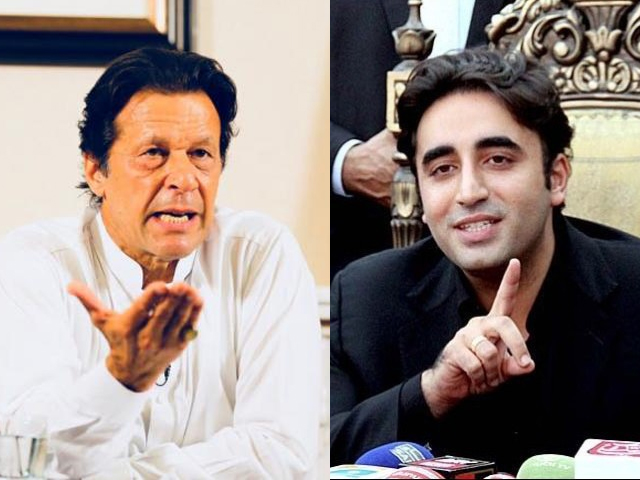 ---
A tale of two speeches: Why Bilawal has proved to be a better leader than Imran
Bilawal is younger, yet has proved to be more mature and taller in stature than Imran, proving age is just a number.
---
This blog is about two speeches that are invariably linked. The first, delivered in a firebrand style by a young leader, provoked a response from an older leader. Both are leaders of major political parties, belonging to different generations and espousing different political ideologies. But as the crux of their speeches show, they belong to different calibres as well.

The first speech was given in a National Assembly session by Pakistan Peoples Party (PPP) Chairman Bilawal Bhutto Zardari. It was partly in response to Asad Umar's infamous speech attacking Bilawal, and partly to raise some important questions about the recent cabinet reshuffle and its questionable composition. Cognisant of the fact that Umar had criticised him for speaking in English – allegedly for peddling an anti-Pakistan narrative in front of foreign masters – Bilawal chose to respond in Urdu.


Bilawal countered Umar's implied allegations of treason brilliantly by saying that his intention while questioning the progress on the National Action Plan's implementation, particularly with respect to the lax handling of banned organisations, was in fact for the betterment of the country. He took Umar to task for calling him a traitor, and that too in his absence.

Most brilliant – and simultaneously hilarious – was his attack on the cabinet reshuffle. He lambasted Umar for proving to be an incompetent finance minister and also reminded everyone that his replacement had already served under President Asif Ali Zardari, thus proving the entire tabdeeli (change) narrative to be fickle.

The end of his speech was marred by constant inference from MNAs who took serious objection to Bilawal's use of the word 'selected' for the prime minister. However, Bilawal pressed on.

After watching the entire speech, I felt enthralled and excited. Young Bilawal is certainly coming of age and proving himself to a great combination of both realpolitik and liberalism. I wish he had spoken in Urdu earlier as well, because he was brilliant. His Urdu showed a lot of improvement, which increased the incisiveness of the remarks. Yes, there remains room for further improvement, but the progress he has made so far should be appreciated.

Further, the questions he asked were legitimate. After all, if Pakistan wants to have improved international repute, it must send the right signal to the international community by taking action against banned organisations. In fact, this is what our prime minister has been saying and also reiterated during his recent trip to Iran. If he really is serious then sending the right signal automatically entails sacking ministers with links to such organisations, which was also Bilawal's main point in the speech.

One could raise a valid objection against his use of the word 'selected', and while I agree he should have refrained from using it, let's not forget that he was responding to Umar's speech in which he had been implicitly called a traitor.

The way Bilawal's speech got under the skin of the Pakistan Tehreek-e-Insaf (PTI) government, I knew the party would respond.

PTI did not surprise. It responded, first through a rambling speech by Murad Saeed, and then Imran Khan himself decided to take on Bilawal.

In his speech at Wana, Imran – while defending his 'struggles' – accused Bilawal of inheriting his party and mockingly called him "Bilawal sahiba". Although Imran's political career is full of many objectionable statements and verbal gaffes, this is a new low in Pakistani politics.

https://twitter.com/PtiNorthPunjab/status/1121025638557679616

In our society, it is a well-known fact that women are considered second-class citizens and misogyny is embedded in our daily rituals and language. When we call a guy a woman, the only reason is to humiliate him because we associate some less 'desirable' qualities with women. So the 'best' way to mock Bilawal is to call him a woman.

Bilawal has been mocked for many years through titles such as "billo rani" by PTI supporters and also by allies like Sheikh Rasheed. Today, the party chief has also joined them.

I could not believe when I heard those words coming from a sitting prime minister who is 66-years-old and internationally respected for his cricketing and philanthropic achievements. In essence, Imran has blatantly endorsed sexism and categorically stated that being a woman is a matter of shame. In some ways, he has also shown that he is insecure in his own masculinity.

However, there is something worse that has happened due to Imran's statement. Since he has a cult-like following, the video clip of his statement became viral on social media. Many of his followers actually saw it as permission to mock Bilawal and #BilawalSahiba started trending.

You have to see the tweets to gauge the extent of moral depravity shown by many PTI supporters, both male and female. Many are not even trying to defend Imran; they are actually expressing jubilation at his reprehensible remarks. Some have called it a sixer, some have expressed joy that their 'kaaptan' is on fire, and some thought it made their day. There are now some cringe-worthy and blatantly misogynist as well as homophobic videos and memes doing the rounds on social media.


Wether it was a slip of Tongue or Intentional, Loved It! It made my Day!#PrimeMinisterImranKhan#بلاول_صاحبہ pic.twitter.com/nWnL06IoWR

— Dr. Shahid Alam (@drshahidalam) April 24, 2019


A minority has tried to 'defend' Imran by calling it a "slip of tongue" and have posted videos showing Zardari and Khursheed Shah also calling Bilawal 'sahiba'. The fact remains that Zardari is Bilawal's father and Shah is an important member of his party, making their usage of the word most likely accidental or due to the regional tinge in their Urdu accent.


For all the people having mini heart attacks on Imran Khan reffering to Bilawal Bhtto as Sahiba, can be a slip of tongue, a few examples here: pic.twitter.com/fNRuwVoaJ4

— Adeel Raja (@adeelraja) April 24, 2019


However, anyone who has seen Imran's video would immediately realise his utterance is deliberate. There was no 'slip of tongue' here, and that is why a large majority of PTI supporters – unlike the Japan and Germany gaffe – are not even defending Imran; they are openly relishing in his misogyny. Perhaps what the PTI apologists are forgetting is that for years, PTI supporters have been calling Bilawal "billo rani".

It has not stopped here. When some reputable journalists questioned Imran's remarks, they were bombarded by abuse. You just have to see the Twitter timelines of prominent journalists like Fahd Hussain, Asma Shirazi and Mubashir Zaidi, to gauge the level of filth being spewed by PTI supporters.


Here is why I believe PM @ImranKhanPTI calling @BBhuttoZardari sahiba is a shocking admission of his own misogyny. He should apologise. pic.twitter.com/7OyFNagdXU

— Fahd Husain (@Fahdhusain) April 24, 2019
Three of the top four Twitter trends in Pakistan right now are part of a malicious and abusive campaign against three widely-respected, adversarial journalists. pic.twitter.com/DY1krBk4zv

— Umer Ali (@IamUmer1) April 24, 2019


At the beginning of this article I wrote that both Bilawal and Imran are two very different leaders. Their effect on their followers is also very different. Bilawal, despite his youth and relative inexperience, inspires liberal values. He may be a product of dynastic politics, but eventually, political contribution to the polity is gauged by how you inspire your followers and how you affect discourse. His contribution is by and large positive.


What was that about small men in big offices? #PMSelect

— BilawalBhuttoZardari (@BBhuttoZardari) April 24, 2019


Imran, on the other hand, has infused a strange kind of reactionary virulence into the political fabric of the country. Right now, his supporters are openly supporting and promoting sexism and abusive behaviour. Any journalist who has been critical of Imran can vouch for what I am saying.

Finally, I would like to say something to our prime minister. Khan Sahib, while growing up, you were my hero. Today, I am ashamed of that fact. Bilawal is significantly younger than you, and yet far more mature and taller in stature than you and hoards of your abusive, immature, foulmouthed followers. Today you stand as proof that age is just a number.
Facebook Conversations
COMMENTS
Comments are moderated and generally will be posted if they are on-topic and not abusive.
For more information, please see our Comments FAQ