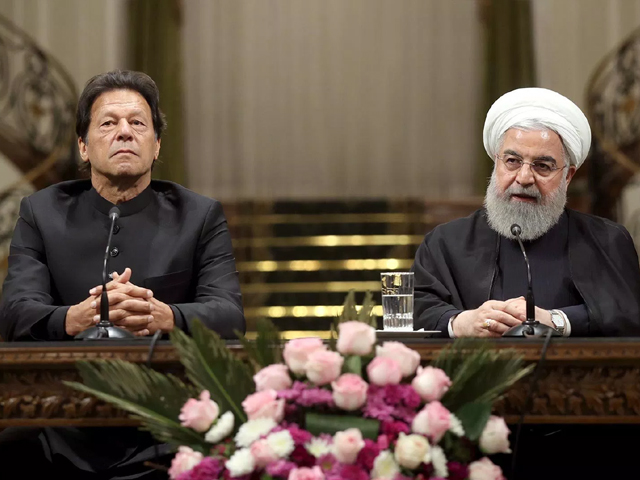 ---
The consequences of Prime Minister Imran Khan's words
FATF is monitoring Pakistan for this very reason, and India is trying to globally isolate Pakistan on this point alone
---
Prime Minister Imran Khan finally paid a visit to Iran upon the invitation of Iranian President Hassan Rouhani, and the two-day visit was very important considering the strategic importance of both countries combined with the extreme tension between them on their over 900-kilometre long border.

During his visit, apart from meeting Supreme Leader Ali Khamenei, Imran addressed a joint press conference with Rouhani in which both countries stressed upon the importance of improving relations through bilateral dialogue, especially to combat the threats of drug smuggling and terrorism. This was a rather strange joint presser, as both Pakistan and Iran have been watched closely and are labelled worldwide as countries that harbour extremists.

Given this, it would perhaps have been more strategic to simply stay silent instead of both states publicly affirming that their respective soil is used for terrorist activity. After all, Iran has been accused of waging proxy wars by both Saudi Arabia and Israel, while Pakistan has been accused of harbouring non-state actors by India. Having this discussion so publicly was in hindsight not the best call from both states.

On Pakistan's side, Imran first made the blunder of distorting history and geography to claim that Japan and Germany share a common border and that both set up industries in partnership after World War II to help rebuild. If this wasn't enough, Imran made another statement that surprised and infuriated the public back home, as he acknowledged that Pakistani soil was used to carry out attacks against Iran and stated that,

"We will not allow any militant group to use our soil against anyone. Both countries will not allow any other to use their soil for terrorist activities. This will build confidence between us."

This is a very controversial statement on multiple fronts. Firstly, the fact remains that no serving leader in Pakistan has made such a statement before on foreign soil in front of the international media. Once again, not only does this make us doubt Imran's leadership, it puts an even bigger question mark over his ability (or lack thereof) to handle sensitive issues, especially those in the foreign policy domain.

Knowing that the Financial Action Task Force (FATF) is closely monitoring Pakistan for this very reason – whether its soil is being used by non-state actors – and that India is trying its best to ensure that Pakistan is stranded on the global stage based on this point alone, Imran's statement should not be treated lightly or ignored by us, because it won't be by the rest of the world.

One only needs common sense to realise that Pakistan's global stance now is that it has defeated terrorism and eliminated terrorist networks and non-state actors from its soil, leaving only enemy states like India to try and disrupt Pakistan and malign it by wrongly accusing it of providing a safe haven to non-state actors.

Whether Pakistan's stance is right or wrong is a different debate altogether; irrespective of it, when the state has taken a position, it is essential for incumbent leaders, especially the premier of a country, to promote that stance and not offer contradictory statements on international forums, which can be disastrous for Pakistan. Simply put, Imran cannot simply state that Pakistan's soil has been used by non-state actors to attack Iran (even if this may be the case). This is precisely why leaders should stick to scripted speeches provided to them instead of coming up with their own ideas extemporaneously and messing up in front of the world.

Another reason why this statement has caused uproar is due to the double standard it has exposed, given that when former prime minister Nawaz Sharif stated that militants are still active in Pakistan and were sent to India to conduct the Mumbai attacks, he was branded a traitor. Likewise, when Benazir Bhutto (who lived in India for a while) suggested that Pakistan should not create disturbances in the region, she earned the label of traitor as well.

However, when General Pervez Musharraf allowed the US to conduct drone strikes and when he tried to improve relations with India, he was termed a peace-loving leader. Similarly, now that Imran has made a potentially anti-state statement, he has evidently gotten away with it. Why has Imran not been declared a traitor? Why is the media not busy highlighting his statement, the way they were only recently when it was Nawaz behind the scandal?

This double standard of treating elected leaders differently on the basis of how close they are with the powers that be has not only weakened our democracy and political discourse, but has also resulted in a vague and inconsistent foreign policy that makes us look bad in front of the world. After all, if Nawaz and Benazir were traitors for 'making us look bad,' then so is Imran. And if Imran is right and he is simply accepting the truth about our land being used to attack our neighbours, then we collectively need to apologise to Benazir's family and to Nawaz for attaching the same label to them when they were also accepting the truth.

Simply placing another leader in Imran's shoes offers some perspective. We already know what happened when it was Nawaz, but what would be the case had Asif Ali Zardari or even Bilawal Bhutto Zardari made this blunder? They too would be labelled traitors. In fact, when Bilawal recently pointed out the importance of conducting an operation against non-state actors, the incumbent government and its members accused him of aligning with India and unsurprisingly labelled him a 'traitor'.

The purpose of this is by no means to suggest that we should all label Imran a traitor too; it is simply to paint a picture of the double standards that exist in our politics. Labelling any dissent or critical assessment by political leaders or journalists and intellectuals easily earns them the 'traitor' label that we like to throw around. This needs to be stopped. No institution or individual has the right to declare someone a traitor without the charges against the person being proven in courts.

The cards of treason and contempt have always been used to oppress dissenting voices, from Fatima Jinnah and Zulfikar Ali Bhutto, to Benazir and Nawaz, and now even the next generation of politicians such as Maryam Nawaz and Bilawal. It makes no sense that the dictators who abrogated the Constitution of Pakistan and imposed martial laws are never held responsible for their crimes, and even the likes of Musharraf is free to say what he wants without people turning against him, even when his statements come at the cost of serious consequences to the image of the country.

In the meanwhile, the leadership of the opposition should also avoid labelling Imran a traitor and trying to settle political scores, even though that is what Imran has done in the past.


Kh Asif's comments of ownership of militant gps coming from a Foreign Min undermining Pak security. With such a FM, who needs enemies? https://t.co/2fAqxMUHYh

— Imran Khan (@ImranKhanPTI) September 28, 2017


The focus of the matter needs to be on Pakistan and getting the country across this diplomatic crisis, while also introspecting on why the entire world – including our own prime minister – looks at Pakistan's soil as harbouring non-state actors, and yet for the rest of us acknowledging this fact remains an impossibility. Imran's mistake is not saying what he said but where he said it, and perhaps him putting his foot in his mouth will help us acknowledge our mistakes and actually work towards eradicating the menace of terrorism altogether.
Facebook Conversations
COMMENTS
Comments are moderated and generally will be posted if they are on-topic and not abusive.
For more information, please see our Comments FAQ