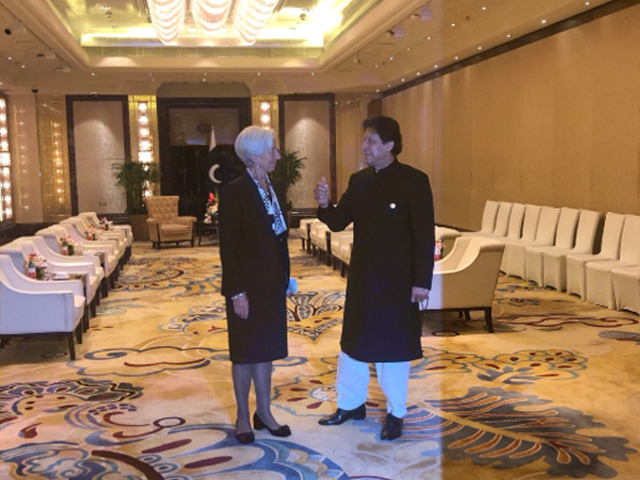 ---
22 loans in 61 years: Pakistan's unwavering habit of going to the IMF
If we compare based on democracy vs dictatorship, our democratically-elected leaders were behind 82% of these loans.
---
If we take a look at Pakistan's history of borrowing from the International Monetary Fund (IMF), some interesting facts come to light. Pakistan's history of knocking upon the IMF's door started back in 1958, when General Ayub Khan first took the country to the IMF route and signed an agreement to secure special drawing rights (SDR) 25 million under a Standby Agreement. The money was never withdrawn. 

Not too long after, Ayub's finance team pursued two back-to-back IMF programs in 1965 and 1968 respectively. This time, however, they ended up withdrawing around SDR 112 million, the entire agreed upon amount. This is where Pakistan officially became a new client for the IMF.

After Ayub, it was Zulfikar Ali Bhutto – once the blue-eyed boy of the military dictators – who took the state to the doors of the IMF yet again on May 18, 1972. It would appear that Zulfikar liked the IMF very much, for he became almost unstoppable in how many times he approached it. During his tenure, Pakistan went to the IMF three times consecutively from 1972 to 1974 and then again in 1977, and withdrew about SDR 314 million against the agreed SDR 330 million.

Then the terrible part of our history begins, after Zulfikar was succeeded by General Ziaul Haq. He may have had his differences with Zulfikar, but one thing they could both agree on was developing an obsession with the IMF. Zia kept the ball rolling during his tenure, as from 1980 to 1981, Pakistan went to the IMF twice and secured loans of SDR 2.187 billion, from which only SDR 1.079 billion was utilised.

Zia may have died in a plane crash in 1988, but his legacy pertaining to the IMF did not. As democracy returned to the country, Pakistan discovered the two gems of our times: Nawaz Sharif and Benazir Bhutto.

During the Benazir-Nawaz model of democracy from 1988 to 1997, Pakistan went into IMF programs about eight times under the experienced and dynamic governments of the Pakistan Peoples Party (PPP) and the Pakistan Muslim League-Nawaz (PML-N). In this period, Pakistan withdrew about SDR 1.64 billion. Out of these eight programs, five were during the PPP government while three were under the PML-N rule.

Democracy was once again put on hold in 1999 when General Pervez Musharraf toppled Nawaz's government and took over, but IMF loan-seeking was not. Even Musharraf did not hesitate in reaching out to the IMF, and secured SDR 1.33 billion in two attempts in nine years, though on massively low interest rates.

When Musharraf was replaced by the PPP in 2008, as soon as he was sent home, the first thing the PPP did was go to the IMF and secure the biggest IMF bailout package in our history, amounting to SDR 4.94 billion. As per the IMF, Pakistan was to implement some reforms, including improvements in tax administration, removal of some tax exemptions as well as the introduction of an interest rate corridor. However, the macroeconomic policies were overly expansionary and fundamental reforms to resolve the economy's structural problems were not being tackled well. There was a broad concurrence between the authorities and the mission on policy priorities: a tighter fiscal policy, a less accommodating monetary policy stance, and structural reforms. The PPP government then recognised that the economy performed well below its potential and required a gross domestic product (GDP) annual rate of 7% on average to absorb youth labour growth.

The PML-N then came back in power in 2013, and keeping with tradition went to the IMF as soon as possible, securing the second largest loan that amounted to SDR 4.399 billion. As per the IMF's review, this three-year program (completed in September 2016) strengthened macroeconomic resilience. The IMF suggests in its conclusive statement that due to this program, growth increased, fiscal deficit was reduced, and foreign currency reserves recovered. Structural reforms were also set in motion.

They further highlighted that the long-standing fiscal and energy sector constraints began to be tackled and social safety nets were strengthened. Following the completion of the program, there was some progress in implementing policy recommendations, although policy implementation was weakened and macroeconomic vulnerabilities have begun to re-emerge, such as fiscal consolidation slowing down, the current account deficit widening, and foreign exchange reserves declining. On the structural front, the accumulation of arrears in the power sector has resumed, while financial losses of ailing public sector enterprises continue to weigh on scarce fiscal resources and exports remain low as well.

All in all, till today, Pakistan has borrowed around SDR 13.79 billion from the IMF, out of which 47% of the loans were secured by PPP, followed by PML-N at 35%, while the military dictatorships lag behind with a mere 18%.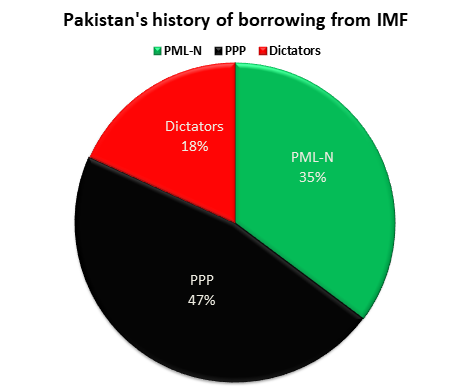 When it comes to securing loans from the IMF, the PPP is found to be far ahead in the game, having successfully borrowed from the IMF 10 times.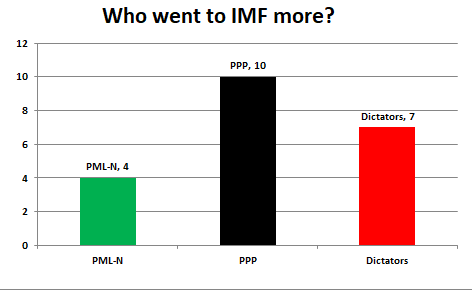 Although the PML-N went to the IMF only four times, it secured a bigger number of loans than the dictators did in their seven times.




If we compare the numbers based on democracy versus dictatorship, we learn that our democratically-elected leaders were behind 82% of these loans.

Now Pakistan, under Imran Khan's leadership, is once again in talks to secure a bailout package from the IMF. While talking to the media, former finance minister Asad Umar stated they have reached an agreement with the IMF and all major issues have been settled and documented.


I was glad to meet Prime Minister Khan of Pakistan today in Beijing. We discussed prospects for a comprehensive policy package and international financial support to help stabilize the economy of Pakistan, and also the need to strengthen governance and protect the poor. pic.twitter.com/zrxOsEnTWS

— Christine Lagarde (@Lagarde) April 26, 2019


Umar clarified that the bailout package has been agreed upon in writing and they have an agreement on all policy matters, including exchange rate, fiscal deficit, energy, public finance and public sector entities. He also mentioned that Pakistan's financing gap is around $15 billion, that $7-8 billion from the World Bank and $6-8 billion from the IMF and the Asian Development Bank (ADB) will be available, while the process for launching international bonds has already been started.

Now that Umar has been replaced by Dr Hafeez Sheikh as part of a major cabinet reshuffle, there currently seems to be no cause for concern over this change in portfolio adversely affecting our dialogue with the IMF. Dr Sheikh is known for his strong relationship with international financial institutions, having been part of multiple governments that have approached the IMF in the past.

It thus seems that the new deal with the IMF will be executed within the expected time frame with the terms and conditions already agreed upon under Umar. Once this materialises in a timely manner, we will have finalised our 22nd loan from the IMF in 61 years. Hopefully this time will be our lucky charm and Pakistan will be in a somewhat better position to fix its external accounts, leading to much-needed stability in exchange rate and offering some ease to our struggling economy.