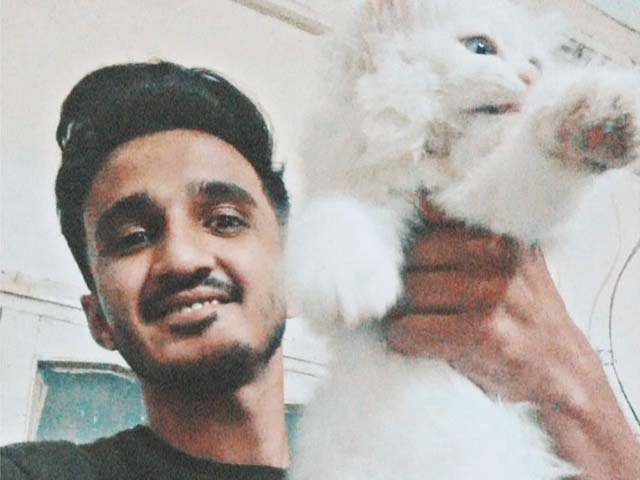 ---
The abyss where humanity comes to die
For those who may think killing a kitten is trivial, his twisted behaviour did not end there.
---
Lately I have found myself wondering whether the plethora of problems compounding Pakistan are a recent phenomenon or whether these ever present issues have just now been pushed into the spotlight due to social media. Courtesy of these online platforms, one almost feels that we are now living in a dystopian future. Global warming is on the rise, the economy is in shambles and worst of all, the collective conscience of the country seems to be in peril.
Sexual harassment, rape and torture of women and children has now become so commonplace that it hardly even gets a mention on the front page anymore. The worth of a woman in this country has been reduced to a man's ego and honour. Amid this spectacle of hate for fellow human beings, it will perhaps be very difficult to garner empathy for a poor little kitten that was strangled to death.
In the past few months, videos and images have surfaced of an individual in Pakistan who has recorded himself harming and killing cats. Upon hearing of this, I was so enraged that I tried to learn more about the matter, but I soon wished I hadn't. The murderer filmed the entire process, with his chirpy voice serving as a narration. He first keeps the kitten on a high stool, urging it to jump. The poor kitten just sits down, at which point he picks it up from its neck and just strangles it. Just like that.
He also says,
"Do not let go till it's breathing."
Social Media we need to track & report this boy. Runs 2 Fb profiles under names Bilal & Sed Qureshi. He posts videos of torturing kittens and teaching little kids to do same. He may have mental health issues but can't be allowed to torture animals. Details https://t.co/INMfa55Xjd pic.twitter.com/i0nM90UnrX

— M. Jibran Nasir 🇵🇸 (@MJibranNasir) April 17, 2019
This occurred in December last year and he was apparently picked up by the police at the time and was subsequently let go after a warning. However, here is where things start to become more bizarre. No one is entirely sure where he is right now or where the first information report (FIR) was registered for that matter. The only information regarding his alleged whereabouts is available on social media which claims he's a resident of Sindh. 
His case came to light again when he put up a picture on Facebook of himself with a cat that looks to be in a state of discomfort. The picture is captioned, "link is coming," referring to the kitten torture video he uploaded. Many of his followers called for the cat to be killed and for the video to be shared.
This sed qureshi and co. reminded me of those serial killers. There is no way you can justify someone entirely doing things like these for fun. Which brings me back to my second tweet abt this thread. What pushed him to find fun in this? Why is he doing it?

— S. (@Shahkaarr) April 17, 2019
Many others were outraged and activist Jibran Nasir put up a post calling for action to be taken against the man for animal cruelty. This prompted the individual to record a video in which he attempts to defame Nasir and another female journalist for pursuing the case against him. He says in the video, without any remorse, that he was just angry when he killed the kitten and has not repeated such an act since. Facebook, however, has now taken down all his videos.
For those of you that may think killing a kitten is trivial, his twisted behaviour did not end there. After going through hundreds of messages that contained curse words particularly targeting women, I realised that this man and his followers absolutely abhor women, particularly those that identify as feminists.
i am genuinely confused and disgusted by how someone like this Sed Qureshi guy can exist and have a following on social media?? opened his profile and it's full of some of the most VILE and DISTURBING things i've ever seen, how tf did he do this for so long

— mav ♡ (@404mav) April 17, 2019
Sindh police should immediately take action against this animal brutality. The guy named Sed Qureshi is a sick person who is choking cats to death. Please stop this person before he repeats this again. @MuradAliShahPPP @BBhuttoZardari @AseefaBZ @BakhtawarBZ pic.twitter.com/N78ZadQTEV

— Mustafa Abdullah Baloch (@MustafaBaloch_) April 18, 2019
My glimpse into what can only be deemed as an abyss where humanity comes to die made me realise that his hate for cats is just an extension of the hate he has for women. I believe that pussy cats tend to remind him of the female anatomy, just based on the shared slang for a woman's vagina. What's more disturbing are the unconfirmed reports of him masturbating to a cat he was choking. He then apparently threw the cat to stray dogs and filmed them eating her.
As a result of the flood of information I received from various quarters, especially from brave women who tried to talk some sense into the man, I have been trying to sift through all the facts. One thing however is clear: this man and his group of bullies have lashed out online at the people, especially the women, who raised a voice against them. The man and his followers have abused and hurled every obscenity at the women who spoke against them and have also threatened them with sexual assault and other kinds of violence. One of the common methods that this man and his followers use to harass women is to add them to Facebook chat groups and then proceed to shower them with profanities.
I strongly believe that his violence towards cats comes across as a symbolic violence against women. His lack of remorse indicates that he is definitely not stable. In fact, many of his statements, his entitlement, and the way he causally passes off crushing a kitten's windpipe, makes it seem like he is a textbook psychopath. According to the Oxford English Dictionary, a psychopath is described as "a person suffering from chronic mental disorder with abnormal or violent social behaviour."
I made the horrible mistake of watching the Sed Qureshi video where hes abusing a cat.
I hope this man rots in the deepest pits of hell. How down right disgusting do you have to be to shoot such a video and then also WATCH IT and defend it

— HelloItMeArSlAn 🌈 (@ArslanArsuArsi) April 17, 2019
This man and his group of followers need actual psychiatric help and are mentally ill. I have been appalled at the way men react to things in this country like the Aurat March, and while I was enraged by this man's actions, I realised that perhaps there is no way one can reason with such a depraved mind-set.
I will reiterate, these men need help, possibly medication before they become a bigger menace to society. They kill small animals and other helpless targets before they advance onto more sinister crimes. Temporary solutions like blocking his account are not really solutions as it only takes a click of a button to create a new profile. Giving him a warning is also not enough since him and his 'cult' have made it a mission to harass those that come after them.
The solution is to arrest him and assign him to a mental institution with a good psychiatrist which, in our country, may just be worse than jail. This statement does open the door for another discussion about mental health in Pakistan, but that I shall leave for another time.