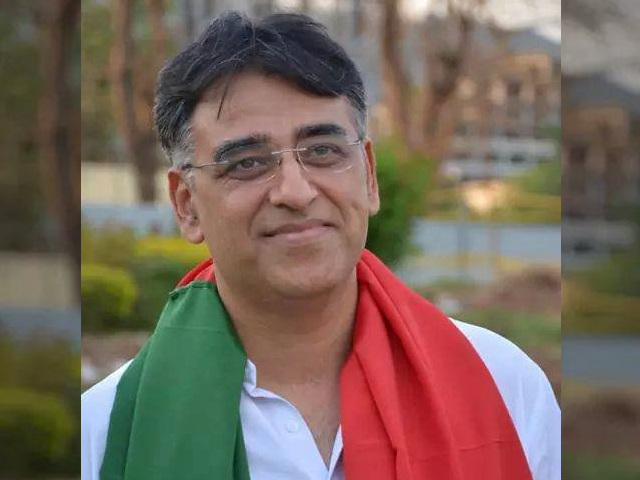 ---
With Asad Umar gone, who will Imran Khan blame for his government's failure?
Umar will also be remembered as a dignified, self-respecting minister who paid the price for being loyal to his leader
---
The Pakistan Tehreek-e-Insaf (PTI) government has, after much criticism, finally shuffled its cabinet. Many federal ministers, such as Ghulam Sarwar, Fawad Chaudhry and Shehryar Afridi, have been given different portfolios, while Finance Minister Asad Umar refused to accept a cabinet position and has thus stepped down from office.

Though Umar's removal did not come as a surprise – his performance was heavily criticised and his departure was expected – it is the timing that is questionable. Pakistan's economy is in shambles, relying heavily on the bailout from the International Monetary Fund (IMF), which Umar had been negotiating for the past few months. Now when the deal has almost been finalised, his abrupt departure will only worsen confidence in the economy and its future.

Then there is the matter of the annual budget, which is only a month away from being announced. For the country to be at such a critical point and lose the man whose vision shaped the past eight months is deeply concerning, especially as the entire business community has been left with little confidence in the economy's future. No government changes its finance minister just before the budget or in the middle of a negotiation with an international organisation. However, the case is always different with PTI, even though its surprises can only be termed as untimely decisions.

No, Umar was not able to turn the economy around, which was evident from the growing inflation, dwindling foreign reserves and the devaluation of the currency. Nonetheless, if the country needs anything right now, it is stability, which is the last thing brought forward by the random sacking of the minister in charge of the biggest crisis facing Pakistan. The heavens would not have fallen if Umar was allowed to work until the budget was approved or the deal with the IMF finalised.

In any case, the decision has been taken and whoever becomes the new finance minister now faces the daunting task of correcting an economy where taxpayers are few and resources are limited. That is the reason why former finance minister Shaukat Tarin reportedly refused the offer, though he was the front runner for the position of Umar's successor.

Dr Hafeez Shaikh has now been appointed as the advisor on financial matters, and he has previously served in General Pervez Musharraf's cabinet and then for the province of Sindh during Asif Ali Zardari's subsequent government. In any case, Shaikh will surely need some time to get settled and renegotiate with the IMF delegation before finalising the deal.

On another note, Umar's removal has also validated critics who talk about the rift between Shah Mehmood Qureshi and Jahangir Tareen. Umar supported Qureshi, and no one on that side seemed to know he would be removed before he actually stepped down. Shireen Mazari's reaction sums up the fissures between PTI, as she was shocked speechless when reporters informed her about Umar's sacking, and thought Umar's tweet was photoshopped; she was clearly unaware of the news. Umar sitting alone in his press conference later on only confirms that Tareen has prevailed and Qureshi's group has been side-lined.


Shireen Mazari is unaware of her colleague Asad Umar's departure from the cabinet. Nothing new, minister is only aware of the rights abuses of Muslim citizens in Europe, Africa etc.pic.twitter.com/4cWPVVqn6U

— Naila Inayat नायला इनायत (@nailainayat) April 18, 2019


Such strong splits within a political party that has just started governance can prove to be disastrous for the country and for PTI's political survival, especially as the disqualified Tareen's influence on PTI is destroying the party's credibility.

It is easy to pin the blame of the economic crisis on Umar alone, but if one analyses the eight months of PTI, Umar is hardly the only one to be blamed for the mismanagement that led to this economic turmoil. After all, Umar did not delay negotiations with the IMF; that honour belongs to Prime Minister Imran Khan, who announced we would not go to the IMF as he hoped the money could be gathered from overseas Pakistanis and generous Arab allies. Anyone aware of economics and governance can easily tell that states cannot be run on charity, nor is Pakistan a kingdom like Saudi Arabia where monarchs can do or say whatever they want without consequences.

Umar has been with PTI for a long time, and perhaps does need to think of what went wrong that led to him being unprepared for the challenges of the ministry. He was, after all, incredibly vocal over the past eight months that PTI has the solution to fix the economy, making his resignation not bode well for the future. Umar should have realised that running a ministry is entirely different from running a corporation, even one as big as Engro.

However, the responsibility lies on Imran's shoulders. We have a tradition in Pakistan where whenever a government or a political party finds itself in a tough situation, it always sacrifices a few members while the top leadership never accepts responsibility. Just as the IMF delay cannot be blamed on Umar, only accusing him of failing to address the economy's failure is inappropriate. PTI needs to end the rift within its ranks before the new finance minister joins in, because his or her failure in an unstable cabinet would be harder for the party to justify. As Imran shakes things up in his team, perhaps now is the time to get rid of Tareen as well.

In any case, Umar is gone now and Imran has no other scapegoat left to pin his entire government's failure on.

What must be appreciated is that had Umar been just another power-hungry minister, he would have accepted the portfolio of the energy ministry. Instead he resigned altogether, showing he has self-respect and unlike many other politicians, he believes in ethics and dignity. Such other ministers include Chaudhry, who has accepted the Science and Technology Ministry after being sacked from the Information Ministry. Umar's refusal to remain in the cabinet with a different title distinguishes him from such power-seeking politicians.

Yes, Umar has been heavily criticised for the past several months as the state of the economy worsened and the burden on the poor increased. However, it should never get personal, as the criticism was entirely due to his performance and the decisions taken by his party, while Umar was doing the best he could to fulfil his economic vision, given the restrictions he faced. Umar may be remembered as the finance minister who could not turn things around and will be declared unsuccessful, but at the same time he will also be remembered as a dignified and self-respecting minister who paid the price for being loyal to his party's leader.
Facebook Conversations
COMMENTS
Comments are moderated and generally will be posted if they are on-topic and not abusive.
For more information, please see our Comments FAQ