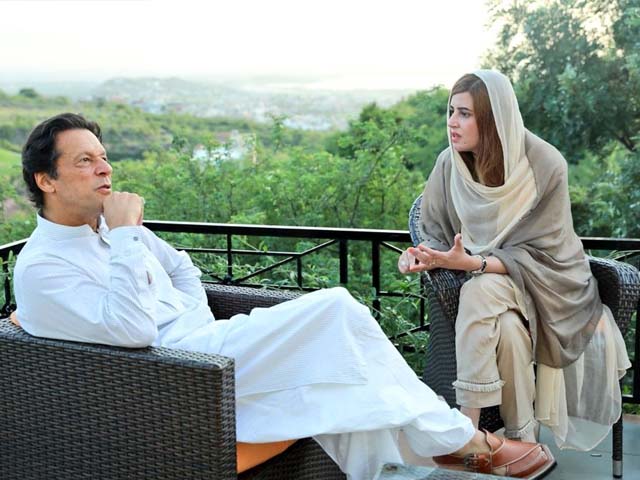 ---
Pakistan is in a climate crisis but its minister incharge is a bigger cause for concern
You cannot dumb-down climate change to the point where it is no longer science.
---
As a journalist who regularly covers climate change related issues, I was taught early on by my former editor at BBC, Alex Kirby, that:
"Your job is to communicate the science, not to do it, and if you do not know much about it, you will probably be better able to understand your readers' ignorance and confusion about the subject. But never overestimate their knowledge, and never underestimate their intelligence."

I have always tried to communicate climate change in the easiest possible language, but the primary intention has always been to remain cognisant of the scientific facts. You cannot dumb-down climate change to the point where it is no longer science.

Therefore, imagine my surprise at learning that our Minister of State for Climate Change, Zartaj Gul, recently attributed the heavy winter rains and ample snowfall to the good fortune of having a "naik" (good-natured) ruler like Prime Minister Imran Khan at the helm!

https://twitter.com/asimusafzai/status/1118485905302413312


It's the beauty of a sincere Government doing the magic, as heavens opening so frequently in Pakistan! ☁️⛈🌦🌧🌨 pic.twitter.com/6y3hBWxMB3

— Zartaj Gul Wazir (@zartajgulwazir) March 15, 2019
Perhaps she was joking, but surely a minister of state for climate change in a country like Pakistan should not be making such silly, ill-informed statements. Pakistan is now consistently on the list of the top 10 countries which suffer the most from climate related disasters in the long-term, so this is no laughing matter. The recent spell of bad weather this past week has caused extensive damage to our wheat crop that was ready for harvesting across much of Punjab and has also devastated mango orchards in Sindh. Only time will reveal the extent of the damage once the severe weather system (torrential rains and hailstorms) moves out of the country.
Zartaj Gul gave the credit of rains and snowfall in Pakistan to @ImranKhanPTI Does she stand with her statement after the damage and deaths caused by rains and strong winds or blame Nawaz Sharif and Zardari for that?

— Asma (@AsmaZhk) April 15, 2019
Dear Minister Zartaj Gul, is this still a blessing made possible by Imran Khan? https://t.co/23ldPAZ1D6

— Hafsa (@wofeministtype) April 16, 2019
Gul, who has a degree in textile design from the National College of Arts, has now been sitting at the Ministry of Climate Change in Islamabad for several months and should have been briefed thoroughly. Instead, she has even attributed the saplings planted during the Billion Tree Tsunami and the young trees grown by protecting existing forests in the Khyber Pukhtunkhwa region, by the current government, for bringing in the heavy rains and snowfall. The fact remains, however, that it will take many years for these trees to mature fully and for their impact to be seen.
According to Rab Nawaz, the senior director of programmes at the World Wildlife Fund Pakistan (the independent authority monitoring the Billion Tree Tsunami project):
"The plantation has certainly changed mind-sets at the national level and created livelihoods for the local people but the real impact will be seen after a decade or two." 

Pakistan's Meteorological Department stated in a press release that during 2019 the amount of winter rainfall in Pakistan has been above normal. But that is just a statement about the recent weather. According to the National Aeronautics and Space Administration (NASA), there is a big difference between weather and climate:

"Weather is what the conditions of the atmosphere are over a short period of time, and climate is how the atmosphere 'behaves' over relatively long periods of time. When we talk about climate change, we talk about changes in long-term averages of daily weather."

Here the news is not good. Carbon dioxide and most of the other greenhouse gases from industrial and other human activities, including the burning of fossil fuels (coal, oil and gas) and from deforestation, are at the highest levels they have ever been in at least the past 800,000 years on the planet. This past decade has seen an increase in record-breaking storms, forest fires, heat waves and floods around the planet.

Scientists from around the world have clearly warned us that if the global average temperature increases more than 2C above the pre-industrial level, then there may be no chance of limiting climate change below a really dangerous and unpredictable level. The world has already warmed by about 1C, and the heat being stored up in the oceans will account for a further 0.5C to 0.6C.

The United Nation's Intergovernmental Panel on Climate Change's latest report says the planet will reach 1.5C in just 12 years. Current pledges to cut carbon emissions will push global warming to at least 3C by 2100, risking natural tipping points such as the melting of large areas of permafrost. Scientists say going beyond 2C would mean a drastically different world. Life would find a way to go on, but civilisation as we know it would end.

Solutions require unprecedented efforts to cut fossil fuel consumption by half in less than 15 years and we must eliminate their use entirely in 30 years. However, right now we are going in the opposite direction with global emissions only increasing each year.

In 2015, a global agreement to curb climate change was reached in Paris at the 21st Conference of Parties, while in 2016 almost 200 countries approved the Paris Agreement, in an attempt to limit global average temperatures to 1.5C. Pakistan has signed and ratified the Paris Agreement and the Ministry of Climate Change has been tasked to abide by this multi-lateral environmental agreement and others that have come before it.

The appointment of Gul to such a crucial ministry just doesn't make any sense at a time when the entire world is facing such a huge crisis. Climate change is without doubt one of the biggest challenges of the 21st century and the Ministry of Climate Change ought to be one of the most important ministries given how vulnerable Pakistan is on the climatic front. Extinction Rebellion Pakistan is part of an international protest movement that has gathered steam in recent months and it calls for people from all over the world to 'come together to save ourselves'. At the launch of the organisation's chapter in Islamabad, lawyer Abrar Hussein, said:

"We would like to see more scientific people in charge of this ministry. I mean she (Gul) might be an educated lady, but for her to make such a statement, that we have plentiful rains because of the current prime minister being a 'good ruler' just shows her lack of seriousness. It's great that this government has initiated the 10 Billion Tree Plantation drive across the country, but they need more scientists involved in the process.

Our consumer habits have to end and this government needs to do more. Planting trees is not enough. We need to cut carbon emissions and air pollution, bring in more efficient technologies to save our water in agriculture and put a ban on single-use plastic products."

One can only hope that Gul is fully aware of the importance, difficulty and urgency of the task which lies before her because Pakistan needs to start addressing the issue of climate change in a truly holistic manner.
Facebook Conversations
COMMENTS
Comments are moderated and generally will be posted if they are on-topic and not abusive.
For more information, please see our Comments FAQ