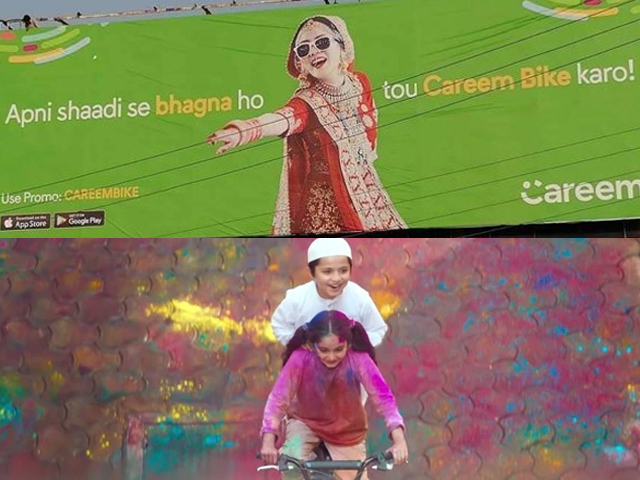 ---
The intolerance behind #BoycottCareem and #BoycottSurfExcelIndia
While Indians are being intolerant towards religious harmony, Pakistanis are being bigots against women's...
---
As Careem takes down its controversial billboard ad featuring a runaway bride after being accused of promoting immoral ideas, one wonders about the real culprit behind this ongoing protest. With its target audience mostly consisting of youngsters growing up watching Moltyfoam's pensive version of a Pakistani bride, the Careem bride simply couldn't appease its customers' androcentric worldview.

Feminists have no sense of humour, a common grievance many have against people who are sensitive to sexist jokes, not realising how the same joke would offend them if tables were turned. This is what we recently witnessed in the reactions to Careem's latest ad campaign in Punjab.


Considering how many people are forced into marriage in Pakistan, this is actually not distasteful at all. Why are people so offended? Have a sense of humour :) #Careem pic.twitter.com/zmikDwv7FQ

— Usama Khilji (@UsamaKhilji) March 18, 2019


With a streak of tongue in cheek humour, Careem's outdoor advertising campaign promoted its bike ride services in a series of situational one-liners on billboards. One of these ads featured a bride calling out with a background message: if you want to run away from your wedding, take a Careem bike.


#careem Best ad 🤪@CareemPAK pic.twitter.com/xq1KLjtNlX

— Mian Tayyab Ihsan (@tayyabihsan) March 18, 2019


Hours after the ad was displayed in certain cities of Punjab, it received a strong backlash for allegedly defying religious and cultural norms. The ad was immediately taken down from all locations, but the debate isn't over.  Much before Careem's bride appeared on Lahore's billboard, the brand had already raised eyebrows for encouraging young girls to use its bike ride and "reclaim their public space".

https://www.facebook.com/careempakistan/photos/a.417751808428343/759466847590169/?type=3&theater

When Minahil Baloch, a female blogger and student, shared her pleasant experience of using the bike ride, she was ridiculed and bullied on social media. Responding to these trolls, Baloch later posted a video recorded during the ride:


So i posted a story about how i have started using careem bike a few months ago and got a lot of hate on it, this is for the haters and for the women who are students who're broke like me and are afraid to use careem bike. Bindaas hokar life geo and start owning these spaces. pic.twitter.com/QrzlGuqMmw

— minahil (@surkhminahil) February 19, 2019


Now that the brand's controversial ad has been brought down, the empty billboards stand as medals of victory for protesters vested with the moral duty of preserving Islamic values challenged by the personification of a runaway bride. Supporting the disapproval were celebrities like Veena Malik who took to Twitter to voice her dislike for the ad:


Dnt play with our Norms and culture For ur Business Here...find some sensible script which will get Careem some respect not attention! #Careem

— VEENA MALIK (@iVeenaKhan) March 18, 2019
Careem should take this Nefarious add down Rit Away...And Apologise! #Careem pic.twitter.com/e1NuVhD94j

— VEENA MALIK (@iVeenaKhan) March 18, 2019


On the other end of the spectrum were people like Ali Gul Pir, who stated:


I don't understand how people can be triggered by free will. Usko nahi kerni shadi, would bhaag Rahi hai, tumhay Kya hai? Aur acha hai #Careem Kay sath bhaag Rahi hai, not some Anwar @CareemPAK pic.twitter.com/EecqznNMmy

— Ali Gul Pir (@Aligulpir) March 18, 2019


Before delving into the core of these protests, let's imagine Careem's ad with the same one-liner but a different person. This time, a male figure. Had Careem decided to feature a runaway groom instead of a bride, would it receive similar criticism? It would be seen as a witty jab, which is exactly what its creators originally intended, something quite obvious with the bride's rather comical disposition.


Careem guys can thank me later pic.twitter.com/qpC6U4z9d8

— shitposts only (@k3wlbwoyy) March 18, 2019


Ironically, the criticism of Careem's bride is coming from a society which is otherwise okay with sexist humour and cheesy jokes in which men are either victims of a bad marriage or trying to run away from being committed in the first place. These jokes are mostly supplemented with a default disclaimer "on a lighter note". If you don't laugh at them, you have a bad sense of humour.

If you point out the problem with such jokes that perpetrate sexism and sometimes misogyny, you're reminded there was no need to be serious since "it was just a joke". If we are to believe that the concern behind #BoycottCareem really is the violation of Islamic preaching, then by this logic there should be no acceptance for jokes about men flirting with other women or humour which thrives on sexual innuendos about female bodies.

https://twitter.com/Sultanjem/status/1107897676543246338

Not that it wasn't evident enough in protests against Aurat March, anger against Careem's recent ad only goes on to confirm that even with implied humour, the idea of a females' autonomy over their life has little acceptance in Pakistan.

Speaking of tolerance, the backlash has surfaced only a few days after many Indians boycotted Surf Excel's TV commercial for purportedly promoting 'love jihad'. Not missing the opportunity of shaming the neighbouring state, a number of Pakistanis showed disappointment on what they acknowledged as Indians' lack of tolerance for Muslim rituals and religious harmony. Ironically, despite different agendas, responses to Surf Excel India and Careem Pakistan's ads reflect similar patterns.

https://twitter.com/ashish_2184/status/1104714355583737858

While Surf Excel was boycotted by many in India, protestors in Pakistan are deleting the Careem app and sharing screenshots to show solidarity for the 'cause'. #BoycottSurfExcel and #BoycottHUL trended for days in India, only to be overshadowed by the upcoming emerging hashtag in Pakistan – #BoycottCareem. In short, while Indians are being intolerant towards religious freedom of expression, Pakistanis are being bigots against women's emancipation.


Lets make a grand trend

Kindly Uninstall Careem app from your mobiles + from your lives.#BoycottCareem pic.twitter.com/ma9tQjNPdq

— Dukhtar.e.Maududi 🇵🇰 🇹🇷 🇵🇸 (@Musaira_Ak_JIP) March 18, 2019


Careem's bride billboard contained all the key elements of an effective outdoor advertising strategy: an unusual visual, ample clean space, a witty one-liner and a call to action. Where did the brand's creative team go wrong then? Perhaps they simply overestimated their audience's sense of humour when it comes to unconventional portrayal of women in Pakistan, a country pacified with its age-old idea of a pensive Moltyfoam bride leaving her father's house to join her husband's abode.