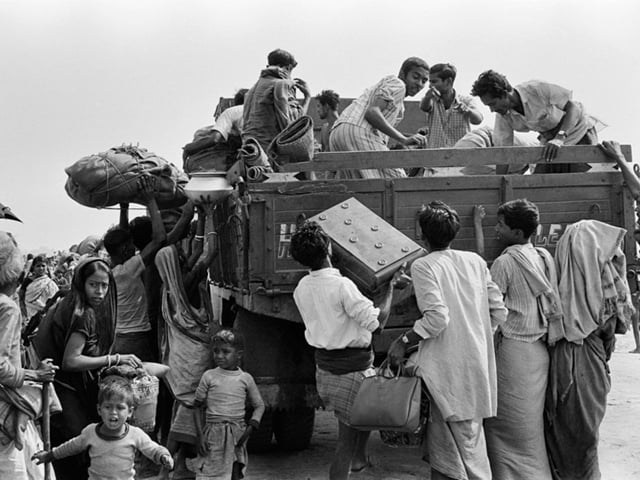 ---
#SayNoToWar: Airstrikes, blackouts and bunkers – that was my childhood
My experience of evacuating Dhaka in 1971 and migrating to Karachi is like living and reliving conflict.
---
Learning new vocabulary and songs on the first day of school is a part of growing up; it's a part of childhood memories. When I recall my memories, they are a little unusual. They are of war; the war of 1971 when East Pakistan was attacked. The lyrics of some of the 'askari naghme' (patriotic songs) sung by Madam Noor Jehan, such as Ay watan ke sajeeley jawanon (O brave men of the country) were the first to be embedded in my mind.

Words like anti-aircraft, missile, trenches and blackouts were some of the first ones I learned in the English vocabulary. I played blackout with my brothers in which we hid under our grandfather's bed pretending it was a bunker. That's how my life started amidst the war. The memory of being pulled out of pre-school, just three days after starting, still hits me hard. I used to keep asking my mom why I couldn't go to school, I missed it so much. But she would always tell me to stay quiet and go play.

I remember picking the pieces of rocket shells from the ground outside our house and playing with them. My mother cooked endlessly throughout the day and distributed hot meals to a nearby refugee camp for people who had lost their homes and families as a result of this war.

Masses are the worst victims of war and conflict. War brings nothing to anyone except giving more control to power hungry politicians who are warmongers. Every time I watch news related to war, conflict and people being displaced and immigrating to safer lands, I think of my own childhood memories. These are definitely not pleasant ones.

They instilled a continuous insecurity in me while teaching me to cope with change even when it's for the worst. People call me brave but at what cost did I achieve this 'bravery'? Being a war victim, a refugee kid and an immigrant turned me into a brave person but this is not something you aspire to be, at least not the way I became brave. This is not what you want for your future generation; war changes the course of families, individuals and community history.

When countries attack other countries and people call for war, they don't realise how devastating it really is. As a five-year-old, I had a hard time trying to process the conversations we had during blackouts or the sirens that went off just before an airstrike. My dad's elder brother and his family of 17 were brutally slain by Bengali activists who were backed by the Indian Army in an attack. Several of my first cousins went missing, a teenage girl in the neighbourhood was pulled out by the army at the border while she was trying to cross and go to India with her family.

Many families, including ours, that did not evacuate immediately after the fall of Dhaka relied on the alternate route to evacuation. This included crossing the border to adjacent cities in India, then travelling to Kathmandu and to Thailand from where the families would finally take a plane to Karachi. A lot of people lost their family members during the journey. They were either killed, lost or forcibly detained by Indian troops at the border.

As a child, I would go through a rapid mix of feelings and emotions of being scared, worried and frustrated thinking why no one was explaining what was going on. I would find solace under the bed thinking I am in a bunker and safe. I had many first cousins who were lost in the war, they might be out there somewhere but to this day, we don't know.

My mom went through the same traumatic experience of being uprooted when she was five in 1947. She faced the whole ordeal of leaving behind her home and life and then migrating from India to East Pakistan and rebuilding life in Dhaka. My grandfather after Partition left his law practice, house, agriculture land, belongings and migrated to restart a life with three children in Dhaka. Despite all the trauma and challenges, the family was happy to be breathing in a land they call their own.

My father's brothers and some cousins chose not to migrate and stayed back in India, which resulted in us being disconnected from them for years. My father could never meet his relatives; he missed them everyday and talked about them. He went back only once after migration for a week and that too after a good 45 years. Immediate families should not go through this, it's painful and it hurts.

My experience of evacuating Dhaka in 1971 and migrating to Karachi is like living and reliving conflict. I have vivid memories of leaving our house and belongings to the Indian Army who were standing at the gate of our house, pointing a gun to my dad's head. I was playing in the veranda when my mom suddenly grabbed my hand and dragged me outside. I remember looking back at the tub filled with my toys; that was the last day I ever played with toys in my life. Starting a life again in Karachi, seeing my parents struggling to rebuild the life we had and trying to give the best to us definitely made me resilient and taught me to value peace and security.

Nevertheless, such circumstances are not normal. It is harrowing to think about generation after generation being forced out of their countries, loosing property, jobs, neighbours, families and then being labelled immigrants. That's not the way life is supposed to be for anyone.

We are in an era of media where all of us are connected, this is the time people need to unite and speak against wars and conflict. To reiterate what Prime Minister Imran Khan has been saying: it is easy to start a war but no one when and how it ends. Having seen the impact of what happens when war ensues, I can only remind each and every one to read about refugees, talk to them and learn about their experiences to fully understand the consequences before carelessly supporting conflict from the comfort of their social media accounts.

Pakistan is built on sacrifices and tough choices that people made. This land is precious, needs to be cherished, protected and loved; we have to ensure this country is a happy and safe place. Many people, like my family, went through this horrific experience that changed their lives forever. Let my generation be the last one to go through this bloody game called war and conflict. We owe it to our future generation.

#SayNoToWar and let Pakistan be what it was meant to be.