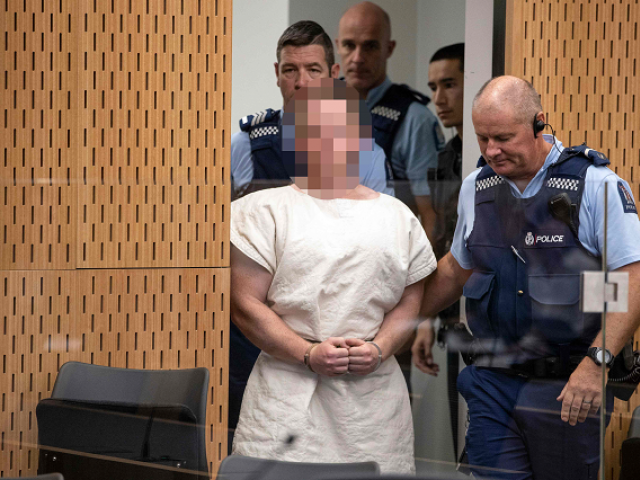 ---
Unregulated social media, slow police response, rising Islamophobia: The faultlines of the #NewZealandShooting
As he was white, people are trying to humanise him by using his visits to Pakistan to explain his...
---
In what can only be termed a barbaric and inhumane act, 49 Muslims were murdered and another 20 seriously injured in two mosque attacks in Christchurch, New Zealand. The unfortunate victims were offering jummah prayers when they were attacked by a terrorist.

Introducing himself as Brenton Tarrant on his Facebook livestream, he went on to telecast the entire massacre live as he stormed into the mosque and shot at worshippers of all ages. He was able to do so for 17 minutes.

We are once again at a place where Muslims living in the West are paying the price for rising Islamophobia and growing anti-immigrant hate. But the sheer severity and brutality of this attack has paved the way for some pertinent questions regarding how such an attack could take place, and for so long, without any intervention or action.

Firstly, the video was live on Facebook for 17 minutes. Why did Facebook not take notice of a mass shooting taking place on its platform? As the biggest social media platform in the world, does Facebook have no checks and balances when it comes to the kind of content people can livestream? Millions of people have by now seen this video and witnessed this terrorist shoot down actual human beings. Was it not Facebook's responsibility to interrupt the broadcast and shut it down?

This has definitely raised some serious questions on the inability of modern social media platforms to counter online extremism and subsequently becoming tools used by terrorist or extremist outfits. After all, this live broadcast has surely made this terrorist a hero amongst white supremacists like himself, and one can only hope something concrete comes out of this to regulate content on social media. After all, what's stopping another attack like this from being livestreamed in the future?

Secondly, the New Zealand Police arrested Tarrant and two other suspects, while Tarrant has also been charged with murder in a Christchurch District Court, where he appeared completely unrepentant. However, the question arises: what took the police so long to respond? We still do not have all the facts, but we do know that after the first shooting at Al Noor mosque, the shooter got into his car and drove five kilometres to Linwood mosque and repeated the shoot down. How can a man with so many firearms roam freely on the streets and shoot at people without any police arriving on the scene? How could it take the police over 17 minutes to respond? The authorities in New Zealand must look into this and find an answer.

Thirdly, before the shooting, the terrorist shared a 74-page manifesto on social media. In the document, the attacker revealed he planned this for two years and New Zealand was not the original place chosen, but was eventually picked months ago because of its image as one of the safest and welcoming countries in the world. The author of the document vows to create fear among immigrants and Muslims, and makes it clear that this was a targeted attack by white supremacists and racists who are anti-Muslims and anti-immigrants.

In his manifesto, the shooter revealed his attack was revenge for the 2017 Stockholm truck attack, specifically for 11-year-old Ebba Akerlund who was the youngest victim. He also praised US President Donald Trump and the Norwegian mass murderer Anders Breivik, who killed 77 people in the 2011 Oslo attack. In recent weeks, he was active on various social media platforms, specifically 4chan and 8chan, where he promoted himself and his manifesto and actively engaged in hate speech. How could this be allowed to go on, without relevant authorities taking note?

Finally, there is no doubt that this attack was targeted and motivated by hate, while the perpetrators were not only racist but also extremists who targeted innocent people at their place of worship when they were their most vulnerable.

However, while the world has come together to condemn this attack, we do not need to imagine how different the response would be had the attack been carried out by a Muslim, and how different the media coverage would be. Islam would once again have been termed the religion of 'jihadis', and all Muslims would be painted as a threat to world peace, just as they were after 9/11 and every attack since then.

But as a white man was the 'terrorist', we are consistently seeing coverage that tries to 'humanise' him, recalling his past visits to North Korea and Pakistan in an attempt to explain his 'radicalisation' and the root cause of it.


You've got to be kidding with this garbage, @DailyMailUK. I don't expect Western rhetoric about Islam and the constant death and dehumanisation of Muslims to be sophisticated, compassionate or thoughtful but this is disgustingly insensitive and indecent. pic.twitter.com/WEp8XpCGyR

— fatima bhutto (@fbhutto) March 15, 2019
When a mass murderer is white, this is how he is presented- angelic boy! #WTF
Shame on you @DailyMirror - you continue to be a pathetic rag equally in need of help! #WhitePrivilege #WhiteSupremacistTerrorism pic.twitter.com/cQtzRHzGA1

— Raza Ahmad Rumi (@Razarumi) March 16, 2019


This happens every time a white man commits an act of terror anywhere in the world, as people are then reminded of mental illness and other issues that can lead a person to commit such a heinous crime. But Muslims are never afforded this privilege, and all of us have to pay the price collectively.

Now is the time for the world to come to the conclusion that Muslims are not the enemy, that terrorism has no colour or religion, and that there exists a double standard in the way we treat Muslims. Imran Khan is right when he suggests that over a billions Muslims pay the price for terrorism, as there has never been a single occasion where an act of an individual or an Islamic extremist group has not been related to the entire Muslim community and Islam.


I blame these increasing terror attacks on the current Islamophobia post-9/11 where Islam & 1.3 bn Muslims have collectively been blamed for any act of terror by a Muslim. This has been done deliberately to also demonize legitimate Muslim political struggles. https://t.co/5bBREoayLz

— Imran Khan (@ImranKhanPTI) March 15, 2019


Even after this atrocity where Muslims were the target, we saw racist commentary like that by Australian Senator Fraser Anning, who managed to blame Muslims for the attack and suggested that if they do not want to die, they should not have moved to New Zealand in the first place. Can people still doubt the level of hate these white supremacists have for Muslims? Can we still question the double standards? After all, can we imagine if someone had stated this right after an attack or a shooting against white people, or after a shooting on the place of worship of any other religion?

https://twitter.com/fraser_anning/status/1106432499704451072


After the devastating attacks on mosques in Christchurch today, this is Queensland Senator Fraser Anning's response #auspol pic.twitter.com/eLKzIXjBcQ

— Felicity Caldwell (@fel_caldwell) March 15, 2019


In any case, this attack on what was perceived to be one of the safest and most peaceful places in the world, a land people migrated to from places where they felt unsafe, has sent the message across the globe that no place in the world is safe anymore. Perhaps that is what the killer wanted to prove, and he has succeeded in that endeavour. Many Muslims may go out and pray in solidarity with the victims of the New Zealand attack, but not many will feel safe doing so anymore.

New Zealand Prime Minister Jacinda Ardern has been a very vocal advocate of immigration into New Zealand, and she reiterated the same in her statement after the Christchurch attack, terming it a terrorist attack and stating it would not shake their resolve to be a tolerant and nonviolent society comprising more than 200 ethnicities and 160 languages. While one cannot doubt her integrity, there also needs to be an acknowledgement of the work that needs to be done to make Muslims feel safe again, particularly with regards to the growing intolerance and hate against them in shady online communities, before more white supremacists pick up arms.

My friend from New Zealand, Steven Gray, said to me after the attack,

"I never thought we would experience this here, but I hope we will be able to become stronger as a result."

He is right; this was indeed a tragedy that will be hard to recover from, a black day for not only New Zealand but for each and every human on the globe who cherishes the value of life and the importance of the freedom to worship. However, this is a reminder of the bloodshed caused by division, making it high time the world united against fighting the menace of terrorism and extremism.